By Will Doss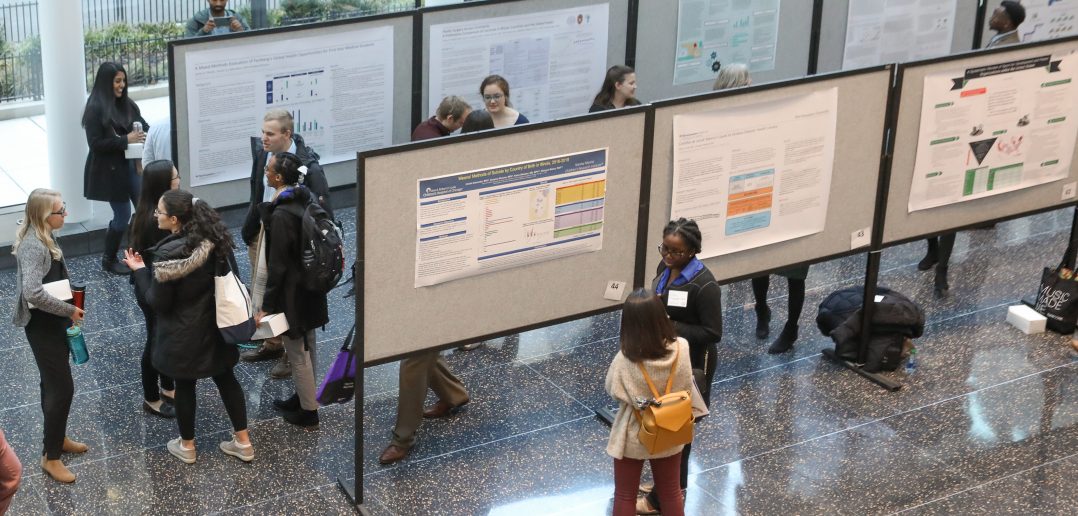 Feinberg's new Institute for Global Health hosted its inaugural Global Health Day symposium, a day-long event that featured presentations from each of the institute's constituent Centers, a poster session, several panels and keynote speakers.
Established earlier this year, the Institute for Global Health evolved from the the Center for Global Health and the Global Health Initiative Fund, aiming to improve health in middle- and lower-income countries around the world and deepen the medical school's commitment to solving health problems worldwide.
"All of you here today clearly understand the burning urgency of digging into the issues involving global health around the world," said Robert Havey, '80 MD, '81 '83 GME, clinical professor of Medicine in the Division of General Medicine and Geriatrics and deputy director of the Institute for Global Health, as he welcomed attendees to the symposium. "All of the things you'll hear from the Center directors are imperatives, critical issues that need attention now."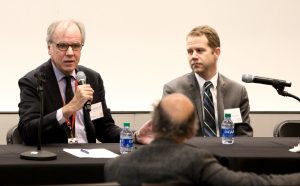 Robert Murphy, MD, '81 '84 GME, executive director of the Institute for Global Health and the John Philip Phair Professor of Infectious Diseases, delivered an overview of the Center for Global Communicable Diseases, of which he also is the director.
According to Murphy, a country's wealth remains a major factor that influences mortality: in low-income countries, many of the most common causes of death are communicable diseases.
"A lot of the world is poor, so from a worldwide global health perspective, this is not going away," said Murphy.
While immunization can help combat diseases like tuberculosis, fighting HIV/AIDS, hepatitis or malaria will require engineering new technology — something Murphy has made a central focus for the Center.
"Our concept is developing a device from the needs assessment, proof of concept, prototype development, time and clinical validation — and importantly, commercialization," Murphy said. "There's no point making anything if it doesn't get out into the field."
Other Center directors highlighted the need for a robust pipeline of global health investigators, including William Leonard, PhD, professor of Preventive Medicine and co-director of Center for Global Health Education.
"Our vision for this Center is to establish training opportunities to foster the next generation of global health leaders," Leonard said. "We hope to do this by growing together the diverse perspectives on global health presented here at Northwestern, developing this to address longstanding public health inequality in a sustainable way."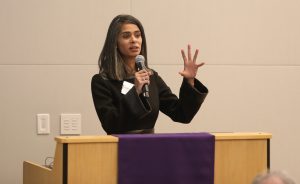 Ashti Doobay-Persaud, MD, assistant professor of Medicine in the Division of Hospital Medicine and the other co-director of the Center for Global Health Education, added that no matter what strategy was pursued, measuring success is an invaluable part of the process.
"We want to look at the evaluation, implementation, assessment and evaluation," said Doobay-Persaud, who is also an assistant professor of Medical Education. "Be really thoughtful about it, do that work across all the centers."
In light of the focus on new initiatives, Mark Huffman, MD, MPH, '09 GME, the Quentin D. Young Professor of Health Policy and director of the Center for Global Cardiovascular Health, urged symposium attendees not to lose sight of the reason they are interested in global health in the first place.
"I want you to remember the faces of people who you know, some of the people who've had heart disease, and if some of them have left too soon, to think about what could have been done," said Huffman, who is also an associate professor of Preventive Medicine in the Division of Epidemiology and of Medicine in the Division of Cardiology. "It's not inevitable, and that catalytic work we are lucky to do can not only move the needle from a numbers perspective, but it can impact people's lives."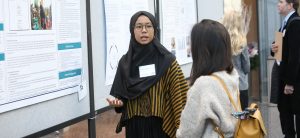 After the morning session, one panel explored the early career path for global health investigators, and another featured representatives who highlighted collaboration with other Northwestern schools, including the McCormick School of Engineering, the Pritzker School of Law and the Kellogg School of Management. Meanwhile, a poster session showcased the wide breadth of investigation performed at Feinberg and at other institutions.
Rounding out the day were keynote speakers, each delivering a short presentation and then coming together for a question and answer session.
Isaac Adewole, MBBS, former Minister of Health for Nigeria and a professor of Obstetrics and gynecology at the University of Ibadan, spoke about his work to increase vaccination rates in Nigeria.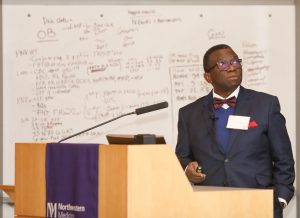 "We gave ourselves a 10-year roadmap to achieve our goal of 80 percent immunization," Adewole said. "Very critical to this effort was communication: If we didn't communicate across departments and agencies, we wouldn't have been able to get anything done."
Roger Glass, MD, PhD, director of the Fogarty International Center and associate director for International Research at the National Institutes of Health, shifted the conversation to Asia, discussing his experience investigating cholera and other diarrheal diseases in Bangladesh. There, Glass was instrumental in the development of oral rehydration therapy, a simple solution to a persistent problem of pediatric diarrheal illness. This solution was brought back to the U.S., and has become a priceless tool for U.S. clinicians — up to 12 percent of hospital admissions in the U.S. are for pediatric diarrheal illness, according to Glass.
"It's really a blessing from global health research to the American public," Glass said. "This is exemplary of why Americans should invest in global health."