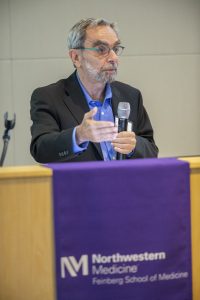 Northwestern has established the Center for Translational Pain Research, which aims to advance basic and clinical science relating to chronic pain and analgesic therapies, as well as develop novel treatments to treat chronic pain conditions.
"Our center is a new, exciting phase for pain research at Northwestern," said A. Vania Apkarian, PhD, director of the center and a professor of Physiology, Anesthesiology and Physical Medicine and Rehabilitation. "We are the only such program in the U.S. and as such, we hope to spearhead the science necessary to combat chronic pain; identify underlying mechanisms and relationships with opiate misuse and opiate analgesia; and uncover new drug targets in this domain."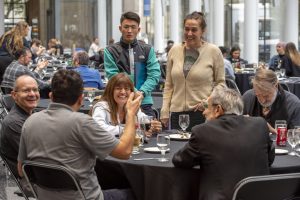 Building on decades of pain science performed at Northwestern, Apkarian said he envisions a translational approach. Northwestern scientists have developed neuro-imaging methods for studying pain in the human brain and models to identify circuits and receptors that reorganize due to chronic pain. Working to improve these tools, along with new investigations, will feed into drug discovery and eventually clinical trials to develop novel, non-addictive drugs to treat different types of pain.
"We hope to rapidly expand to generate subgroups who would pursue these goals in specific types of chronic pain, such as chemotherapy pain, osteoarthritis pain and chronic pain in children, for example," Apkarian said.
Apkarian notes that the Center for Translational Pain Research won't just be a forward-looking enterprise; a major priority of the center will be to identify clinical biomarkers than can flag patients who might be susceptible to opioid addiction, an innovation that could be put into practice sooner than later.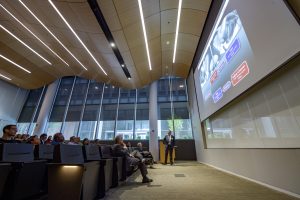 The interdisciplinary nature of the center is seen in its core faculty, including D. James Surmeier, PhD, chair and the Nathan Smith Davis Professor of Physiology; Jelena Radulovic, MD, PhD, the Dunbar Professor in Bipolar Disease and a professor of Psychiatry and Behavioral Sciences, Pharmacology and Physiology; Rajeshwar Awatramani, PhD, associate professor in the Ken and Ruth Davee Department of Neurology Division of Movement Disorders; Marco Martina, MD, MSc, PhD, associate professor of Physiology and Marwan Baliki, '09 PhD, assistant professor of Physical Medicine and Rehabilitation.
"These faculty have been collaborating for many years and are directly responsible for making this program happen," Apkarian said.
The center, sponsored by a National Institutes of Health P50 grant, joins other recent Northwestern P50 initiatives including the Brain Tumor Specialized Program of Research Excellence (SPORE), a program investigating bench-to-bedside discoveries for glioblastoma.
Awatramani is a member of the Robert H. Lurie Comprehensive Cancer Center of Northwestern University.