by MELISSA ROHMAN
Daniela Matei's career has been devoted to treating rare gynecologic cancers.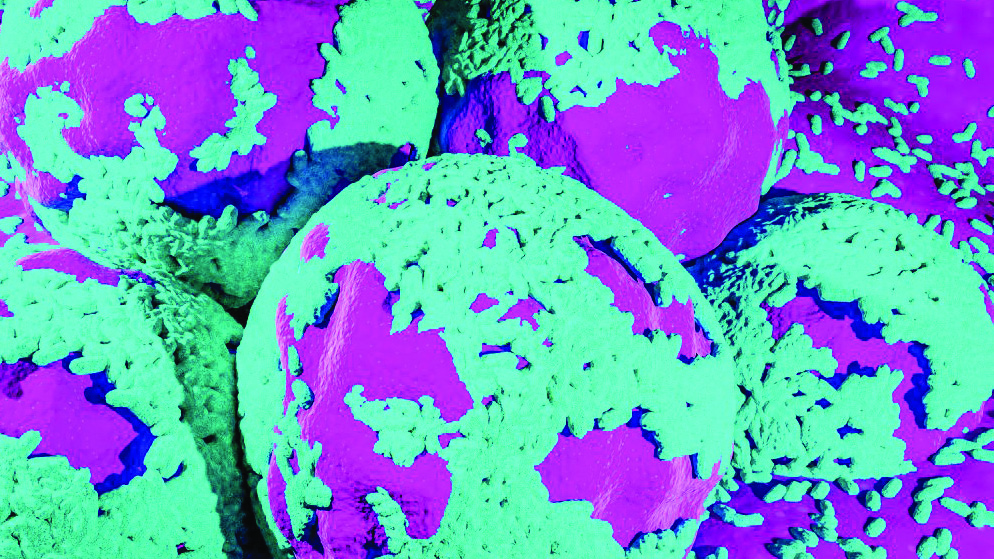 One of the most disturbing headlines concerning women's health in the past few years has been the dramatic increase of diagnoses and deaths from endometrial cancer, more commonly known as uterine cancer. Not only is the rate of incidence increasing (particularly in aggressive subtypes among non-Hispanic black women), but the age of onset is also getting lower.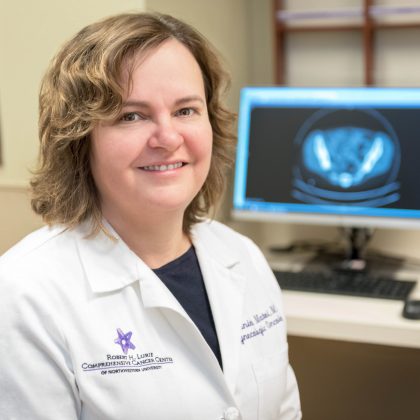 Though endometrial cancer is the most common gynecologic malignancy, it doesn't get the public attention that breast cancer or cervical cancer do. And even with an estimated 62,000 new cases diagnosed in the U.S. per year and a projection that more than 11,000 women will die of the disease, the cancer is classified as rare. A woman's lifetime risk for developing endometrial cancer is roughly 3 percent.
As such, research has been underfunded. In fiscal year 2018, the National Institutes of Health allocated a total of $47 million toward endometrial cancer research; this year, the NIH estimates that total will drop to $42 million.
Fighting a rare, underfunded, life-threating disease, Daniela Matei, MD, a Northwestern oncologist and scientist, finds herself in a catch-22. But it hasn't deterred her from pursuing trailblazing research and translating her discoveries into real-world clinical applications.
Recently, Matei, also a professor of Hematology and Oncology and of Obstetrics and Gynecology and co-leader of the Translational Research Program in Solid Tumors at the Robert H. Lurie Comprehensive Cancer Center of Northwestern University, completed a critical study to evaluate treatment options for women diagnosed with latestage endometrial cancer.
The unexpected results may change the standard of care for stage 3 uterine cancer. And Matei was as surprised as anyone by them.
Discovering the Unexpected
"Endometrial cancer is usually diagnosed at an early stage because women present with bleeding, but there is a subgroup of patients with endometrial cancer that are diagnosed at a late stage. For those patients, treatments are not curative," says Matei, who is the Diana, Princess of Wales Professor of Cancer Research.
Also, for that patient population, there has been debate in the medical community about the best approach to treatment. The standard course of care for locally advanced stages of endometrial cancer, which, according to the American Cancer Society, presents a five-year survival rate of 70 percent, is invasive surgery followed by a combination of chemotherapy and radiation. Some researchers and physicians, however, believed that chemotherapy alone might be sufficient.
"Previous studies had shown that chemotherapy was a crucial aspect of treatment. However, it was unknown if radiation needed to be added to the chemotherapy," explains Emma Barber, MD, assistant professor of Obstetrics and Gynecology in the Division of Gynecologic Oncology, who has collaborated with Matei on various translational research projects and, under Matei's guidance, developed two clinical trials for treating endometrial patients with drugs used to treat breast cancer. Still, Matei and her team did not expect their research to so conclusively counter the current treatment protocol.
"The trial was expected to be a positive trial demonstrating that the combined regimen was superior to chemotherapy given alone," Matei said.
To the contrary, Matei's findings, published in The New England Journal of Medicine, revealed that radiation combined with chemotherapy did not in fact increase recurrence-free survival for this patient population, effectively ending the debate.
"This study showed that patients who had chemotherapy and radiation had the same amount of time before their cancer recurred as patients who had chemotherapy alone. It also showed, not surprisingly, that the combination of chemotherapy and radiation had more side effects than chemotherapy alone," said Barber. "These results allow us to minimize the toxicity of treatment for patients with endometrial cancer, while still providing the same cancer outcomes."
Even as she strives to uncover treatments, however, Matei expects the number of cases of endometrial cancer to continue to rise and suggests that the obesity epidemic could be the cause. "More than half of the cases of endometrial cancer in the U.S. are attributable to obesity," she says.
Driven to Save Women's Lives
In addition to studying endometrial cancer, Matei's lab studies the cellular mechanisms of ovarian cancer metastasis — specifically epigenetic defects and tumor progenitor cells — and evaluates treatment options with the ultimate goal of improving survival outcomes for women who have been diagnosed.
Ovarian cancer is generally diagnosed in post-menopausal women when it has already reached advanced stages, as symptoms rarely show in early stages. At this point, the cancer has spread to a woman's pelvis and can be fatal if left untreated.
According to Matei, high-quality screening tests for ovarian cancer currently don't exist and the best course of treatment is a combination of surgery, chemotherapy, and drugs. This has been the standard course of treatment for the last 20 years and while many respond well to treatment, about 70 percent of patients will relapse.
"Most cases of ovarian cancer after treatment develop resistance to treatment, so my lab is interested in characterizing the metabolism of resistant cells, as well as some of the epigenetic modifications that occur in the resistant cells," Matei said. "The point of this work is to find new targets and develop treatment options that have not yet been invented."
Recently, Matei and her team have been conducting clinical trials to test a variety of epigenetic drugs designed to reestablish response to chemotherapy for ovarian tumors that have become resistant to treatment. One such new class of drugs, called PARP inhibitors — which target the DNA repair enzyme PARP — were approved for the treatment of patients with chemotherapy-resistant ovarian cancer, but activity in late-stage disease remained unproven.
This past spring, Matei was co-author of a phase II trial published in The Lancet Oncology, showing that a PARP inhibitor drug called niraparib indicated clinically relevant activity in women with relapsed ovarian cancer who had exhausted all previous treatment options.
Matei sees more such work in her future.
"Specifically, I think my niche will be to continue to develop new combinations of treatments for platinum-resistant ovarian cancer," Matei says. "I hope to also be able to lead a team of investigators in a collaborative effort focused on just ovarian cancer and we're working towards making that happen."
From the Lab to the Clinic
As passionate as Matei is about studying female gynecologic cancers, she didn't acquire a clinical interest in them while she was in medical school. In fact, her interest was sparked after she initiated research as a hematology/oncology fellow at the University of California, Los Angeles.
"My mentor at the time had an interest in looking at gene expression in ovarian cancer versus normal epithelium. I was a fellow in hematology oncology and was selected randomly to do this research project focused on defining transcriptomic changes in ovarian cancer," says Matei.
At the time, DNA microarrays — a tool used to determine if the DNA from an individual contains gene mutations — was beginning to emerge to the forefront of the field.
"Due to this project, I pursued some of the genes that we discovered to be highly expressed in ovarian cancer and ultimately ended up building my career in ovarian cancer," says Matei.
After almost two decades of studying female gynecologic cancers, Matei's motivation continues to remain patient-centered and she feels fortunate to be able to both treat and study the same diseases.
"With my research, I hope to try to improve a patient's clinical outcome, to help them overcome their fears, and to have more to offer them in terms of potential treatments," she says. "My research and practice are very nicely blended — it's very rewarding to be able to see the translation of some of the findings from the laboratory to the clinic, and also to use patient specimens from the clinic and bring them to the laboratory."
What's in a Name?
On October 27, 2016, at The Peninsula Chicago, Daniela E. Matei, MD, was formally invested as the Diana, Princess of Wales Professor of Cancer Research. Ann Lurie, president of Ann and Robert H. Lurie Foundation and Lurie Holdings, Inc., and longtime supporter of Northwestern, spoke during the gathering about her establishment of this professorship in 1996 to commemorate Princess Diana's visit to Northwestern.
"Back in 1996, I remember that Diana urged cancer researchers at Northwestern to avoid the other 'c' word — complacency — in their work. Today, we have adopted 'urgency' in its place," said Lurie. "I am happy that through this professorship that exists in perpetuity I could help to leverage the recruitment of someone like Dr. Matei."