Committed to making higher education attainable for every student in Maryland
by MELISSA ROHMAN | illustration by JACQUI OAKLEY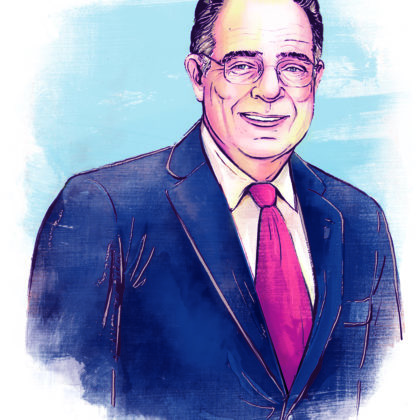 Jay Perman, '72 MD, has devoted his career to serving and empowering others, whether it be through practicing medicine or taking on various administrative and leadership roles.
In November 2019, Perman was named chancellor of the University System of Maryland (USM), becoming the fifth chancellor of the university system, which is comprised of 12 higher education institutions across the state.
A Chicago native, Perman was the only child born to Ukrainian immigrant parents who fled the country in the 1930s because of religious persecution. They settled in Chicago and opened a hand laundromat on the city's West Side. When Perman was 14 years old, his father passed away from esophageal cancer, prompting his mother to take a second job as a seamstress to make ends meet.
At an early age, Perman knew he wanted to become a physician — and attend Northwestern.
"My parents didn't have an automobile, but my uncle did. I remember when I was 15 or 16 years old, he would drive me up to the Northwestern campus in Evanston. I fell in love with it and said I wanted to go to school here," Perman said.
Perman received his bachelor's degree in psychology from Northwestern in 1968, made possible with the help of various scholarships, work study, and a modest loan. The same year, he was accepted to Northwestern's Feinberg School of Medicine, but paying for medical school seemed like an impossible feat, Perman recalled.
"There was no way my mother and I could've afforded it. Then one day, about three weeks before I was supposed to show up at medical school, I get this letter in the mail from Northwestern and it said, 'Congratulations, you are the Ploner Scholar. Your medical education is paid for.' I went to medical school for nothing — not a penny out of my pocket, out of my mother's pocket, and I graduated with no debt."
Perman received a Doctor of Medicine degree with distinction from Feinberg in 1972. He then completed his residency in pediatrics at Children's Memorial Hospital in 1975 and a fellowship in pediatric gastroenterology at Harvard Medical School and at the Children's Hospital Medical Center in Boston in 1977.
To this day, Perman credits his extensive career in medicine and higher education to the moment he opened his scholarship letter. Now in his role as chancellor of the USM, he vows to return the favor and make higher education more affordable and attainable for all students in Maryland.
"When people ask me why I decided to become a leader of a higher education system, that's the story. I'm sitting here in this amazing role because somebody made it possible for me, so now I've got to do the same thing for everybody that's coming behind me."
EQUAL ACCESS TO HIGHER EDUCATION
In 1984, Perman joined the pediatric faculty at the Johns Hopkins School of Medicine and led an effort to build up the school's gastroenterology program. It was also during this time when Perman realized his passion for helping others succeed, ultimately propelling him to take on a series of administrative responsibilities over the course of his career.
"As corny as this sounds, my day was made when somebody who I was responsible for was successful," Perman said. "My pleasure came from making sure I had done everything I could to make a platform for that person to succeed."
Since then, Perman has held various administrative positions at medical schools across the country, including the Jessie Ball duPont Professor and Chair in the Department of Pediatrics at Virginia Commonwealth University's Medical College of Virginia, dean and vice president for clinical affairs at the University of Kentucky College of Medicine, chair of the Department of Pediatrics at the University of Maryland, Baltimore (UMB), and, most recently, president of UMB.
Now as chancellor of the USM, Perman is determined to ensure education systems in Maryland adequately prepare K-12 students for higher education, to create more resources and opportunities for the "nontraditional" college student, and to bring more diversity and inclusion to the healthcare and research fields.
In an effort to bring in more students of diverse backgrounds to the fields, Perman helped establish the UMB CURE Scholars Program. Launched in October 2015, CURE is an afterschool program that prepares sixth- to-12th-grade students in Baltimore for research and healthcare careers at UMB and other institutions across the region. CURE utilizes a pipeline approach, providing career navigation, workforce training, and mentorship to students who identify as underrepresented minorities.
"Pipeline programs around the country that try to find promising African American or Latino students usually focus on finding promising students at the end of high school or early in college — which is fine, but it's too late for most," Perman said. "I know these students are not going to all be physicians, but we may get some, and even for those who go into other careers, they will have gained valuable life skills."
COMMUNITY ENGAGEMENT
During his 10 years serving as president of UMB, Perman saw his charge as helping not only the campus community, but also the city of Baltimore, which is more than 60 percent African American and has a poverty rate of more than 20 percent.
"I spent so much time refocusing UMB on community engagement because it's the right thing to do," Perman said. "On the other hand, if you don't commit to being a good neighbor, you do it at your own peril because fewer people will care about the university."
As chancellor, Perman intends to continually motivate the USM's 12 institutions — all of which differ in terms of student populations and geographic area — to be intensely engaged in their surrounding communities.
"All of these institutions have made significant progress in this regard, but there's more we can do," Perman said.
Today, Perman also continues to practice pediatric gastroenterology, a field in which he was one of the first to receive accreditation from the American Board of Pediatrics. He insists on continuing to see patients and does so every Tuesday afternoon at the University of Maryland Medical Center with UMB students from various disciplines. To UMB students, the clinic is known as the "President's Clinic," a name students gave the clinic when Perman was president of the university. He has no intention of stopping his practice anytime soon.
"I do it because I can teach these students to work with each other," Perman said. "I don't care whether they learn any pediatric gastroenterology. What I care about is that they learn how to appreciate each other, because patients with chronic diseases or socially disadvantaged people require a team to address their problems, and I want to make sure the students understand that."
Despite the many demands on his time as a university president and now chancellor, he feels well-equipped to continue running the clinic and credits this to the medical education and training he received at Feinberg.
"So many years later, I still have confidence to stand in front of today's medical students and residents and be part of their training," Perman said. "It's because of the incredibly strong foundation I have from Northwestern University."
Through the Years
1972
Graduated Northwestern with MD
1975
Completed residency at Ann & Robert H. Lurie Children's Hospital, which was then called Children's Memorial Hospital
1977
Completed fellowship in pediatric gastroenterology at Harvard Medical School and at the Children's Hospital Medical Center
1977–1984
Assistant professor and associate professor of pediatrics at the University of California, San Francisco
1984–1996
Professor of pediatrics and head of several divisions at the Johns Hopkins University School of Medicine
1996–1999
Jessie Ball duPont Professor and Chair in the Department of Pediatrics at Virginia Commonwealth University's Medical College of Virginia
1999–2004
Chaired the Department of Pediatrics at University of Maryland, Baltimore's (UMB) School of Medicine
2004–2010
Dean and vice president for clinical affairs at the University of Kentucky College of Medicine 2010 Returned to UMB as president 2019 named chancellor of the University System of Maryland (USM)