On the Cusp
by Bridget Kuehn | illustration by Jacqui Oakley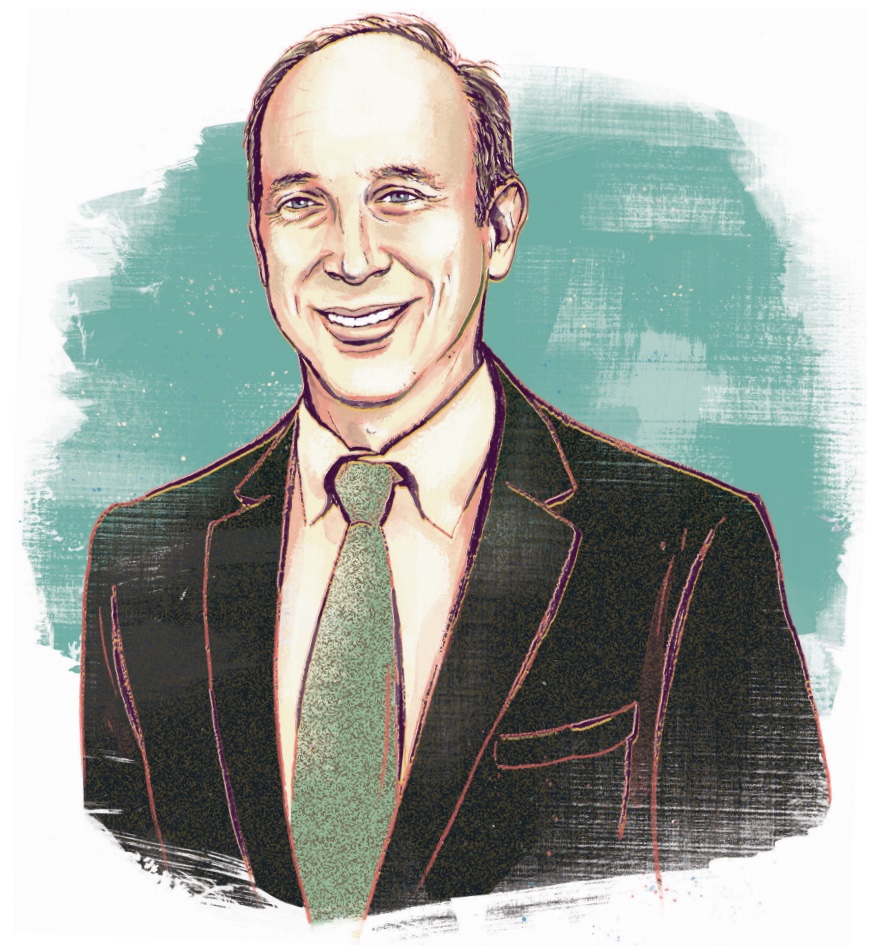 When David Holtzman, '85 MD, was in his second year of medical school at Northwestern, he was surprised to learn how little was known about Alzheimer's disease.
"I was shocked because it was the most common cause of dementia, yet our understanding and ability to treat the disease was poor," says Holtzman, the Barbara Burton and Reuben M. Morriss III Distinguished Professor in the Department of Neurology at Washington University in St. Louis. But his shock quickly turned into determination to fill that knowledge void.
"There was no grand plan, but I'm a big believer in doing what you love and what you think can make an important contribution," Paz said.
Since that early start at what is now called Rutgers Robert Wood Johnson Medical School, Paz has held leadership positions at four major academic centers as well as one of the largest health care companies in the United States, CVS Health. In each role, he has helped guide both regional and national health providers toward a model of community-based, personalized care.
Since then, Holtzman, who is the recipient of Feinberg's 2022 Distinguished Alumni Award, has emerged as a leader in Alzheimer's disease research. His research has helped reveal how genetic variants of Apolipoprotein E (APOE) contribute to the development of the disease, and his team has brought antibody-based therapies into clinical trials. He has also helped to build and grow two collaborative centers for brain disease research and co-launched a startup that has brought a blood test for Alzheimer's disease to the market.
"It's been incredible," Holtzman says. "When I first started learning about this over 30 years ago, we had absolutely no clue of what caused Alzheimer's disease or how to treat it; now we are on the cusp of having real, powerful treatments."
Playing the Long Game
After Northwestern, Holtzman completed his residency at the University of California, San Francisco (UCSF). During his post-doctoral research at UCSF, he became interested in APOE and its role in Alzheimer's disease. Though his post-doctoral research focused on mouse models of neonatal stroke and neurodegeneration, he began collaborating with other scientists at UCSF on APOE research.
In 1994, Holtzman joined the faculty at Washington University in his hometown of St. Louis. He devoted his new laboratory to study what APOE does in the brain and how genetic variants of APOE contribute to the development of Alzheimer's disease.
His laboratory and other groups showed that APOE variants played a central role in the pathology of the disease by causing a buildup of amyloid proteins in the brain. More recently, they've shown APOE variants also contribute to neurodegeneration caused by a buildup of tangled Tau proteins in the brain — a process they believe involves the innate immune system. Holtzman and his team are currently focusing on better understanding the immune system's role in the disease.
While running his laboratory, Holtzman also saw patients at a memory disorders clinic at the university as well as seeing research participants, helping Washington University become a nationally recognized leader in Alzheimer's disease research. He led the Department of Neurology as chair between 2003 and 2021. Early in his tenure as chair, the family of Christopher Wells Hobler, a patient with amyotrophic lateral sclerosis, approached Holtzman with a desire to accelerate research on neurodegenerative disease. Hobler and his family had created a foundation seeking cures for neurological disorders, now called Hope Happens. Along with the family, Holtzman helped launch the Hope Center for Neurological Disorders, which promotes cross-disease, multi-disciplinary translational research. The center offers pilot funding for laboratories collaborating to study brain disease, provides core laboratory resources, and hosts weekly seminars to keep scientists up to speed on the latest developments in brain research. Holtzman has served as the center's scientific director since 2015.
Holtzman is also associate director at the Charles F. and Joanne Knight Alzheimer's Disease Research Center (Knight ADRC), where, he says, investigators started realizing in the late 1980s that the pathology of the disease starts years before the symptoms do — an idea that took a long time to gain traction in the field. According to Holtzman, this inspired Knight ADRC scientists to conduct longitudinal studies comparing individuals with normal aging to those who have Alzheimer's disease, and these studies have yielded important insights. It
has also led to additional massive longitudinal research endeavors at Washington University, including the Dominantly Inherited Alzheimer Network, where scientists study rare mutations that cause early onset forms of Alzheimer's disease and test potential therapies.
Testing Innovative Solutions
Fifteen years ago, Holtzman launched a startup called C2N Diagnostics with his former post-doctoral fellow Randy Bateman, MD, who is now the Charles F. and Joanne Knight Distinguished Professor of Neurology at Washington University. One of the goals was to develop a blood test to detect early signs of Alzheimer's disease type pathology in the brain. During his post-doctoral fellowship, Bateman developed a method to measure the production of amyloid proteins in the nervous system of humans, Holtzman explains.
"We started accurately measuring the amyloid protein in the blood and found that the blood levels were related to how much of the protein was building up in the brain," he says. "That ultimately turned into a test that is highly accurate at determining whether someone has a buildup of amyloid in their brain or not." Bateman and colleagues recently published results of a multi-center international study in the journal Neurology showing that the test accurately detected the presence of amyloid plaques in patients. Holtzman says that the test could be a valuable tool for clinicians trying to determine the cause of early signs of cognitive impairment.
"We know that in people with Alzheimer's disease, the brain changes start occurring about 20 years before symptoms, and the blood test can pick that up," he says, adding that this is already allowing people to enroll in clinical trials of treatments to prevent or delay the disease. The test could also help clinicians rule out Alzheimer's disease in patients who do not have amyloid buildup.
"If the test is negative, then you want to look for other causes of cognitive impairment," he says.
The company, partnering with Holtzman's lab, helped develop an antibody-based potential treatment for Alzheimer's, targeting Tau tangles. According to Holtzman, no beneficial effect was found when the company AbbVie tested the therapy in clinical trials. Since then, Holtzman's laboratory has shifted gears to determine whether APOE protein may be a better target for antibody-based as well as other gene-targeting therapies.
"Antibodies to APOE that is in amyloid plaques might be a better way to remove plaques without some of the toxic side effects seen with some anti-amyloid antibody therapies," he says.
His laboratory is currently studying how disrupted sleep may contribute to the buildup of harmful proteins in the brain.
"We are trying different pharmacologic ways to improve sleep and gauging whether it affects Alzheimer's pathology," Holtzman says.
When he is not working, Holtzman enjoys kite surfing, hiking, and attending cultural events with his wife. Her support, he says, has been pivotal to his career, which often entails putting in extraordinary hours. He also acknowledges life-long friends he made while at Northwestern, who continue to play an important role in his life.
"Northwestern launched my career," he says. "It set up everything that allowed me to be successful afterward."