Biotech Boss
Sheila Gujrathi, '96 MD, is opening doors for people with diverse perspectives in biotech.
by Bridget Kuehn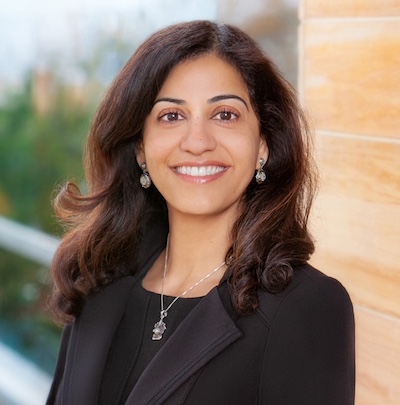 As chief medical officer of Receptos, Inc., Sheila Gujrathi, '96 MD, shepherded Zeposia, an immune system-modulating drug, through the clinical research trials and on its way to becoming a U.S. Food and Drug Administration-approved therapeutic for the treatment of multiple sclerosis and ulcerative colitis. Now, she is paving the way for others from diverse backgrounds to take on leadership roles in biotech.
The success of Zeposia, which is now owned and made by Celgene Corporation and is part of Bristol Myers Squibb, helped catapult Gujrathi's career as a leader in the biotech field. She later co-founded and became the chief executive officer of Gossamer Bio, a clinical-stage biopharmaceutical company working on therapies in immunology, inflammation, and oncology. She now chairs the boards of directors of three companies, serves as a venture advisor to OrbiMed, and is board director, strategic advisor, and co-founder of multiple other companies. These leadership roles make her one of the few women or underrepresented minorities to hold such high-level positions in the field. She is poised to make a permanent mark in the biotech industry as a role model, business executive, and drug developer.
"I have enjoyed a fulfilling career," Gujrathi says. "The companies I work with have excellent chances of getting life-changing drugs approved for patients."
Unconventional Path
Gujrathi is a graduate of the seven-year honors program in medical education at Northwestern. She loved the program's flexibility and pursued a challenging undergraduate degree in biomedical engineering while working toward a medical degree from the Feinberg School of Medicine.
"Those engineering days honed my analytical and problem-solving skills," she says.
At Feinberg School of Medicine, she fell in love with immunology. She was fascinated by the blossoming understanding of the immune system and planned a career in academic medicine researching therapies for autoimmune and other diseases. However, her path would take a few turns along the way.
She took a year off between her second and third years in the program. During that time, she lived in an ashram in the south of India. Taking time for spiritual study helped her reflect on life's larger purpose and commit to living a life of service, she says. It also helped her develop values of respect, humility, and community.
"Establishing a spiritual foundation has been fundamental for my life and career," Gujrathi says.
After finishing the program at Northwestern, she completed an internal medicine residency at Brigham and Women's Hospital in 1996. Then, she completed a clinical fellowship year in allergy/immunology at the University of California San Francisco and Stanford. Exposure to biotech and pharmaceutical industry careers during her training made her reconsider her career path.
"I decided to leave academic and clinical medicine and ended up finding my way to biotech," she says.
Gujrathi first worked as a management consultant in the healthcare practice at the consulting firm McKinsey & Company. That role gave her business training and helped her decide to pursue a career in biotech.
"That planted the seed for me that I would love to be an entrepreneur and start my own company one day," she says.
To gain experience in her field and learn more about the drug approval process, she worked at the biotech company Genentech and then at global pharmaceutical company Bristol Myers Squibb. She says she benefited from learning from experts at both companies. She next took on the chief medical officer role at Receptos and her first oversight positions as a director of the Board of Directors of Ambrx and Five Prime Therapeutics.
In 2017, Gujrathi co-founded Gossamer Bio and later became its chief executive officer. By the time she left the company in 2020, it had $555 million in assets, two promising drugs in phase 2 trials, and a discovery pipeline.
"Founding and running a successful biotech company is challenging on its own, but especially when doing it as a woman of color," she says. "That is no small feat."
Opening Doors
Since then, Gujrathi has served on several boards for biotech and pharmaceutical companies, including Turning Point Therapeutics, Janux Therapeutics, ADARx Pharmaceuticals, ImmPACT BIO, and Ventyx Biosciences. In those roles, she is helping guide the companies and their leaders and protecting the interests of shareholders. She is also helping to increase representation in the biotech industry. She notes that only 2 to 7 percent of the chairs of biotech boards are currently women.
"I am going to keep pushing boundaries for greater representation by women," she says.
As a clinician, she is also proud of her role in improving the lives of patients and their families, pointing to the growing understanding of the immune system's role in transplant medicine, autoimmune and inflammatory diseases, cancer, cardiovascular diseases, and infectious diseases.

"We have made great strides in targeting very important immune mechanisms for the treatment of autoimmune disease and cancer," she says. "We are just beginning to elucidate further how to dampen or upregulate the immune system."
In addition to her professional roles, she is a busy mother of two teenagers. She is also the wife of an emergency physician who leads three emergency departments in the San Diego area. She enjoys reading, dancing, exercising, traveling, taking in shows, and spending time with family and friends during her downtime.

"Our goal is to live life to the fullest," she says.
Gujrathi advises both young and mid-career physicians to take time to learn what they are passionate about and what they enjoy doing every day and build a career around that. For some, that may be direct patient care or research. She points out that physicians' training also prepares them for many other fields beyond medicine.
"Find what drives you and makes you excited every day," she says.
Gujrathi is also a strong advocate for women and people from diverse backgrounds in her field. She notes that industry and academia can be daunting for people from underrepresented groups. However, she says it is vital for them to know they belong in the room and at the table.
"There are more doors open than ever before," she says. "We need more people coming forward with diverse perspectives and stepping through these doors. Representation matters because it is critical for real change to occur."