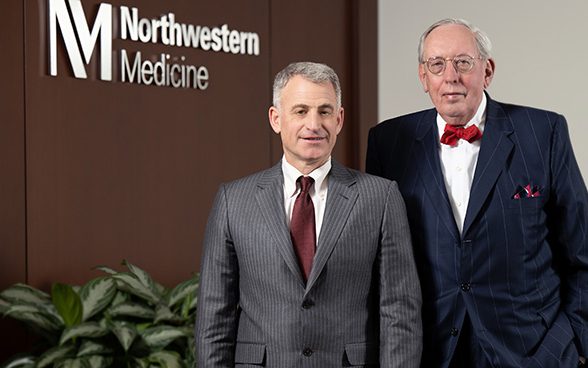 We are not the first to note that biomedical science is undergoing a revolution driven by rapidly evolving tools, technolo­gies, and datasets available to physicians and scientists.
Evolution may be a better term for 2023, as artificial intelligence (AI) advances and human under­standing adapts. On our Chicago campus, through Feinberg's Institute for Artificial Intelligence in Medicine and the Northwestern Medicine Mansueto Innovation Institute, and through inves­tigator-driven studies, we are working to appreciate how this developing technology may have implications for discovery, digital health records, diagnos­tics, therapeutics, care delivery, and more.
AI represents the future of healthcare, and while today's version may have flaws and must be applied responsibly, it will certainly get much better as it trains and develops.
Northwestern's biomedical leaders recently participated in a wonderful panel discussion at Feinberg called "Discussing New Frontiers in Biomedicine," in which some of our brightest minds converged to discuss wide-ranging topics related to improving and trans­forming human health. AI was a constant thread, as was the remarkable progress being made collaboratively across many disciplines as we seek answers together, leveraging every technology available to science and medicine.
In this issue, readers will learn about this progress in AI and discover more remarkable interdisciplinary work.
In "Colonoscopies Just Got Smarter," we share how gastroen­terologists at Northwestern Memorial Hospital are leveraging a leading-edge AI tool to increase the quality of routine colonoscopies, catching more colon cancers early. This is just one of many ways Northwestern is bringing the early benefits of machine learning and interdisciplinary collaboration to benefit patients today.
We also share a story of the boundary-breakers and changemakers involved in the Chan Zuckerberg Biohub Chicago, a new cross-insti­tution initiative that will bring together investigators from Northwestern, University of Chicago, and the University of Illinois Urbana-Champaign to better understand inflammation and immune cell function in unprecedented detail and resolution. This important work could have implications across a wide range of conditions, including autoimmune diseases and cancer.
In the "Biology of Behavior," our work to unravel how the activity of neurons translates into human behavior spans the fields of neuroscience, neurology, psychiatry, biology, and phar­macology — particular areas of strength for Northwestern. Earlier this year, the medical school launched the Center for Psychiatric Neuroscience, a collaborative hub that will unite this work, which spans both basic science and translational research. Ultimately, we hope to under­stand neural mechanisms and develop novel therapeutics that can help treat mental illness and neurological disorders.
Insights and innovations that come from these studies require the help of Feinberg's Department of Medical Social Sciences, where investigators help ensure that data-driven insights improve the health of our communities and society equitably. At the helm of the department is Rinad Beidas, who shares her vision for the future in this issue. Uniting disciplines and institutions is key to creating equity, and we look forward to seeing how she builds these bridges to improve how we deliver healthcare.
How will AI change the future of these stories? We can't be sure. But the truth is, biomedical science gets better every time we expand our horizons to new disci­plines, technologies, and collaborations. We are confident that AI — as a tool that augments the practice of medicine and enhances discovery — will be no exception.
With warm regards,
Eric G. Neilson MD
Vice President for Medical Affairs
Lewis Landsberg Dean
Northwestern University Feinberg School of Medicine
Howard B. Chrisman, MD
President and Chief Executive Officer
Northwestern Memorial HealthCare
---