Fall 2019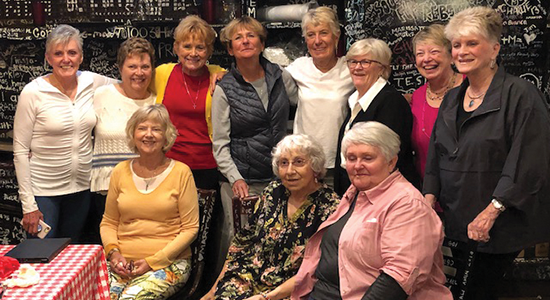 1940s
Daniel Marshall, '47 MD, was the 2018 recipient of the American College of Physicians' Henry Gift Award. The award recognizes a Connecticut-based internist distinguished for a "lifetime of service to the care of patients and active participation in the local medical community." Marshall retired in October 2018 after being in practice for six decades.
1960s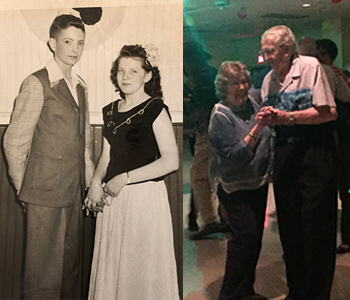 James F. Bellenger, '60 MD, is pictured with Martha Catherine Hotchkiss, not a Northwestern alumna, with whom he went to a school dance in the 1940s in Birmingham, Alabama. In September 2018, she reached out to him and they discovered that they lived just an hour apart in Tennessee. They have since met up and reconnected. They are now back in each other's lives after all these years, with their story featured in the local paper.
Charles Maseredjian, '66 DDS, class reunion chairman, is calling all Northwestern University Dental School (NUDS) Class of 1966 alumni to save the date: June 25 – 26, 2021. The NUDS Class of '66 will be celebrating their 55-year reunion in Chicago. More information to come. Contact Maseredjian at 818-841-4695 (office) or 818-822-3172 (cell).
1970s
Since retiring in 2006, Steven Golbus, '73 MD, is now in his 12th year as volunteer medical director and attending physician at a free clinic that provides medical care for those without medical insurance. The free clinic is part of a national network called Volunteers in Medicine.
James W. Findling, '75 MD, clinical professor of Medicine and Surgery at the Medical College of Wisconsin, was awarded the 2019 Outstanding Clinical Practitioner Award by the Endocrine Society in New Orleans. Findling is an internationally recognized expert on pituitary-adrenal disorders with more than 100 publications and book chapters. He has been involved in many clinical trials on the diagnosis and treatment of Cushing syndrome, and has been a visiting professor at many medical centers in the United States.
Michael J. Holtzman, '75 MD, director of the Division of Pulmonary and Critical Care Medicine at Washington University School of Medicine in St. Louis, received awards totaling $7.5 million to support innovative research aimed at defining and controlling chronic respiratory diseases such as asthma and chronic obstructive pulmonary disease.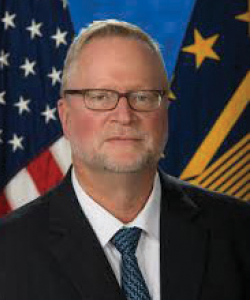 Howard Arof, '79 MD, '83 GME, retired last year from Northwestern Medicine after 35 years of OBGYN practice. He now lives in Belleair Beach, Florida, where he works as a volunteer physician at the Clearwater Free Clinic.
William P. Gunnar, '79 MS, '83 MD, was appointed executive director of the Veterans Affairs National Center for Patient Safety in Ann Arbor, Michigan, by the United States Department of Veterans Affairs. Gunnar previously served as national director of Surgery for the Veterans Health Administration.
1980s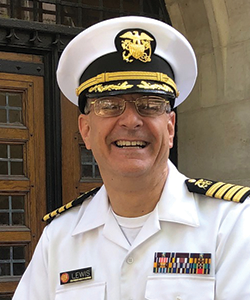 Captain Brian Lewis, '86 MD, serves as chief professional officer, Physician Category, in the Commissioned Corps of the United States Public Health Service (USPHS), an all-officer uniformed service with more than 750 physicians stationed in over 60 state and local health departments. Capt. Lewis is the primary point of contact between the Office of the Surgeon General and the USPHS physicians, providing leadership and direction and advocating for physician officers. If you would like to learn more about the USPHS or contact Capt. Lewis, email him at brian.lewis@fda.hhs.gov.
Darren E. Wethers, '88 MD, CPE, FACP, was named vice president, clinical operations, at Blue Cross Blue Shield of Arizona (BCBSAZ) on July 1. In this role, Wethers is responsible for managing medical policy, provider credentialing, peer review and fraud investigations, clinical vendor oversight, and payment integrity. BCBSAZ is the second largest health plan in Arizona, providing coverage for 1.2 million members. Wethers previously spent four years as chief medical officer for Blue Cross Blue Shield of Arizona Advantage.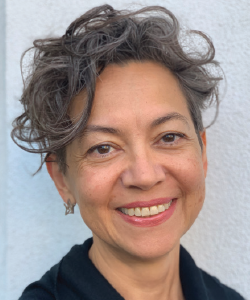 Coco Cabrel, '89 MD, recently retired after 30 years of university, college, and graduate school teaching, curriculum building, and administration in both health sciences and performing arts, to launch and build her own coaching and consulting company. With Lifestorm Calms, Cabrel draws from her expertise in teaching anatomy, physiology, and neuroscience, her work as a Reiki master, and her experience as a flamenco dancer and choreographer to help professionals — and physicians, students, faculty, and administrators in particular — to quickly calm work stress and develop tools for preventing and easing burnout. Cabrel is becoming a sought-after speaker on the topics of work stress and burnout relief as well as how to achieve harmony in life for artist-scientists.
Sandra L. Weber, '89 MD, began her term as president of the American Association of Clinical Endocrinologists (AACE) at their Annual Meeting in April 2019. AACE has more than 6,500 members in the United States and 90 other countries. AACE reaches out to clinical endocrinologists throughout the nation and abroad to enlist their participation in an association dedicated to the principles of patient care, education, and clinical research that have made American medicine the world leader.
1990s
Mark D. Stovsky, '91 MD, MBA, FACS, was recently elected president of the American Urological Association North Central Section at the society's meeting in September, 2019. Stovsky is past president of the American Association of Clinical Urologists, the Ohio Urological Society, and the Cleveland Urological Society. Stovsky has been named to Castle Connolly Top Doctors and Best Doctors in America. He is currently a staff urologist in the Glickman Urological and Kidney Institute at the Cleveland Clinic and senior director for Emerging Business at Cleveland Clinic Ventures.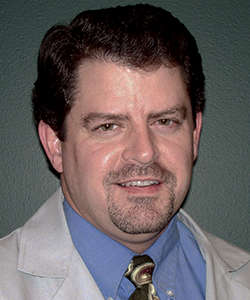 Steven A. Gard, '95 PhD, executive director of the Northwestern University Prosthetics-Orthotics Center (NUPOC), associate professor in the Department of Physical Medicine & Rehabilitation at Feinberg, and a research health scientist with the Jesse Brown VA Medical Center, was invited by the World Health Organization (WHO) to participate in the second meeting of Global Rehabilitation 2030 that acts to strengthen worldwide health systems that provide rehabilitation. He also participated in the follow-up sessions that establish the WHO global research agenda and attended the WHO meetings in Geneva, Switzerland, in July.
Scott Baker, '96 PhD, lead biologist at the DOE Environmental Molecular Sciences Laboratory, a national user facility at the Pacific Northwest National Laboratory in the Department of Energy National Laboratory located in Richland, Washington, was elected Fellow of the Society for Industrial Microbiology and Biotechnology (SIMB) in July. He is a former president of SIMB (2015-2016) and will be the 2020 program co-chair and 2021 chair for SIMB's Symposium on Biomaterials, Fuels, and Chemicals, the premier scientific conference for biotechnological advances for production of biofuels, bioproducts, and biomaterials.
2000s
Karin Larson-Pollock, '02 MD, '03 MBA, is saddened to announce the passing of her father, James B. Larson, '66 MD, on August 15. Larson was a proud graduate of the Feinberg School of Medicine. After serving as a flight surgeon in the U.S. Air Force, Larson successfully completed a residency in Internal Medicine and a fellowship in Allergy and Immunology at the Mayo Clinic in Rochester, Minnesota. He was a pioneer in his field and was dedicated to bringing world-class medical care to the West — serving thousands of patients in Montana, Wyoming, and North Dakota. To him, practicing medicine was a calling, which he did for 51 years before finally retiring after being diagnosed with cancer. His daughter writes, "He loved being a physician and still had many close friends from his class up until the end."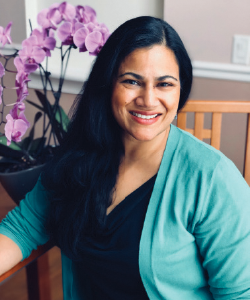 Shamila Gupta Rawal, '02 MD, proudly announces the opening of her new practice, The Rawal Institute for Hair Restoration and Aesthetic Medicine, in Madison, Wisconsin. Rawal's practice specializes in the surgical and non-surgical treatment of alopecia, rejuvenation of the face and neck, and bioidentical hormone therapy.
After graduation from Northwestern's McCormick School of Engineering in 1998, Rawal attended the Feinberg School of Med-icine, followed by completion of a residency in Otolaryngology/Head and Neck Surgery at the University of Illinois in Chicago. Her family recently moved from the Chicago suburbs to Madison, Wisconsin, where her husband Ashish is an orthopedic surgeon/sports
medicine physician.
Rawal, who has three beautiful children, is excited for this new adventure and welcomes those interested to visit her website, (www.therawalinstitute.com) for more information.
GME
Kalisha Hill, MD, MBA, '03 GME, chief medical officer and medical director of Pathology at Presence St. Mary's Hospital, was recently honored by the College of American Pathologists (CAP), receiving the CAP Distinguished Patient Care Award in recognition of her dedicated contributions to patient care and service to the advancement of pathology. Hill is actively involved with the organization and also is a dedicated community health advocate.
James Matthew Saucedo, MD, '13 GME, MBA, accepted a position at Houston Methodist Willowbrook Hospital in Houston, Texas. He and his wife, Tiffany Saucedo, welcomed their second precious daughter, Elena Isabela, on December 15, 2018.
Jonathan Kahn, '08 MD, '09 GME, writes: "Adriane Tanjutco and I met on New Year's Day 2015 at a coffee bar. We hit it off and have been best buds ever since! Our favorites include exploring exotic cuisines and traveling the world to find great Instagram shots. We have a one-year-old puppy named Niles Crane who loves us to pieces. Our wedding was a small luncheon followed by a cocktail party in Brooklyn, New York. We are excited for our two honeymoons in Thailand and Scandinavia.
How we met: Ever hear of swine flu? Adriane was stuck at home with swine flu in late 2014. I found him on a dating app and, luckily, Adriane had time to respond to my "Hi cutie" message. The rest is history."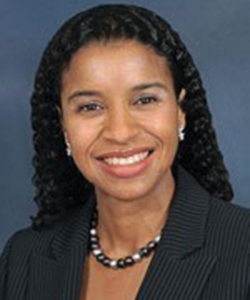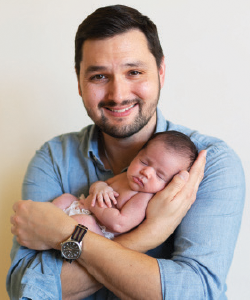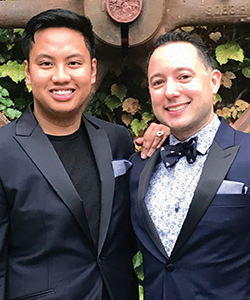 MPO
Mike Mullenix, '18 MD, completed his 12-month orthotic residency in October 2019 with Hanger Clinic in Chicago, Illinois.