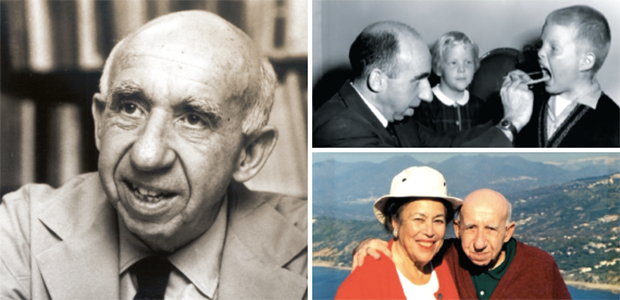 The work of Jeremiah Stamler, MD, professor emeritus of Preventive Medicine in the Division of Epidemiology, is so cutting-edge, it recently earned him roughly half a million dollars in funding from a competitive grant program at the National Institutes of Health.
Stamler turns 100 next month.
For his birthday, Northwestern is throwing Stamler a party he will surely appreciate: one filled with science. Researchers from across the country will convene to discuss the future of heart health and Stamler's trailblazing work on the topic.
At 99, Stamler still teaches, advises colleagues, and leads research at Northwestern, where he joined the faculty in the early 1960s. His decades-long career has focused on how diet and environment affect heart health and blood pressure — even when such ideas were roundly dismissed by the scientific community.
The Washington Post
Chronic pain afflicts 50 million adults in the United States. To better understand the malady, scientists are using technology such as MRIs, to observe the brain while people are in pain. A. Vania Apkarian, PhD, professor of Physiology, Anethesiology, and Physical Medicine and Rehabilitation, has taken precisely this approach. In a study published by Nature Communications, he was able to predict who is likely to experience chronic low back pain just by examining brain images and connectivity. He also says he can tell who will respond well to interventions, including placebo. Even before people are exposed to placebo, "their brain properties tell us… who will respond to the sugar pill," he said.
The Washington Post
Millions of people are unaware that they have had a silent myocardial infarction and are at risk of having another attack that could cause severe damage or death.
"A silent heart attack is not always so silent, but its symptoms — mild chest discomfort, heartburn, nausea, shortness of breath — happen to lots of people and are typically attributed to other causes and not brought to medical attention," Robert Bonow, MD, vice chair for Development and Innovation in the Department of Medicine and the Max and Lilly Goldberg Distinguished Professor of Cardiology.
Women whose symptoms are often vague are especially unlikely to realize they are having a heart attack.
The New York Times
A new landmark clinical trial found that a drug used to target faulty gene repair may buy more time for some men with advanced prostate cancer. Funded by Astra Zeneca and Merck, the PROfound trial tested a drug called Lynparza (olaparib), which is approved to treat certain patients with breast or ovarian cancers linked to mutations in the BRCA genes.
When BRCA is working properly, it helps repair damaged DNA in body cells that can lead to cancer; when the gene is altered, those repair mechanisms go awry. In addition to breast and ovarian cancers, these mutations also drive some cases of prostate cancer. The trial included men with advanced prostate cancer who had alterations in BRCA or other genes involved in DNA repair. Investigators found that, compared with standard hormonal therapy, Lynparza delayed cancer progression for a median of about three months. The drug also slowed pain progression.
"Delaying the cancer from growing is meaningful," said Maha Hussain, MD, a professor of Medicine in the Division of Hematology and Oncology, who led the trial. She added, "At the end of the day, patients want to live longer, and also better."
CNN, U.S. News & World Report, and HealthDay