Twelve Years of Global Impact
Celebrating the New Institute for Global Health at Northwestern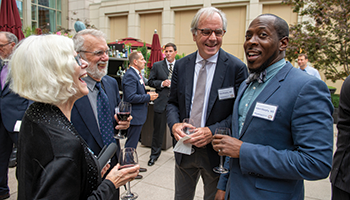 On September 25, more than 300 people came together to support Northwestern's commitment to improving health worldwide during the 12th Annual Global Health Initiative (GHI) Benefit Dinner. The event, which followed the launch of the medical school's new Institute for Global Health this May, raised a record amount to push forward the Institute's momentum and bright future.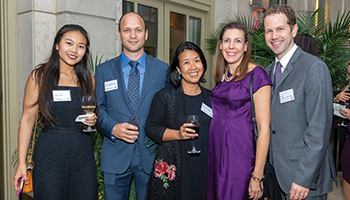 "Since the GHI was founded, we've sent nearly 1,400 Northwestern medical students, residents, and faculty to underserved countries, where they provide care, deliver supplies, and conduct both laboratory and clinical research," said Robert J. Havey, MD, founder of the GHI and deputy director of the Institute for Global Health. "Our work helps hundreds of thousands of people and helps find new solutions for critical global health problems."
The GHI Fund started 12 years ago with one gift from a grateful Northwestern patient who made a donation to honor his physician and support education at Feinberg. Over the years, the initiative has established educational outreach programs, supported clinics where medical trainees and faculty work, provided seed funding for research, and worked closely with faculty across the medical campus and the world to support efforts in global health.
In addition to supporting elective rotations for medical students and residents, the GHI Fund has acted as a financial catalyst to support faculty research in a variety of disease-specific areas. The work is critically important, Havey noted, since, "As the world's population expands, the disparities in access to care keeps expanding as well, leading to humanitarian, social, and economic problems on a scale never before seen."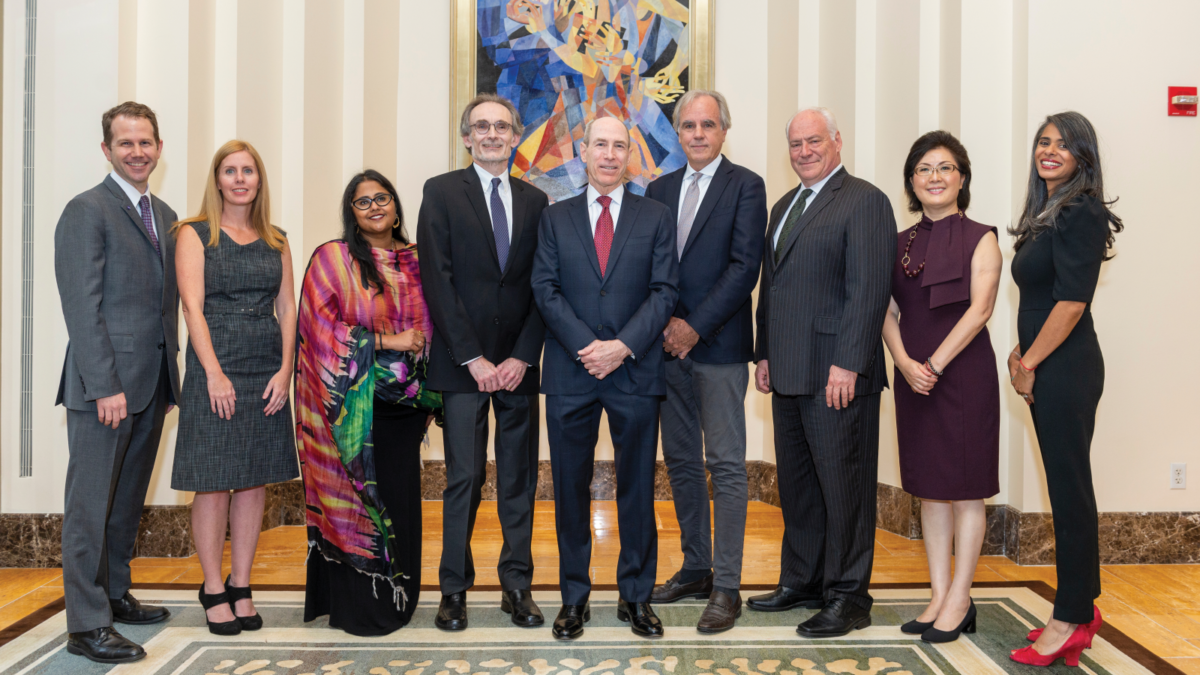 Testimonials of Impact
---
Chung Family Honors Their Patriarch's Legacy Through Neurosurgery Lectureship
After a residency at Northwestern, alumnus Byong Uk Chung worked as a neurosurgeon for more than four decades.
This August, faculty and trainees in Northwestern's Department of Neurological Surgery gathered for the inaugural Byong Uk Chung, MD Global Neurosurgical Lectureship in Neurosurgery, a unique learning opportunity made possible by generosity from the Chung family to commemorate their patriarch, Byong Uk Chung, MD, '67 GME.
"Dr. Chung had a tremendous passion for teaching and volunteer work, and for international travel and exchange. To honor his memory and contributions to Northwestern, the city of Chicago, and his patients, the Chung family decided to make a very generous gift to support this lectureship," said Maciej (Matt) Lesniak, MD, chair and the Michael J. Marchese Professor of Neurosurgery.
Born in Seoul, South Korea, Chung earned his medical degree from Oregon Health and Science University and completed his general surgery training and neurosurgery residency at Northwestern. He completed a fellowship at the Karolinska Institutet in Sweden and then went on to practice neurosurgery for more than 40 years in the northwest suburbs of Chicago. He passed away in 2018.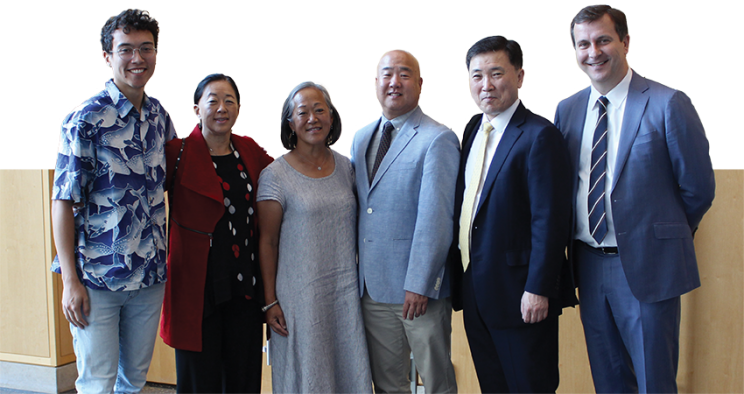 Paying homage to Chung's roots, the first featured guest speaker was Jin Woo Chang, MD, PhD, president of the Korean Society of Neurological Surgeons and professor of Neurosurgery at Yonsei University College of Medicine in Seoul. One of the world's preeminent neurosurgeons, Chang delivered a lecture titled "Current and Future Perspective of MR Guided Focused Ultrasound Surgery (MRgFUS) for Brain Disorders."
"Dr. Chang was an excellent lecturer. His research is very exciting and innovative and will transform neurosurgery treatment for psychiatric disorders, Parkinson's, and hopefully diseases like glioblastoma," shared Mimi Chung, MD, one of Chung's daughters, who traveled to Chicago from California to attend the lecture.
Endowed lectureships at Feinberg provide the funding and occasion for departments and other groups across the medical school to invite visiting lecturers from distinguished peer institutions to share their knowledge and insights, and to spend substantive time with faculty and trainees during their visit.