photography by LAURA BROWN
Adapting to new realities while going the extra mile.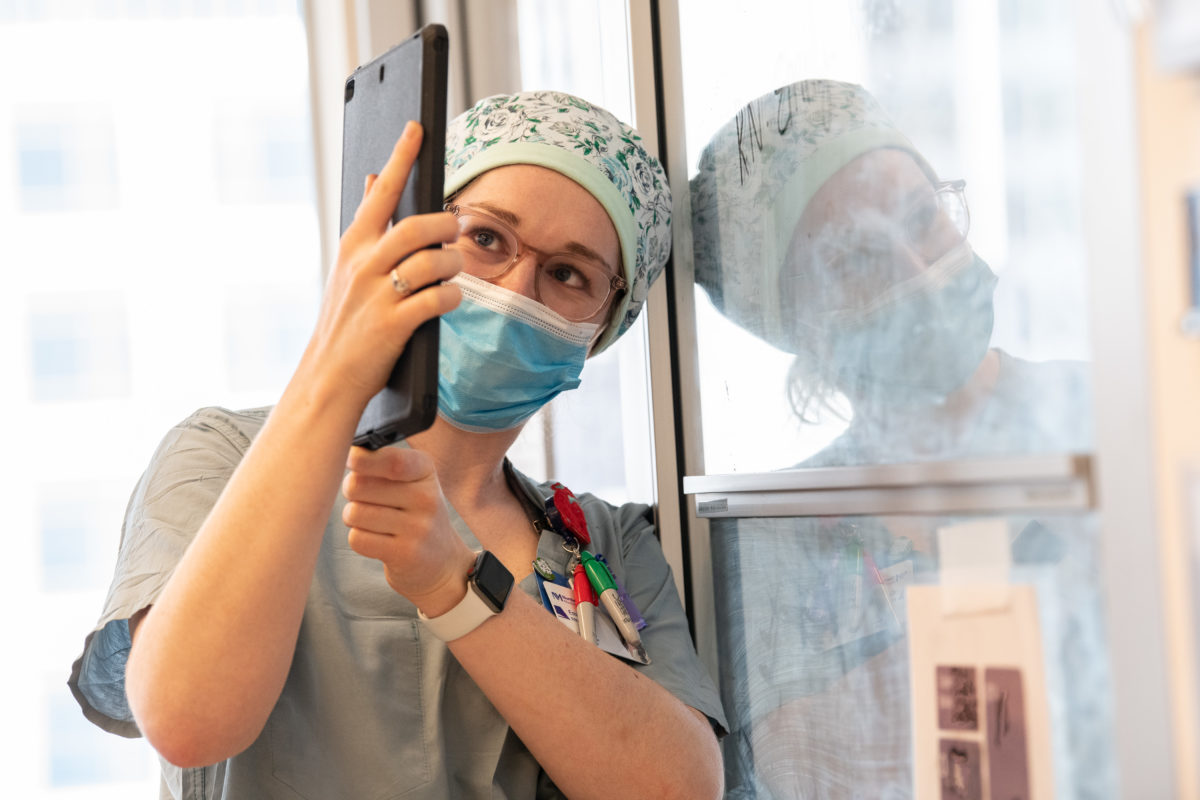 Despite the challenging landscape, a spirit of camaraderie and determination has allowed Northwestern Medicine staff and physicians to overcome many of the unique obstacles presented by the COVID-19 pandemic. Various initiatives and programs were designed in mere days to provide the best possible patient care, whatever the circumstances.
Monitoring COVID-19 patients at home
Northwestern Medicine created the COVID-19 Patient Monitoring Program, which brought together more than 500 individuals, including Northwestern University Feinberg students and Northwestern Medicine staff from a variety of specialties. The program was designed to monitor and support patients who are not hospitalized but who tested positive, have pending results, or are presumed to have COVID-19.
"We identified there was a gap for the patients who were getting this diagnosis and going home," explains Gayle Kricke, PhD, MSW, director of operations for primary care and an assistant professor of General Internal Medicine and Geriatrics in the Department of Medicine, who was among those to help develop the program with Jeffrey Linder, MD, MPH, chief of General Internal Medicine and Geriatrics. "This presented a unique opportunity to both monitor and advise them."
Since more than 80 percent of patients with COVID-19 do not require hospitalization, the program offered an efficient process to monitor patients at home and, if necessary, triage them to the appropriate level of care.
It was developed and launched in just four days, a feat made possible by teamwork. "The speed and skill with which leadership, project management, medical students, nurses, advanced practice providers, attending physicians, and information systems staff came together were nothing short of remarkable," says Linder.
Each day, patients are asked to report their symptoms through NM MyChart. Those who do not respond or who report severe symptoms receive a phone call from a clinician.
"We're trying to help patients stay at home and be well through their illness, but we're also keeping an eye out for severe symptoms and patients who need the Emergency Department or hospital-level care," says Linder.
"We're helping people remain safe in their home, knowing that someone is checking up on them," says Kricke. "If they meet certain criteria, we will triage them and do a warm handoff so the ED is aware they are coming."
This level of care has been made possible by seamless teamwork, and patients benefit. "I just feel so much better when you call," reported one patient. "Not physically, but emotionally. It's so nice to get reassurance and to know someone is keeping an eye on me."
From Cardiac Medicine Unit to Cardiac ICU in a day
Beginning in mid-March, Jaime Hosler, BSN, CCRN, patient care manager for the Coronary Care Unit at Northwestern Memorial Hospital, was part of the team that made plans for how to best care for patients with COVID-19 while also caring for patients who do not have COVID-19 but who require intensive care.
A plan came together to expand COVID-19 care capabilities by converting the Northwestern Memorial Hospital ninth-floor Galter unit to a COVID-19 unit. That meant staff would have to move the 14-bed Coronary Care Unit from Galter to the eighth floor of the Feinberg Pavilion.
Over just eight hours on a Saturday, Hosler and her team transformed a regular Cardiac Medicine Unit in the Feinberg building into a fully operational Cardiac ICU, with all the necessary monitors, supplies, medications, and equipment. Patients were transferred into the unit the same day.
"All of this work occurred on the same Saturday the patients were moved to the new Cardiac ICU — an incredible amount of work completed within hours," says Hosler.
To outfit the new COVID-19 ICU, the following work was completed in one day: GE Healthcare helped get ICU monitoring equipment up and running; staff members from the Pharmacy department restocked its shelves and reprogrammed their medication management system; supply carts were built and stocked with ICU equipment and COVID-19 PPE; cameras were installed in patient rooms to allow remote monitoring of patients and limit the number of times nurses had to don PPE to enter the rooms; and the Infection Prevention and Engineering departments created negative airflow for the new rooms.
"The response to this crisis was strategic and comprehensive," says Hosler. "This work was a true display of teamwork and excellence."