Alumni Giving Supports First White Coats for New MD Students
In years past, first-year medical students at Northwestern donned their white coats for the first time surrounded by classmates, professors, and family during the Founders' Day ceremony. This year, circumstances prevented the traditional celebration, but alumni made sure that our newest students were warmly welcomed to the medical community. Here, students share their gratitude to just a few of the many generous alumni — Frederick Dean, '66 MD, Michael Krew, '82 MD, Mark Kogan, '80 MD, David Bartsch, '69 MD, Theodore Greenlee, Jr., '59 MD, and Robert Lohr, '76 MD — who gave them the gift of their first white coat.
---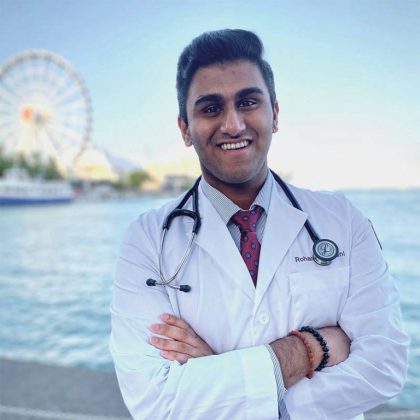 Dear Dr. Dean,
From the bottom of my heart, thank you so much for your immense generosity with this gift of my first white coat. I'm deeply humbled to be entering the medical profession, especially in a time like this, and I certainly felt both the weight of that responsibility and the depth of that honor as I wore my coat for the first time.
Yours,
Rohan Chalasani
---
---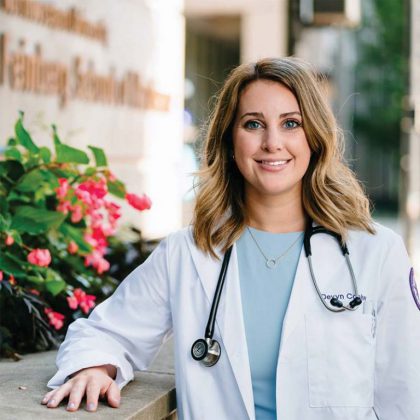 Dear Dr. Kogan,
As the first in my family to go to college and medical school, your generous gift provides me comfort and reminds me that even though medical school is tough, we are surrounded by faculty and alumni such as yourself who see our potential and will support us to ensure that we succeed. For me, the white coat is a reflection of the many people, mentors, friends, and loved ones that have been a part of my journey. Most importantly, it represents another step towards taking care of people and positively impacting their health and lives for the better.
All the best,
Devyn Coskey
---
---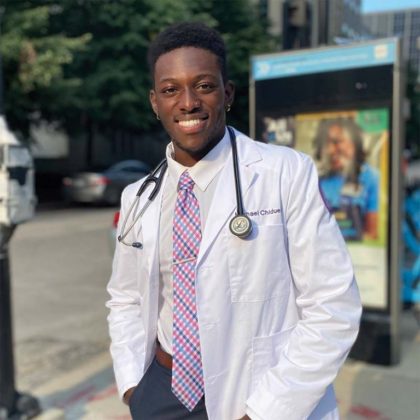 Dear Dr. Greenlee,
I want to express my sincere gratitude for your white coat donation. The coat is a large symbol of service, selflessness, and a commitment to ensuring the health of others. I know I have a long way still to go in achieving my goals, but I hope to carry on the legacy of those who came before me and inspire a better future in those who come after me.
Best wishes,
Michael Chidueme
---
---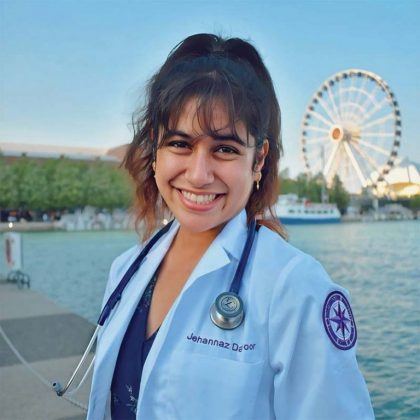 Dear Dr. Krew,
Being a physician is a dream that I've had ever since I was a little girl, and I feel so blessed to finally be here. What makes this moment extra special is your support of my journey, and my induction into a cycle of support and giving back. To me, this white coat represents a platform of hope, healing, and change. I hope to pass along the same generosity you have shown me, and one day make another first-year student feel as excited and supported as you have done for me.
With so much appreciation,
Jehannaz Dastoor
---
---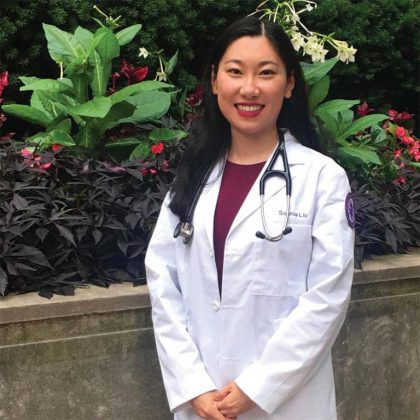 Dear Dr. Bartsch,
Although we were not able to have a formal white coat ceremony this year, your gift made me feel more connected to and strengthened by the Northwestern community. I greatly appreciate your support, and I hope to pay your kindness forward in the future!
Sincerely,
Sophia Liu
---
---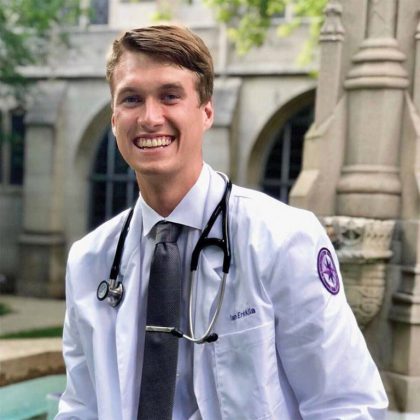 Dear Dr. Lohr,
I am grateful and humbled to attend such a remarkable institution and follow in the footsteps of physicians like yourself. This coat represents the first step in realizing a dream I've had since I first stepped into an OR, and I am grateful that it came from a member of the Feinberg family.
All my best,
Ian Erkkila
---
Join the Nathan Smith Davis Society
Feinberg's Nathan Smith Davis Society honors alumni, faculty, friends, and staff members for their generous contributions to the medical school. Membership is based on annual,* cumulative, and planned gifts to support Feinberg's research and education missions, as well as volunteer service to the medical school.
*Within fiscal year extending from September 1 through August 31