by Emily Ayshford
Northwestern Medicine is leveraging its well-established community network to provide resources where they are needed most during the COVID-19 pandemic.
Since the COVID-19 lockdowns began in March 2020, Mattie Johnson hasn't left her Humboldt Park apartment much. On good days, the 88-year-old goes for a walk with her grandson up and down the street. But like many seniors, she worries about going out, even to the grocery store, out of fear of getting sick.
"You just feel so imprisoned," she says. But she has one bright spot in her week: a grocery delivery from a Northwestern Medicine partnership with Our Lady of Angels Food Pantry and medical courier MedSpeed. Northwestern Medicine partners with Our Lady of Angels Food Pantry and medical courier MedSpeed to deliver groceries to people in need. Photo courtesy of Our Lady of Angels Food Pantry.
The program delivers food to at-risk seniors on the west side of Chicago. Each week, seniors like Johnson receive a bag of fresh produce, meat, and canned goods. They received a turkey for Thanksgiving, and a special Christmas basket with extra goodies. For Johnson, it has been a potentially life-saving program.
"They have just been so helpful to me and the other seniors in the neighborhood," she says. The partnership (through the Kelly Hall YMCA) was one of several Northwestern Medicine community programs that were either born or supercharged from the rising needs during the pandemic. From emergency grants to personal protective equipment (PPE) donations, the hospital system provided resources where they were needed most. "Everything we know about inequities in healthcare has been magnified by a factor of a thousand during the pandemic," says Posh Charles, senior vice president of Administration at Northwestern Memorial HealthCare. "Communities of color were hit hardest. We really leveraged our existing network of trusted partners to try to offset everything that was happening."
Creating a network to help the whole patient
Community care has been a Northwestern Medicine priority for years. While hospitals previously specialized in caring for patients' immediate health concerns, clinicians and physicians began to advocate for hospital systems to better understand and help mitigate factors that can influence health, including housing, employment, access to food, and safety and security. Over the past decade, Northwestern Medicine has developed partnerships with faith-based organizations, housing agencies, schools, food pantries, and job programs to provide this holistic care across the city. Programs range from giving children and teens exposure to careers in healthcare to providing transitional housing for homeless people.
Perhaps its biggest success has been partnering with community- and faith-based organizations to provide behavioral health services. Northwestern Medicine has helped train leaders to provide post-traumatic stress disorder counseling and resilience training for communities that have suffered through years of gun violence.
"We've really created a network that helps more than just a patient's chronic disease," Charles says. "We want to be influential in many factors that affect someone's health."
When the pandemic hit, Northwestern Medicine worked with that same network of partners to provide essential services to those who needed it most. The fast deployment of the weekly grocery delivery program that helped Johnson was possible thanks to an already strong relationship with Kelly Hall YMCA. Launched in April, the initiative made 1,920 food deliveries to 145 seniors and families on the west side of Chicago within five months.
"We've long been a partner with Kelly Hall YMCA, but when the pandemic hit, we started getting out of our comfort zone with these partnerships and pivoting to where we could make a difference immediately," Charles says. "Food security was an immediate need."
Bright Star Community Outreach (BSCO), a community-based organization and longtime community Northwestern Medicine partner, also pivoted to meet the needs of the community, increasing housing support and food giveaways (with support from Northwestern Medicine). Additionally, the organization found that its flagship trauma hotline had a 50 percent increase in calls since the pandemic began.
The hotline, part of the Bronzeville organization's celebrated TURN (The Urban Resilience Network) model, had originally been conceived as a way for callers to address the effects of violence and trauma, and Northwestern Medicine's support helped train community leaders to provide trauma counseling. With callers' trauma taking the form of job and food insecurity, or the loss of a loved one, the organization has now extended its hours to keep up with demand.
"Anxiety and fear have increased, and many people just need someone to talk to," says Nichole Carter, BSCO chief program officer. Thanks to the initial training supported by Northwestern Medicine, these leaders were equipped to help callers navigate these problems during the pandemic.
Providing a trusted resource
In addition to the trauma hotline and providing food and housing support, BSCO leaders wanted to support their community by providing more workforce development opportunities.
An emergency grant from Northwestern Medicine helped upgrade technology so the organization could hold a virtual job fair, where Northwestern Medicine shared information about open positions within the hospital system.
"Once we had the resources to meet people's immediate needs, we could focus on strengthening workforce development, to help set them up for success," Carter says.
The organization also partnered with Northwestern Medicine to develop videos called "Clergy and Clinicians," where BSCO CEO Pastor Chris Harris discusses issues with trusted medical sources. In the first video, Harris talks with Clyde Yancy, MD, MSc, the Magerstadt Professor and chief of Cardiology in the Department of Medicine, and vice dean for Diversity and Inclusion, about the impact of COVID-19 on the Black community.
"We want to show that science and religion go hand in hand," says Akilah McCord, BSCO's chief of staff. "We want to provide a platform where questions could be answered and context could be provided. There is a lot of apprehension in the Black community about issues like COVID vaccinations, because of lack of information. This collaboration is providing a safe space for those conversations to take place."
Going forward, BSCO will partner with Northwestern Medicine to continue to educate the community on topics like social determinants of health. Carter said they are excited to continue to evolve the partnership to find new ways to help those who need it most.
"It has been an amazing partnership," Carter says. "Northwestern sits on our board and committees, helps us write grants, and steps up to the plate with volunteers. They always listen to our needs and help us creatively strategize about how we can get those needs met."
A renewed energy
Throughout the year, Northwestern Medicine continued to provide support to its partners, including grants and access to PPE. As the pandemic continued, Charles says, structural inequities that exacerbated poor health in racial minorities became more and more apparent. Early in the pandemic, more than 50 percent of COVID-19 cases and nearly 70 percent of deaths in Chicago involved Black patients. Latinx communities were also hit hard and continued to have higher positive rates than any other group throughout the pandemic.
"We already knew about these disparities, but COVID really put them into focus," Charles says. "I'm hoping this is a turning point where we can look at the root causes of what's going on. It can start a new conversation about what we can help do in the community."
Charles said he and his colleagues hope to maintain this new level of community care and partnerships going forward, throughout the pandemic and beyond.
"It has renewed our energy, and folks are really excited about how we can continue to evolve our partnerships going forward," he says.
Meeting a Range of Needs
Throughout the pandemic, Northwestern Medicine has provided support to community organizations around the city and state to provide resources for the immediate needs of residents.
Food Security
Donated PPE, vouchers, and emergency grants to food pantries, including Lakeview Food Pantry and McHenry Food Pantry, and has partnered with more than 30 organizations to combat hunger
Provided 350 food vouchers for fresh fruits and vegetables to the clients of DuPage County's Metropolitan Family Services, along with masks and thermometers to keep both clients and staff safe during the pandemic
Provided more than 100 clients of the Midwest Shelter for Homeless Veterans with food vouchers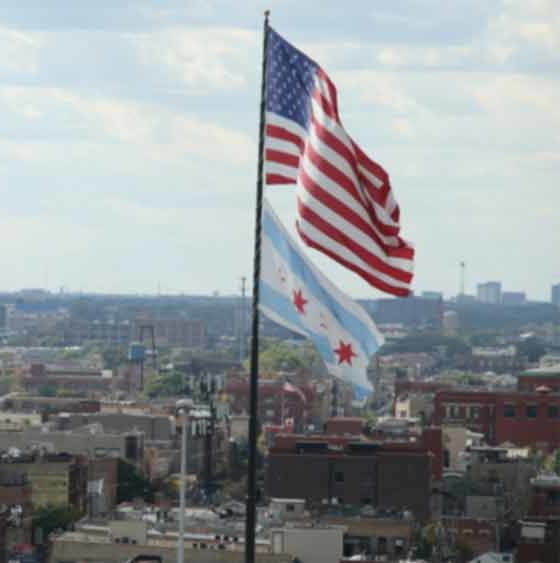 Housing
Worked with the Chicago Homeless Coalition to provide diagnostic testing to homeless patients
Partnered with transitional housing shelters to provide shelter for homeless patients when they have been released from the hospital
Access to Care
Worked with partner Erie Family Health Centers to provide the most up-to-date information and protocols for COVID-19 for their communities and staff. Erie also developed a Social Determinants of HealthScreening protocol, developed in part with investigators from Feinberg, which asked if patients needed support outside the exam room. If they answered yes, a team followed up to connect them with resources, including food, housing, and medication.
Provided PPE and testing resources to its federally qualified health center partners to ensure that patients in a variety of healthcare settings have access to these resources