Feinberg students across fields are making impactful contributions to research, while growing as healthcare providers, scientists, and mentors.
---
Dedicated to Neuro-surgery Research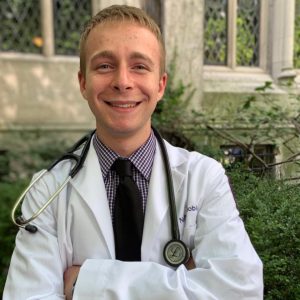 Nathan Shlobin, a second-year medical student, is as dedicated to his medical education career as he is to his research. Currently, Shlobin has his mind set on becoming a neurosurgeon and is most interested in specializing in pediatric neurosurgery, with a specific focus on vascular and functional disorders.
Shlobin is also the first author of a systematic review recently published in the journal Neurosurgical Focus, which found potential risk factors for spinal cord ischemia, or inadequate blood flow within the spinal cord, related to anterior thoracolumbar spine surgery. According to Shlobin, the risk factors, which include hyperkyphosis — an excessive curvature of the spine — are essential for surgeons to know beforehand and recognize during surgery in order to minimize risk of ischemia and, furthermore, to improve patient care and outcomes.
"I was interested in neurology when I was very young due to experiences with family members who had neurologic diseases," said Shlobin. "At that point, I was interested in the brain as a general concept. Essentially, I stumbled upon neurosurgery as an accident because I wanted to get involved in research as a freshman undergraduate. Dr. Nader Dahdaleh and Dr. Matthew Potts were the first two neurosurgeons I met. I ended up working on research with them and had the opportunity to join them in the operating room, clinic, and rounds during the weekend. As a result of those experiences, my interest grew because I realized that I wanted to operate on patients and gain insight into the day-to-day life of trainees and attending neurosurgeons as well as advances in the field."
As for his interest in pediatric neurosurgery, Shlobin says pediatric neurosurgeons have the potential to help patients for a long duration of their lives. "Children with epilepsy, for example, who experience improvement in seizure frequency after epilepsy surgery often experience a markedly improved quality of life," he said. "Improving quality of life and the intricacies of caring for pediatric patients are pushing me toward a career in pediatric neurosurgery."
---
Supporting Better Outcomes for Women and Girls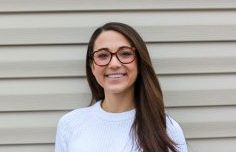 Abbey Filicko, a third-year medical student, presented findings from her two community-based participatory research projects on menstrual health management (MHM) policy efforts and implementation at this year's American Public Health Association virtual annual meeting.
For the first project, Filicko's team assessed Chicago Public Schools' availability of MHM products to students in response to Illinois' passage of the Learn with Dignity Act, which requires all Illinois schools that teach grades six through 12 to offer free MHM products in school building student restrooms. The second project involved analyzing MHM policies throughout the U.S. for gender-inclusive language.
"By defining and advocating for the components of equitable and dignified menstrual hygiene management, the MHM movement hopes to better support women and girls through this natural bodily experience," said Filicko. "Several studies have found that when women and girls have the supplies, privacy, and infrastructure to manage their menses, their physical, psychological, and social outcomes improve. I love that this field is still so new and evolving and that we have an opportunity to make sure we're promoting equitable and dignified MHM for all people."
Filicko's research mentor, assistant professor Leah Neubauer, EdD, MA, assistant professor of Preventive Medicine in the Division of Public Health Practice, has done collaborative school-based sexual health promotion and MHM research work in Kenya for over 10 years. Investigators leveraged insights from Kenya to better understand MHM in Chicago with help from the Institute for Global Health's catalyzer grant.
---
Forging a Path in Engineering and Physical Therapy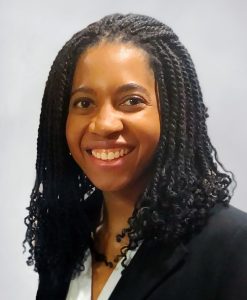 Nayo Hill, PT, DPT, a student in the Doctor of Physical Therapy/PhD Engineering dual-degree program, recently defended her dissertation on the use of probes to explore the neural mechanisms driving movement impairments following brain injury.
"I chose Feinberg for the unique dual-degree DPT/PhD program, which allowed me to pursue both engineering and physical therapy," she said. "As an early biomedical engineering student conducting my research in the Department of Physical Therapy and Human Movement Sciences, I was introduced to several faculty in the DPT program engaged in clinically relevant research. This piqued my curiosity."
Hill's clinical and research interests are both focused in pediatrics, and her PhD work involved quantifying upper extremity motor impairment in those with pediatric hemiplegia due to perinatal stroke or cerebral palsy. She said her dual training has influenced the way she thinks about human movement and how she develops her research questions.
"During my training at Northwestern, I learned to use engineering tools to characterize movement. My future goal is to translate this knowledge into the selection and development of interventions that target the underlying mechanism," she said.
---
Making Inroads in Testicular Bioengineering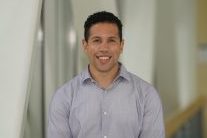 Maxwell Edmonds, a third-year medical student in the Medical Scientist Training Program (MSTP), recently defended his doctoral thesis on generating testicular organoids — living models of testes that could be studied to develop fertility treatments.
"This is a young and exciting field, which could help develop methods to derive gametes for use with patients with clinical infertility, to innovate functional testicular tissue models for use in pharmaceutical drug testing, and to advance developmental biology research," he said.
Edmonds used microfluidic culture platforms and static culture methods to explore ex vivo spermatogenesis and reproductive endocrine function in human and mouse testis explants. His dissertation concludes with an in-depth discussion of necessary next steps and future visions between the intersection of human reproduction and bioengineering.
"I have felt incredibly supported by my adviser and committee throughout my doctoral training," he says.
Edmonds also passed his love of science on to a new generation as a participant and organizer for the all-student run MSTP organization, PRomoting Inner-City Youth in Science and Medicine (PRISM). PRISM is an after-school program run for high school students at a local Boys & Girls Club.
"I've had the opportunity to guide many high schoolers toward a passion for science and healthcare, and onward into college. In fact, some of my mentees from my first years in PRISM are now applying to medical school themselves!" he said.