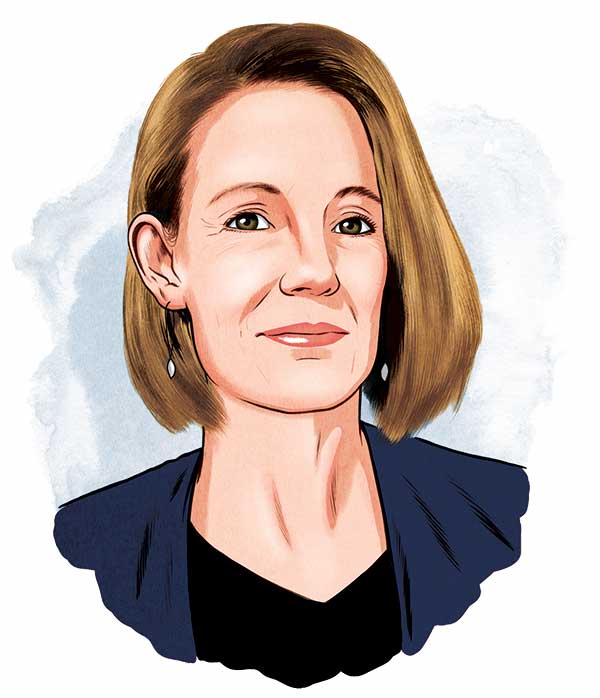 By Whitney You, MD, MFA, '11 MPH, '09, '10 GME
It was just before dawn, the Friday before Mother's Day. A team of emergency department nurses barreled through the double doors of my labor and delivery unit with a term-pregnant woman. Her name was Lisa.
The week prior, I'd promised my five-year-old son, Zachary, and my three-year-old daughter, Esmae, I would attend their school's "Muffins with Mom" Mother's Day breakfast.
Obstetrics is a conspicuous thief. It has stolen weekends, my husband's birthdays, at least two Christmas mornings, Zachary's first day of kindergarten, and my grandfather's funeral.
In truth, missing those events was not a burden. I found meaning in my job. A baby delivered, a family consoled, a diagnosis made — all justified my absences.
But as Lisa was being wheeled in, I remembered the last school event I had missed, a Christmas party. Zachary has asked, "Where were you? All the mommies and daddies were there but you. Esmae and I had to sit with Jonathon's mommy."
I would be there for Muffins with Mom.
Lisa twisted her body like a fish on a line. She pulled her knees to her abdomen, and shifted her legs right and left. She asked me to save her baby. Jonah.
I positioned the ultrasound probe on her abdomen, then gazed at the black and white image on the screen. Jonah's heart contracted then fell open in a slow and labored motion. Jonah was dying.
Meanwhile, Lisa was abrupting. The bleeding was torrential.
I had planned to leave the hospital at eight o'clock that Friday morning to get to the school just as Zachary and Esmae would be choosing chocolate chip or blueberry muffins.
But now, I would be in surgery.
Once in the operating room, I made an incision in Lisa's abdomen then into her uterus. A blood clot, the size of a cantaloupe was erupted from behind Lisa's placenta.
I reached down into her pelvis, wrapped my hand around the top of Jonah's head and delivered him. Sixty seconds had passed from the time of Lisa's skin incision to Jonah's delivery. Jonah did not cry or gasp. His face did not grimace, his mouth remained still, gaping, and blue. I held his flaccid body in my hands. "Oh God," I thought. "He's dead."
Meanwhile, Lisa had already bled enough to consume most of her clotting factors. I compressed her uterus in my hands slowing the bleeding while we repleted her blood and clotting factors. With my hands in Lisa's pelvis, I asked one of the nurses to contact my husband. "Tell him my kids cannot go to school today."
But no one reached my husband that morning. My kids waited in their classroom with popsicle stick picture frames, handmade cards, and a muffin they had picked for me.
After a social worker had informed Lisa of Jonah's passing, I approached Lisa's room and heard her say, "Don't let her in here. She killed my baby."
I bent over, put my hands on my knees, and worked to catch my breath. I had failed to keep my promise to my children. For what? A dead baby? A critically ill mother? Painful accusations? This was an excruciating trinity. As Lisa suffered and grieved, I dissolved into despair.
After Jonah died, I quit making promises to my children because I break them. They forgive me. But I fail to offer that grace to myself. So, I don't make promises.
Four years ago, on Mother's Day, I opened my laptop. Lisa's name was in my email inbox. With reluctance, I opened it.
I have always loved Lisa and Jonah in my own way. I bore witness to Jonah's life and then death. I knew Lisa in the midst of excruciating pain. But I believed she would never understand how her story affected me as a mother and a physician.
Yet, in her message, Lisa acknowledged my pain and thanked me for enduring it so I could continue to take care of women like her. She shared that she only had to face the death of a baby once, but knew as long as I practiced obstetrics, the tragedy would not end for me. Then, she wished me a happy Mother's Day.
Whitney You received her MFA from Vermont College of Fine Arts. Her work has appeared or is forthcoming in The Threepenny Review, Pleiades, and others. This essay was abridged from The Rumpus. A recipient of a 2020 Illinois Arts Council Agency Literary Award, You is currently working on a memoir about a physician's experience with perfectionism and death.