Open Minded
David Rhew, '92 MD, has spent his career exploring the intersection of medicine, technology, and innovation.
by Ed Finkel | illustration by Jacqui Oakley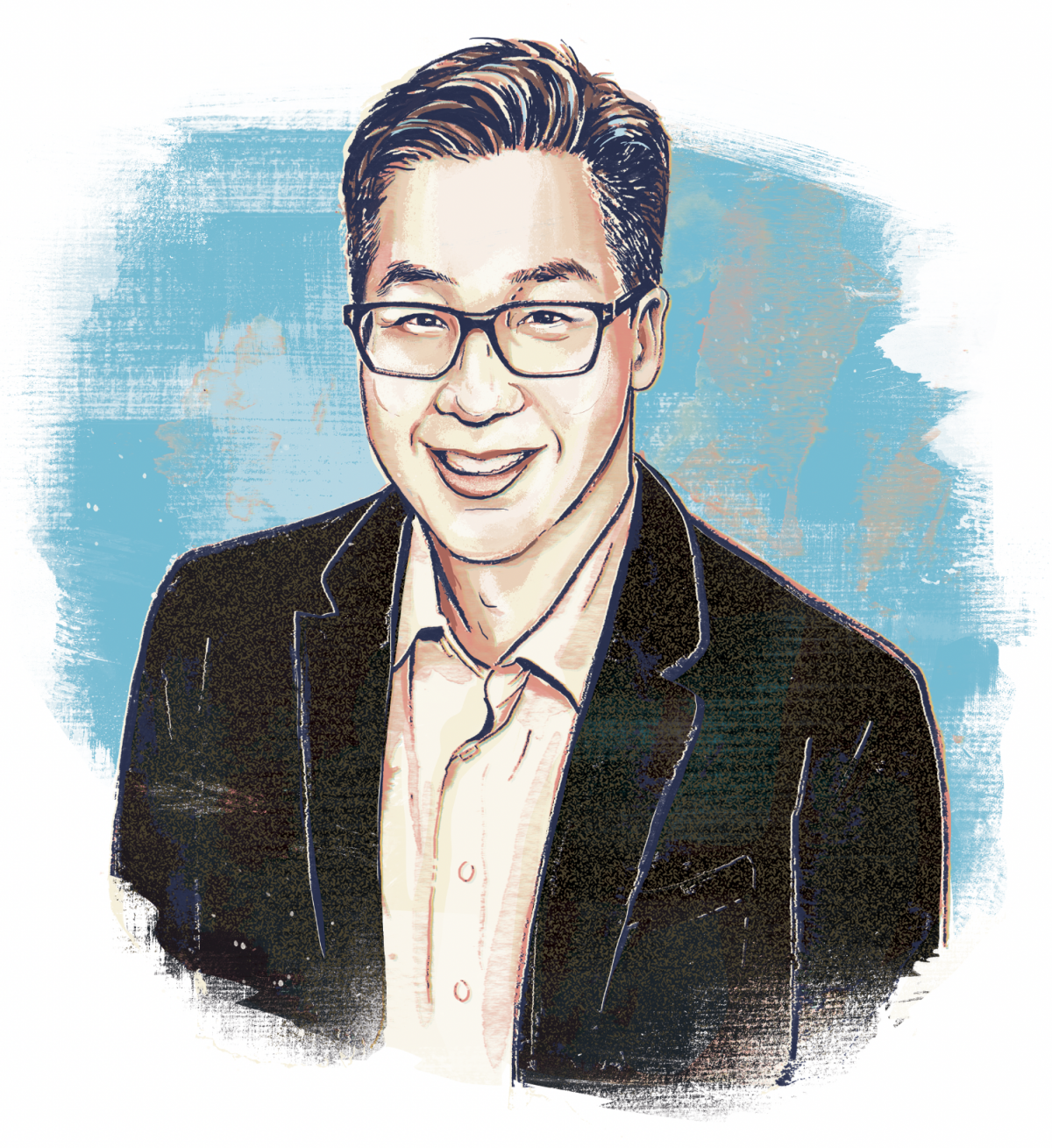 During his quarter-century career as a physician, health services researcher, and medical information technology executive, David Rhew, '92 MD, has often found himself asking the questions, "What if?" and "How?"
What if combining technology with healthcare could lead to transformative changes in how care is delivered? What if providing the right information at the right time could improve decision-making and outcomes across the care continuum? What if artificial intelligence (AI) could enable proactive care and lead to lower costs? All are questions Rhew, global chief medical officer (CMO) and vice president of healthcare for worldwide commercial business at Microsoft Corporation, has pondered and acted upon.
"I have always wondered if and how simple concepts could help solve complicated problems," Rhew says. What's notable is that some of the questions have come to Rhew before the enabling technologies were invented and or adopted.
In 2013, when Rhew became CMO at Samsung SDS America, where he spent six years before joining Microsoft, the role did not exist.
"Samsung asked me, 'What should your title be?'" he recalls. "At the time, the concept of a chief medical officer working for a consumer technology company was novel. But I knew that healthcare was moving toward consumer-empowered care and that consumer technologies could become a central platform for data communications."
Rhew adds that he believed a chief medical officer for a consumer technology company could help the business navigate the complicated waters of the healthcare industry.
"While Samsung was unsure what a CMO for the company should do, they believed in the vision I shared and ultimately agreed to the title," says Rhew, who holds six U.S. technology patents that marry clinical decision support and electronic health records.
Now, as CMO at Microsoft (where he has been for the past two years) Rhew — who trained in infectious disease at UCLA Medical Center — has been at the center of applying technology solutions to address the COVID-19 pandemic.
He had been with Microsoft for about a year when the pandemic hit, and because of his background as an infectious disease doctor, combined with his desire to help, he readily accepted the role of international coordinator for Microsoft's COVID-19 Task Force. Together with colleagues and partners, Rhew helped the World Health Organization develop what it calls "the world's first comprehensive, end-to-end data solution for global health: The World Health Data Hub."
Rhew and partners have aided countries, states, and healthcare organizations across the globe to increase their pace of COVID-19 vaccinations by standing up mass vaccination clinics and pop-up clinics. Currently, Rhew is exploring ways to address vaccination inequities and rebuild public health infrastructure through public-private partnerships to help manage the current pandemic and prevent future ones.
an early interest in healthcare and technology
Rhew's interest in technology stretches all the way back to his days as an undergraduate studying cellular molecular biology and computer science at University of Michigan, where he wrote a thesis on the use of AI in healthcare.
"I wrote what my advisors at the time called some really interesting science fiction," he says. "There was not a whole concept of electronic health records in the 1980s, let alone using artificial intelligence."
Most people, including family, friends, and counselors, did not see how technology could be applied to Rhew's future career in medicine. "At the time, I did not see how it could fit in either," Rhew admits. "I studied computer science and performed health services research mostly out of curiosity. I wanted to learn how to code video games. I also wanted to understand why there was so much variation in care and explore ways to reduce unwarranted variation. I never anticipated that studying computer science and conducting health services research would end up becoming two of the most integral parts of my life and career."
After completing medical school at Northwestern, Rhew pursued his internship at UCLA-San Fernando Valley, his residency at Cedars-Sinai Medical Center, and fellowships in health services research at Cedars-Sinai and infectious disease at UCLA Medical Center.
After early staff physician appointments at Cedars-Sinai and UCLA-Olive View Medical Center, Rhew worked in the division of infectious disease at the VA Greater Los Angeles Healthcare System from 1998 to 2012, while serving as an associate clinical professor at the David Geffen School of Medicine at UCLA.
During his time at the VA, Rhew conducted a randomized controlled trial that explored if a nurse-standing order protocol could improve pneumococcal vaccination rates, published in the Journal of General Internal Medicine. He demonstrated that this approach worked well. However, the real a-ha moment came after the study was completed.
Rhew was curious what the pneumococcal vaccination rates were a year after the intervention was completed. Despite leaving all the forms and boxes in the nursing stations, the pneumococcal vaccination rates returned to baseline levels. Rhew realized that in order to achieve sustainable results, clinical decision support systems needed to be provided 24/7, 365 days a year, and this could only be accomplished through technology. This key insight planted the seeds for Zynx Health, a company that makes digital health products that serve precisely this decision-supporting role.
Rhew's first and most ground-breaking innovation for Zynx Health was the development of evidence-based order set templates that could be integrated into electronic health record systems. The unexpected finding was that order sets could not only standardize care and improve outcomes, but they resulted in more than a 95 percent reduction in the time it took to enter orders into computerized provider order entry systems.
Evidence-based order sets, and later evidence-based plans of care, were a major success, according to Rhew. By the time he left Zynx Health in 2013, he says, more than 2,000 hospitals, covering 55 percent of the U.S. population, were using Zynx Health clinical decision support systems.
Coming 'full circle'
Having built clinical decision support systems for use in electronic health records, Rhew began to think about the quality of care outside of the hospital and clinic settings. During this time, Rhew was invited to join the National Quality Forum's Consensus Standards Advisory Committee Board. The committee endorsed some highly consequential quality indicators for value-based care, says Rhew.
Perhaps the most revolutionary and controversial of these quality indicators were the 30-day readmissions and 30-day mortality measures. Rhew recalls that the robust and provocative discussions inspired him to rethink the boundaries of clinical decision support systems and envision a future where consumers could receive clinical decision support on technology platforms that they used every day — their mobile phones.
One of the most innovative digital health solutions that Rhew and Samsung colleagues co-developed, in collaboration with Kaiser Permanente, involved cardiac rehabilitation. Cardiac rehabilitation is typically an eight-week in-person program, with completion rates typically less than 50 percent, Rhew explains. Digitizing the program on a smart watch with an accompanying smart phone app and offering this program in place of the typical in-person rehabilitation program resulted in the completion rate nearly doubling. Moreover, the 30-day readmission rate dropped from a baseline of 12 percent to 1 percent.
"It was just another example of how making things easier for patients could lead to better health outcomes at lower costs," Rhew says.
Around this time, Rhew began to foresee how the healthcare landscape was changing once again. The 21st Century Cures Act, signed into law on December 13, 2016, signaled to the industry that the time for healthcare data interoperability was finally arriving. Rhew joined Microsoft two years ago with the goals of helping electronic health systems communicate with each other through interoperability and applying AI to large complicated data sets to improve decision-making, enhance care, and reduce costs.
Today, Rhew advises aspiring physicians to acquire skill sets based on personal areas of interest, pay attention to emerging trends, and be open to their careers evolving in ways they wouldn't necessarily have predicted.
"Some people know at an early age what they want to do with their lives. They formulate a game plan and execute on it. Turns out, I was not one of those people. I knew I wanted to make a positive difference in people's lives, but how was always the question," says Rhew. "From my early days as a computer scientist, to my time as a health services researcher, to my current role as a Microsoft technologist helping to battle COVID-19, my career has been an unexpected journey. That's OK. Our careers are not always set in stone on Match Day."