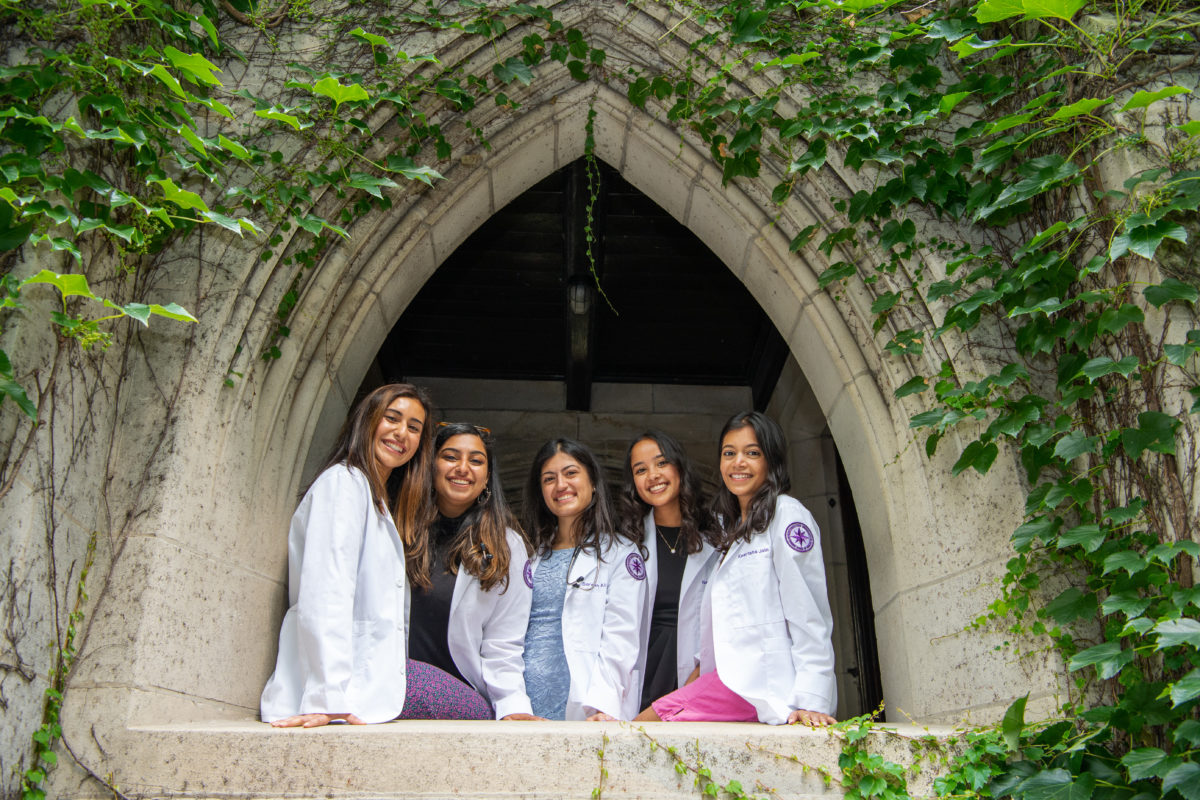 "I'm so proud to be wearing this white coat today," said Cheryl Mensah, a first-year medical student, at this year's Founders' Day celebration. "I feel very humbled —you grow up and see so many people who are important wearing this coat —and I'm hoping I can make a difference in patients' lives."
The annual Founders' Day ceremony this year welcomed first- and second-year medical students to campus. The celebration, held on August 6, honors Feinberg's founders and marks the official start of the academic year.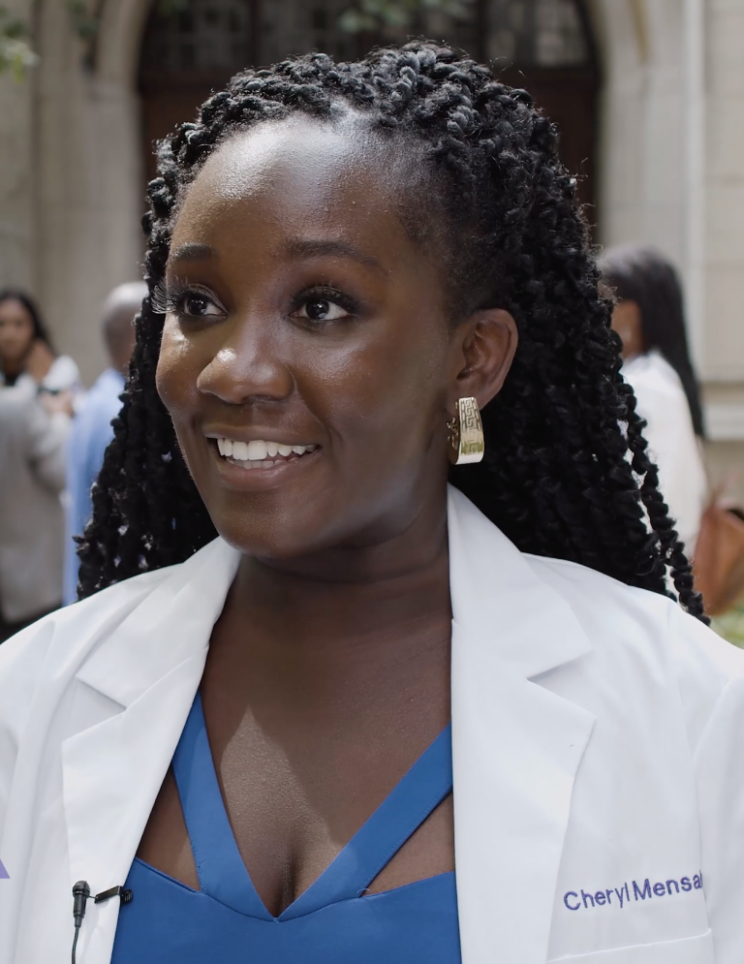 Mensah was one of 162 new members of the Class of 2025, who celebrated the occasion with their families, along with the second-year medical students who presented the incoming class with their white coats. Because last year's Founders' Day event was cancelled due to the COVID-19 pandemic, the Class of 2024 was also honored and given a chance to put on their white coats for the first time together.
"We are delighted to have so many family and friends here to welcome a talented group of new students who will help write the next chapter in the story of Feinberg," said Eric G. Neilson, MD, vice president for Medical Affairs and Lewis Landsberg Dean. "Founders' Day has been a tradition here at the medical school since 1922. It is the traditional start of our new academic year; it is also a new beginning for our students on a path that will lead them into careers of life-long responsibility."
Neilson highlighted Feinberg's distinguished history of training outstanding physicians, including Daniel Hale Williams, part of the Class of 1883, who performed the first successful pericardial repair in America and was the only Black charter member of the American College of Surgeons, Mary Harris Thompson, the first female graduate of Feinberg in 1870 and the first female surgeon in Chicago, and Charles Horace Mayo, who graduated in 1888 and returned to Minnesota to join his father and brother in founding the Mayo Clinic.
While academic and professional accomplishments are important, the heart of practicing medicine remains the same since Feinberg was founded in 1859: caring for patients.
"An obligation to serve patients to the best of your ability, no matter the circumstance, is at the very core of our profession," Neilson said.
Kathleen Hagerty, PhD, MBA, provost of Northwestern University also welcomed the incoming class.
"During this era, against the backdrop of a global pandemic, we have witnessed the critical importance of scientific discovery and compassionate care, around the world, and here in Chicago," Hagerty said. "You have chosen the very best place to learn these critical aspects of medicine, as you embark on your next chapter of educational journey."
The Founders' Day address was delivered by Dinee Simpson, MD, assistant professor of Surgery in the Division of Organ Transplantation and director of the African American Transplant Access Program (AATAP).
"You are in a position to influence so much more than the diagnosis and treatment plan," said Simpson. "The power of being seen speaks to the power of community, and your most powerful moments as physicians are not just as clinicians, but as representatives, advocates and allies for our patients."
To close out the ceremony, Marianne Green, MD, the Raymond H. Curry, MD, Professor of Medical Education and vice dean for education, led the white coat ceremony for both second- and first-year students. Even though second-year students had been wearing their coats for a year, the moment was nevertheless impactful, according to Alan Soetikno, a second-year student.
"Our first year of medical school was tough because of COVID," Soetikno said. "But putting on the coats together, that was a special feeling.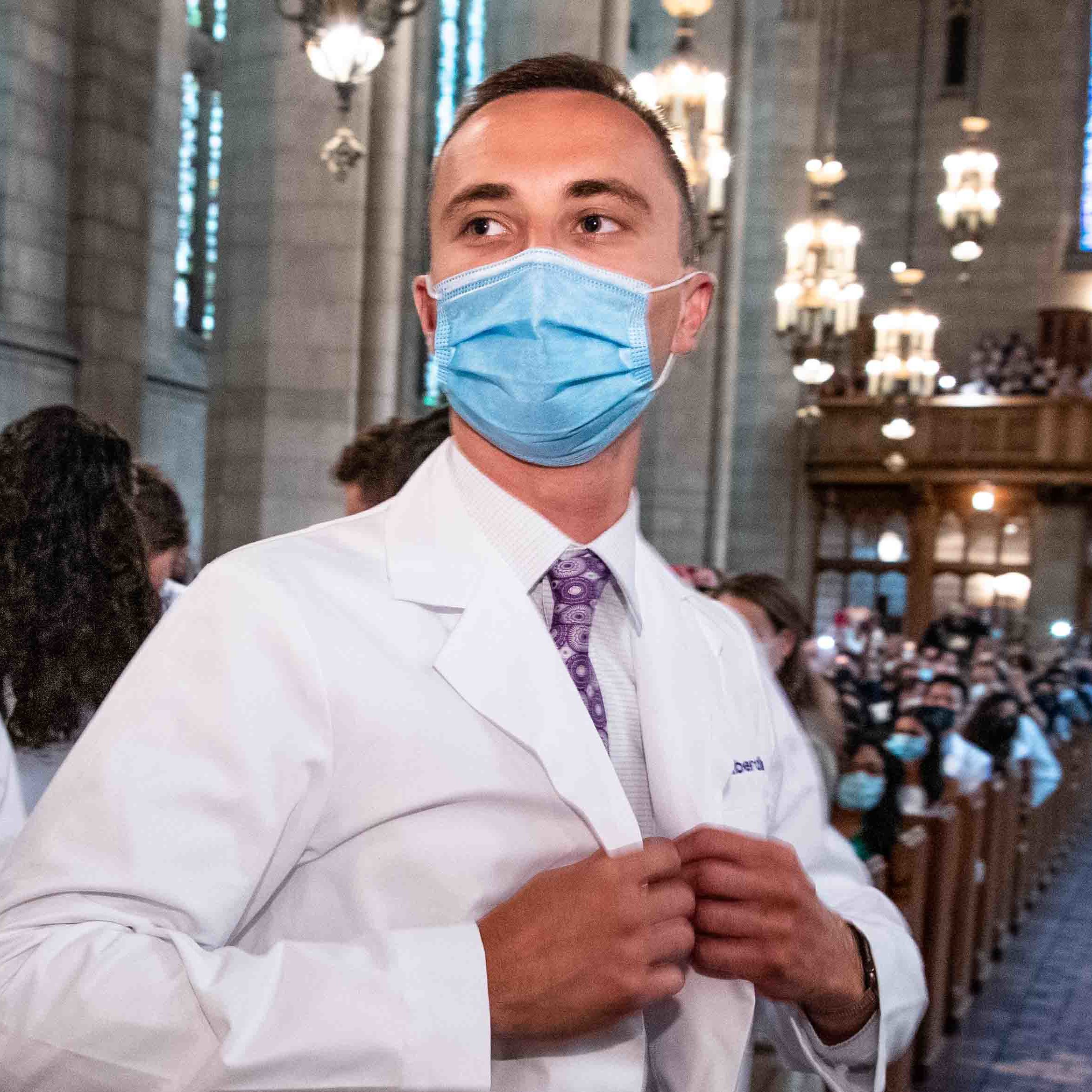 Next, the first-year students donned their white coats, a lifelong dream for students including Max Wilberding, a first-year student from a suburb of Cincinnati, Ohio.
"I've wanted to be a doctor as long as I can remember," said Wilberding. "I saw all the faculty, family, and fellow students cheering us on — I know we can do this if we do it together."
Clad in white, the first-year students recited the Declaration of Geneva, the modern incarnation of the historic Hippocratic Oath. The oath, representing a lifelong commitment to caring for others, was a surreal experience for Luis Rivas, a first-year student from Chicago who has spent the last four years working as an emergency medical technician and teaching with Teach For America.
"There were times when I thought maybe I wasn't cut out for medicine," Rivas said. "But when I put on the coat and recited the oath, it made me realize that I'm here. I'm getting another chance to stretch my wings, explore academic medicine, and become a physician."