Following in Dad's Footsteps
An interview with David Sanderson, MD
illustration by Joel Kimmel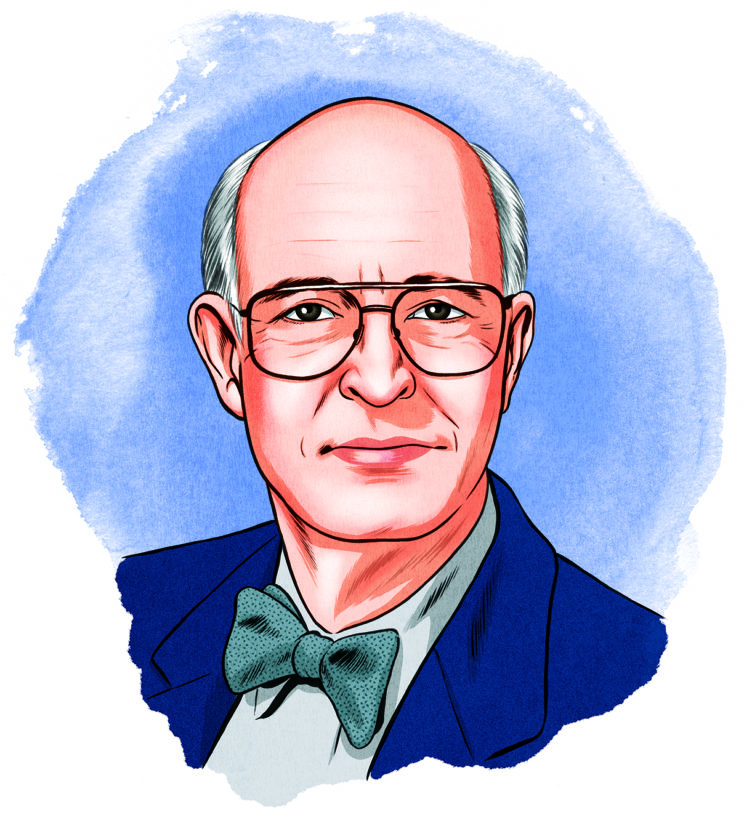 Growing up in South Bend, Indiana, David Sanderson, '55, '58 MD, heard many stories about Northwestern's medical school from his father, a graduate of the class of 1927, who served as superintendent of their county's tuberculosis sanatorium before opening a practice specializing in the heart and lungs.
"When I was old enough, he often took me with him to work on Saturday mornings, and I would answer the phone and schedule appointments," says Sanderson. "I always aspired to do what my father did."
Sanderson would go on to fulfill his youthful aspirations and then some. After training at Northwestern, completing his residency at the Mayo Clinic in Rochester, Minnesota, and serving two years in the Air Force, he returned to Mayo, where he was a pulmonologist, professor of medicine, and chair in the Division of Pulmonary Disease and Critical Care.
I am so proud of the Class of 1958 and all the wonderful relationships over the years, and grateful to so many who have supported our endowed class scholarship.
When the Mayo Clinic opened in Arizona, Sanderson went to Scottsdale to serve as chair of the Pulmonary Division and chairman of the Department of Medicine. After retiring, he continued to be active with the American Lung Association, the American College of Chest Physicians, and the American College of Physicians.
Throughout the years, Sanderson has maintained deep connections to Feinberg, serving on the alumni national board and leading the group as president from 1995 through 1997. In 2007, he was the winner of the Northwestern Alumni Association Service Award.
What do you remember most vividly about medical school?
In the fall of 1954, one of the deans was making welcoming remarks to the entering freshman class and said, "You have all been screened, you are all capable students, and we expect that all of you will graduate." I found that very comforting.
What did you do during your downtime?
We had classes Saturday morning, and then some of us would head back to Abbott Hall, where we lived, and play bridge or football. We'd stop at supper time, and then maybe have a date Saturday night. Many of my friends dated students at the nursing schools at Wesley Memorial and Passavant Hospitals. On some Sundays, I would walk over to the Fourth Presbyterian Church over on Michigan Avenue.
Tell us about your training.
I had a wonderful teacher my senior year named Dr. Thomas Laipply, who was head of Pathology and director of the intern and resident training program at Wesley. One day, while I was reviewing biopsy slides with him, he asked would I want to intern at Wesley and then maybe go up to the Mayo Clinic for my residency? I ended up doing both. While I was in Rochester, Dr. Arthur Olsen, who was chair of Mayo's Pulmonary Medicine Division at the time, asked me if I'd like to come back and work with him after I completed my training. I said I would, but first I had to complete my military service. After serving two years at Mountain Home Air Force Base in Idaho, which was a Strategic Air Command base, where I was the only internist at 45-bed hospital, I came back to Mayo. During that first year back, I had special training and supervision in endoscopy and performed over 1,000 procedures.
How did your academic and professional career develop?
Mayo didn't have a medical school until 1972. When it launched, I was appointed an instructor. Then Dr. Olsen asked me, "What are you working on? Are you writing anything?" He encouraged me to publish and advance academically. I was still an associate professor when I became chair of the Pulmonary Medicine Division and was later promoted to professor. Then, in 1985, Mayo started to build a facility in Arizona, and I was involved in recruiting for pulmonary. We opened there with 42 physicians, and now there are more than 750 physicians at the Arizona practice.
What areas of pulmonary medicine did you specialize in?
Within the spectrum of pulmonary disease, much of my focus was in bronchoscopy. For 15 years I was involved with Dr. Robert Fontana in the Mayo Lung Project for Early Lung Cancer detection. We were one of the first centers in America to use the fiberoptic bronchoscope, which has now become routine.
How did you get involved with the Alumni Board and what motivated you to continue to remain engaged all these years?
Jacob Suker, '51, '56 MD, invited me to join the board. I had been an intern on his service when he was a resident in Medicine, and in the '70s, he invited me to join the Alumni Board, which I think was new at the time. That kept me coming to Chicago and the Northwestern campus for years. We also have family connections with Northwestern. My brother, Richard Sanderson,'57, '64 MD, went to Northwestern; two of my children have Northwestern degrees. We have a great fondness for Northwestern. I am also so proud of the Class of 1958 and all the wonderful relationships over the years, and grateful to so many who have supported our endowed class scholarship.