Immunology Innovator
Incoming chief of Allergy and Immunology, Stephanie Eisenbarth, MD, PhD, hopes to unlock the secrets of the immune system and solve the mystery of allergies.
by Bridget Kuehn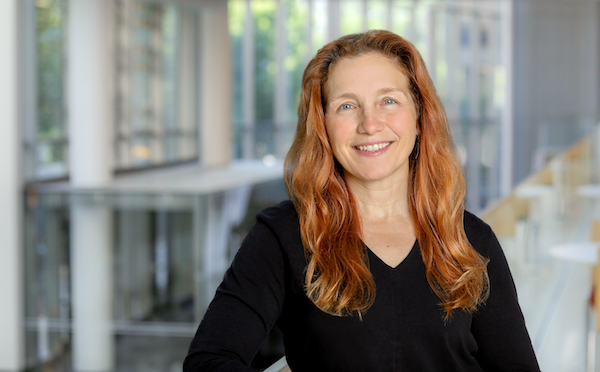 After making the surprising discovery this past fall that mice with a leaky gut are more likely to develop an anaphylactic reaction to peanuts, Stephanie Eisenbarth, MD, PhD, is eager to start translating this new finding (published in The Journal of Allergy and Clinical Immunology) into treatments for patients. It's just one of the many projects on Eisenbarth's full agenda as she settles into her new role of chief of the Division of Allergy and Immunology and director of Feinberg's new Center for Human Immunobiology (CHI).
A Field in Need of Answers
"Allergy remains one of the biggest mysteries in immunology," says Eisenbarth, who previously served as the associate chair of research in the Department of Laboratory Medicine and co-director of the Program in Translational Biomedicine at Yale University. "We still don't understand the basic rules of why and how allergy happens."
According to a study by Northwestern investigators, food allergies affect as many as one in 10 U.S. adults and are on the rise. The U.S. Centers for Disease Control and Prevention says one in 13 children (or about two children per school classroom) have food allergies, some of which can cause life-threatening reactions. Yet the toolbox for treating them is limited. Epinephrine shots can help stop anaphylaxis if administered quickly, but options to prevent such severe reactions are missing.
Nevertheless, Eisenbarth believes the tide is turning. An explosion of discoveries in immunology in recent years has led to significant advances in treating cancer, understanding the origins of autoimmune diseases, and improvements in organ transplant success. Now, immunology is poised to crack the case of food allergies.
"The field as a whole is making great strides in reversing rising rates of allergy," she says. "We will have cures down the pike, but we must tackle it from multiple angles."
That brings her back to the possibility that a leaky gut is one piece of the puzzle explaining why some children have symptomatic food allergies. She and her lab are set to test whether their findings have the potential to one day translate into a treatment that would prevent anaphylactic food reactions in children.
"We may not be able to reverse the antibodies a child has already made to a food," she explains. "But if we can prevent a severe reaction to that food, it's a very important first step in getting them to a state of security."
The Eisenbarth laboratory will also continue to explore the role of dendritic cells, T-cells and B-cells in allergy. Dendritic cells orchestrate immune responses; they play a crucial role in responding to infections, inducing immunity in response to vaccination, and sometimes triggering inappropriate immune reactions like those to allergens.
"Dendritic cells are the generals of the immune system," she says. "They are the cells that kick things off, interpret what's going on in the body, and tailor the right type of immune response. Sometimes they get it wrong and trigger an allergic reaction."
Eisenbarth wants to learn more about how dendritic cells work and how they can travel throughout the body. "If we can understand what dendritic cells are doing to dictate immune responses, we have a much better chance of figuring out how to induce the immune responses we want and turn off the ones we don't," she says.
In addition, the lab will continue their work on identifying what makes the "foot soldiers" of allergic responses, the T and B lymphocytes, produce the pathology underlying allergy. This includes discovering how the peculiar type of antibody made to allergens, IgE, is induced.
Building on a Tradition of Excellence
The opportunity to build upon the Division of Allergy and Immunology's already stellar national reputation made coming to Northwestern "too good to refuse" according to Eisenbarth.
"The division has amazing clinicians, a top-level fellowship, and an incredible research enterprise," she says, adding that advancing the careers of existing faculty and trainees will be a critical objective. She'll also be recruiting new faculty to grow both the division as well as helping to usher in a new cadre of leaders in the field of immunology and allergy.
Already, she's recruited M. Cecilia Berin, PhD, formerly the Endowed Chair and Hugh A. Sampson Professor of Food Allergy Research at Mount Sinai in New York. Berin joined Northwestern in August as the inaugural Bunning Professor for Food Allergy Research. Leading food allergy advocates and philanthropists Denise and Dave Bunning, parents of two sons who grew up with life-threatening food allergies, generously supported this endowed position. The Bunning's Sunshine Charity Foundation also supported the launch of the Center for Food Allergy and Asthma Research, which brings together experts from Feinberg and Ann & Robert H. Lurie Children's Hospital. Together, this growing group of researchers is aiming to tackle fundamental questions about the etiology of food allergy and how to help children and families dealing with this disease.
A New Center
In addition to leading her division, Eisenbarth will be the inaugural director of Feinberg's new Center for Human Immunobiology (CHI). This center has launched at a critical time: Understanding how the immune system fights new viruses, controls the growth of cancer, or inappropriately targets the body's own tissues has direct impact on health.
Currently, Eisenbarth, who is also a member of the Robert H. Lurie Comprehensive Cancer Center of Northwestern University, is building the teams necessary to tackle these challenges. The new center will unite trainees, clinicians, and basic scientists across disciplines and in numerous departments and divisions at Feinberg, on Northwestern's Evanston campus, and at Lurie Children's. The goal, she said, is to stimulate innovative new approaches to treat diseases caused or amplified by the immune system and rapidly translate them into practice.
"One of my first goals is to bring together the community of researchers focused on immunology so we can help each other's science grow," she says.
Another focus of the new center will be expanding the number of clinical trials underway at Northwestern in a wide range of areas, including allergies, emerging infectious diseases, autoimmune diseases, and neuroimmune diseases.
"Ultimately, we aim to translate new and innovative discoveries in basic science into therapies for all immune-regulated disease," Eisenbarth says.
A Family Affair
Eisenbarth will jointly run a lab with her husband, Adam Williams, PhD, who joined Feinberg as an associate professor of Medicine in the Division of Allergy and Immunology.
"Northwestern offered the opportunity for both of us to grow," Eisenbarth says. Along with their sons Xavier, 12, and Austin, 15, they are looking forward to fully embracing Chicago — especially winters. They all love snow, snowboarding, and skiing.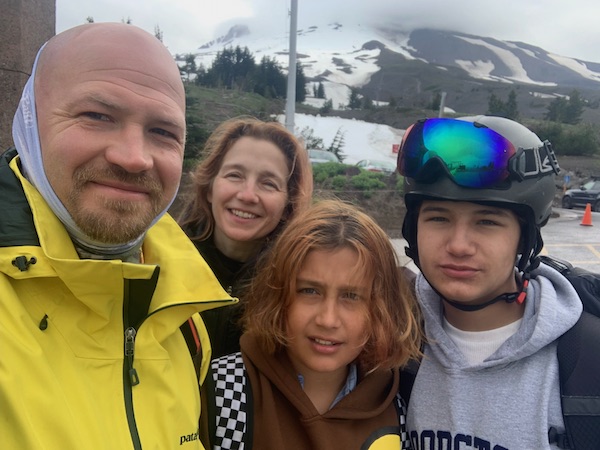 "My passion outside of work is my family," Eisenbarth says.
Now, bringing the two together will be easier. Eisenbarth frequently collaborates with Williams, who specializes in long noncoding RNAs and understanding the molecular mechanisms that control type 2 immune responses, which drive allergies. He was previously an assistant professor at the Jackson Laboratory for Genomic Medicine in Farmington, Connecticut. But in Connecticut the distance between their laboratories — about an hour drive — made collaborating more challenging.
"He thinks about molecular and genetic pathways inside cells, and I think about how those cells interact. Together, we can think more holistically about immunology," Eisenbarth says. "We've always talked about one day having a lab together, and I'm excited it is finally happening."