Beyond Borders
World-class care attracts patients to Northwestern Medicine from across the globe
by Aiden Markey | photography by Laura Brown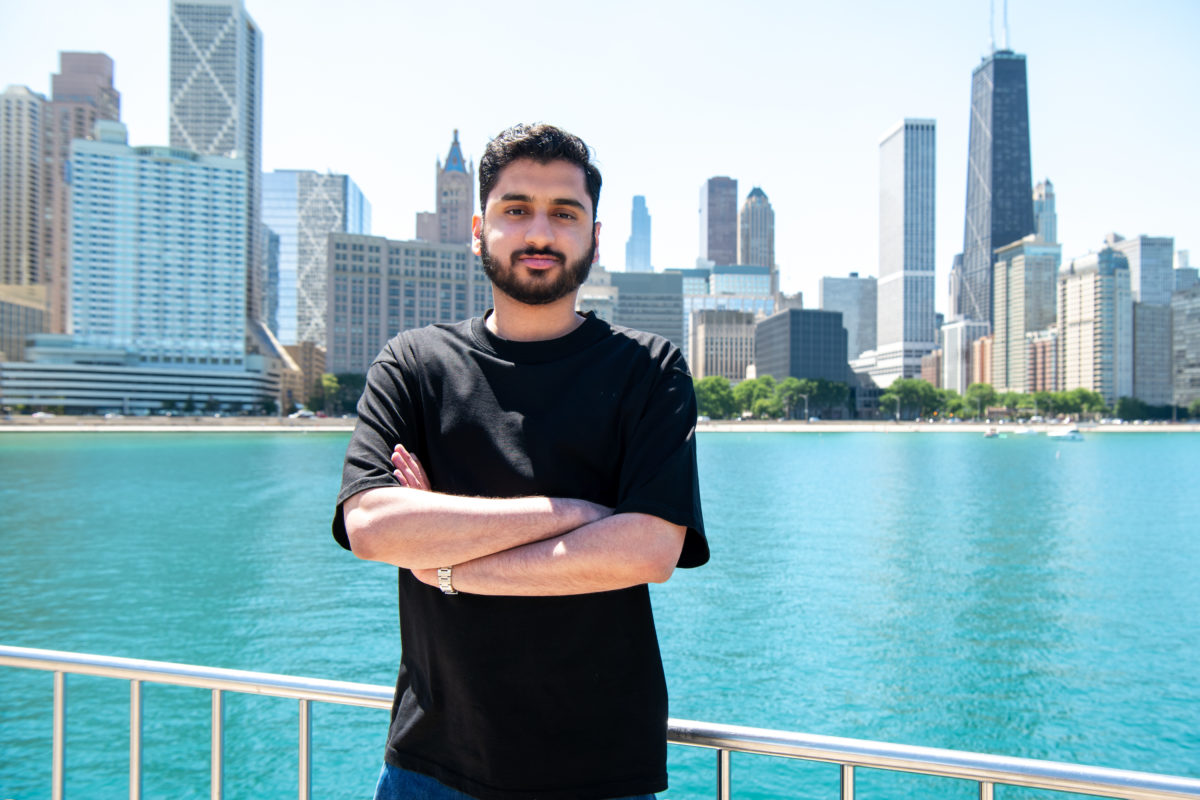 Khalifa Al-Ali needed a lung transplant. The 29-year-old from the United Arab Emirates has cystic fibrosis, which was causing a serious decline in his lung capacity and performance. By the end of 2019, his care team in the UAE determined he needed new lungs. But cadaveric transplants are less common in Al-Ali's home country, and its organ donation program is fairly new. His case was further complicated by a colonization with Pandoraea, an antibiotic-resistant bacteria in his lungs that his care team did not have experience treating.
Al-Ali applied for treatment abroad through the UAE, but multiple hospitals declined his case. Finally, one Chicago hospital agreed to see him. In October 2020, seven months into the pandemic, Al-Ali traveled to Chicago and began two months of consultations with physicians at the hospital while staying in an apartment in Chicago with his brother and brother-in-law. The team ultimately declined to do the transplant because of the bacteria in Al-Ali's lungs.
That's when Northwestern Medicine stepped in. Al-Ali's family had pleaded with the UAE government's International Patient Care Division to contact Northwestern Memorial Hospital for another opinion. The UAE team had Al-Ali's medical records transferred to the Northwestern Medicine Transplant team to see if he was a candidate for transplant. In January 2021, Al-Ali met with infectious disease specialist Michael D. Ison, MD, who assured him the bacteria would not complicate his transplant surgery.
After consultations and assessments with a variety of Northwestern Medicine specialists, including Northwestern Medical Group pulmonologists Rade Tomic, MD, and Ambalavanan Arunachalam, MD, Al-Ali heard the words he needed to hear: "They said yes," recalls Al-Ali, "and it was one of the greatest moments of my life."
On September 3, 2021, Al-Ali got his wish: two new, healthy lungs.
Growing connections
Since the International Health program launched at Northwestern Medicine in 2012, it has seen a 1,938 percent increase in patients, many of them seeking care from experts in the Neurosciences, Transplant, Fertility and Reproductive Medicine, Urology, and Oncology departments. The growth in International Health is partly due to the health system's growing global name-recognition and worldwide reputation for excellence, but it also is partly due to the excellence of the International Health program itself.
"Beyond a comprehensive list of services, we have a multicultural International Health team as well as a diverse physician and nursing population," explains Daniel Derman, MD, senior vice president, Administration, Northwestern Memorial HealthCare. "Patients appreciate seeing people who look like them or can speak their language when they are receiving care."
While the International Health program benefits patients, it also makes the health system stronger, Derman says. First, satisfied patients grow the system's reputation when they return to their local communities. "Patients who come here or physicians who refer their patients to Northwestern Medicine bring the message of Northwestern Medicine excellence back to their home country," he explains.
And the type of care itself enhances the care experience for physicians. "This type of care can increase satisfaction for physicians who have a passion about international health, or connections to different countries," Derman says. "It helps them build a legacy of care for their native country."
In addition, International Health expands diversity of patients in clinical trials, allowing for more robust research.
A better future
Al-Ali will continue to live in Chicago for his first post-op year. His family members take turns traveling from the UAE to live with him. And International Health continues to support him daily, providing emotional, psychological and medical support as needed. They help manage medication refills, coordinate follow-up appointments, send reminders for upcoming labs, and contact the Transplant team if Al-Ali has any acute events, questions, or concerns. They also handle logistical needs, such as arranging transportation for medical appointments and helping with visa extensions.
At the one-year mark in September, if cleared by the Transplant team, Al-Ali will be able to return home to the UAE. He will need to return to Northwestern Memorial Hospital just once a year for follow-up care.
"I'm really grateful to the International Health team," he says. "I'm doing great so far, and they've been with me all the time. They've done far more than required of their job. Without the team, my journey would be much harder."
Al-Ali's experience is just part of the commitment at Northwestern Medicine to offer access to better care to every patient.
"Prioritizing better health care means eliminating barriers to care," Derman says. "That includes offering individualized, personal support and assistance for everyone who seeks care at Northwestern Medicine, regardless of who and where they are."
Will Travel For Exceptional Care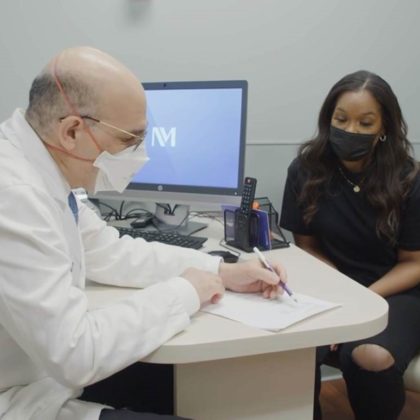 International patients are not the only ones traveling across borders for care at Northwestern Medicine.
Patients from across the U.S. are crossing state lines to do the same. Through the last three fiscal years, the system has cared for more than 90,000 out-of-state patients.
Following extensive national exposure for its first-in-the-nation double-lung transplant on a patient with lung damage from COVID-19, the newly created Northwestern Medicine Canning Thoracic Institute has a growing out-of-state patient base. The team has now completed more than 40 double-lung transplants on patients who had COVID-19 — more than any health system in the world; 16 of those patients traveled to Northwestern Medicine from outside Illinois.
"Our team leads the nation in finding new ways to fight deadly respiratory conditions such as COVID-19, with the best clinical outcomes worldwide," notes Ankit Bharat, MD, chief of Thoracic Surgery and executive director of the Canning Thoracic Institute.
Other specialties also continue to attract out-of-state patients due to their high level of expertise and reputation for excellence. Northwestern Medicine Bluhm Cardiovascular Institute has treated patients from all 50 states and five continents, and the Northwestern Medicine Center for Complex Gynecology also treats out-of-state patients.
One of those patients is Phoenix, Arizona resident Melanie Parker, 32, who has been treated by Northwestern Medicine since she was a 19-year-old Chicago college student, suffering from severe pelvic pain. Parker, who has had multiple ovarian surgeries over the years at Northwestern Medicine, still returns to gynecological surgeon Magdy Milad, MD, for follow-ups.
"Dr. Milad took so much interest in my case and was extremely compassionate," Parker says. "He told me I reminded him of his daughter, and I was his priority."
The long-distance care relationship has been sustained partly through telehealth to optimize peri-operative care and ongoing monitoring, says Milad, who calls telehealth visits a "game-changer" for patients.
"We reduce cost and inconvenience of travel," he says. "The key is to obtain records and imaging prior to the telehealth visit to facilitate the shared decision-making at the initial visit. Patients are noticeably more at ease, given that they are in familiar surroundings, and often have their support team on the call to help get their questions answered."