Improving Outcomes for Colon Cancer
Q&A with Rachel Issaka, MD, MAS, '13, '14 GME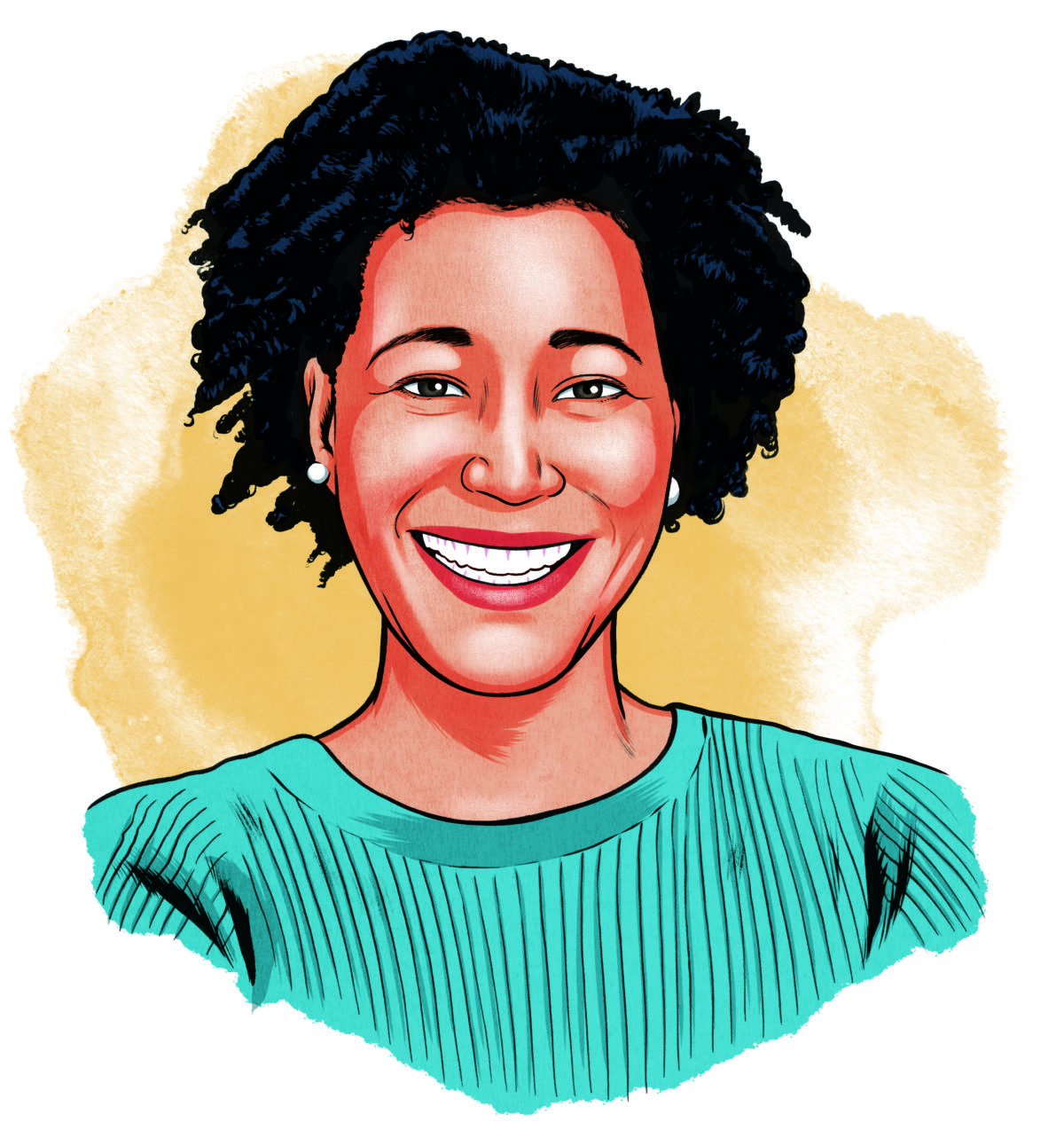 Rachel Issaka, MD, MAS, '13, '14 GME, a gastroenterologist and clinical researcher at the Fred Hutchinson Cancer Center in Seattle, has gained national recognition for her work to prevent colorectal cancer deaths — and increase health equity — by developing novel ways to reach, screen, and ensure follow-up for at-risk people. Rachel holds the Kathryn Surace-Smith Endowed Chair in Health Equity Research and in 2020, served as a colorectal cancer advisor to the President's Cancer Panel. She is also an assistant professor of Medicine in the Division of Gastroenterology at the University of Washington School of Medicine.
When did you know you would go into medicine?
My mom says that when I was 5 years old, I picked up a newspaper and there was a story in there about a doctor, and I announced that I was going to be a doctor. My answer stayed consistent.
What kept you focused?
A variety of experiences I had growing up.  I'm first-generation African- American; my parents are from Ghana. And even though I was born in Chicago, I lived in Ghana on and off for 10 years. Seeing the differences in who received care and their outcomes — or even advice provided — based on socioeconomic status really propelled my decision. Personally, when I was a college student, I got ill and didn't have health insurance. Navigating the health system in the U.S. as a Black woman without insurance gave me unique insights into the varied healthcare experiences in this country. This motivated me to change how people interacted with healthcare. 
How do health disparities in Ghana and the U.S. compare?
In Ghana, the disparities are very stark by socioeconomic status. In the U.S., the disparities are cross-cutting — by socioeconomics, race, ethnicity, rurality, and more.
Have things gotten better in the U.S. since you were in college?
Unfortunately, they have not. In the U.S., Black women are three times more likely to die in childbirth. I gave birth to my son three years ago, and this fact was front and center for me because we know that those disparities don't change by level of education or socioeconomic class. Black people also have poorer outcomes in many diseases, including in my field of study, which is colon cancer. Black people are 20 percent more likely to get colon cancer, and 40 percent more likely to die from it once diagnosed. We know that this is not due to race, but rather social determinants of health — the conditions in which people are born, grow, work, live, and age, and the wider set of systems that shape the conditions of daily life.  
 
Why you decided to specialize in colon cancer?
During my internal medicine residency at McGaw, I saw patients at two clinics: one in downtown Chicago and one — a federally qualified health center — on the South Side. A big part of our visits focused on discussing preventive care, and I noticed that my patients who were on the South Side, who were predominantly Black and Latino and of lower-socioeconomic status, routinely declined colon cancer screening. Whereas my patients who were in downtown Chicago, who were mostly white and affluent, almost always accepted the offer. And so I became really curious as to why and that led me to apply for my first grant during my chief resident year. I used the grant to buy meals for patients at the South Side clinic, to have conversations around why they were not interested in completing cancer screenings.
What did you learn?
The reasons were totally logical, including fear of being diagnosed with cancer; also there were logistical barriers — a colonoscopy requires that you get sedation, which means you cannot drive yourself home. So people need to have social connections where folks can drive them home after the procedure, and they need to have stable jobs where they can take that time off. That project made me realize that to achieve the impact I wanted, I needed more rigorous research training. This led me to the University of California, San Francisco where I completed my gastroenterology fellowship and earned a master's in clinical research. Those early experiences continue to fuel and motivate the work I do today. 
Have you been able to implement some new practices?
Yes, we are piloting interventions now! A prior study at San Francisco General Hospital (a safety-net hospital) found that Black and Latino patients preferred choices in colon-cancer screening, including using stool-based tests. These are non-invasive that can be mailed and completed in the comfort of a patient's home. In a follow-up study, I reported that only about 50 percent of those who had abnormal results were coming back for a colonoscopy within one year as recommended. These lessons proved to be useful when I joined the faculty at the University of Washington. Between 2017 and 2019, we implemented a mailed outreach program using stool-based colon cancer screening tests and increased screening participation from 55 percent to 71 percent. Subsequently, in 2022, the Fred Hutch/UW Medicine Population Health Colorectal Cancer Program was created, where I serve as inaugural director. In addition to expanding colon cancer screening for all patients, we focus on increasing screening in racial/ethnic minority and low-income populations and improving follow-up for those with abnormal results.  
Stool-testing is not common in the U.S., is it?
The U.S. is definitely colonoscopy-centric, and colonoscopy is the gold standard test because you can see polyps and remove them at the same time. But this often relies on people coming into the doctor's office to begin that screening process, and not all at-risk populations are doing that. Programs like ours are increasing access to screening by meeting patients where they are and offering them options in colon cancer screening.
What is your ultimate goal?
I have a five-year career development award from the National Cancer Institute. And the goal of this grant is to develop interventions to improve follow-up colonoscopy for those who use at-home tests. What we learn from colon cancer prevention could be applied to other cancers that require follow-up of abnormal screening tests. My goal is to duplicate what we learn about colorectal cancer screening and follow-up to other sites locally and nationally, and eventually to other preventable cancers as well.