Reunited at Last: Alumni Weekend 2022
By Melissa Rohman

Photography by Randy Belice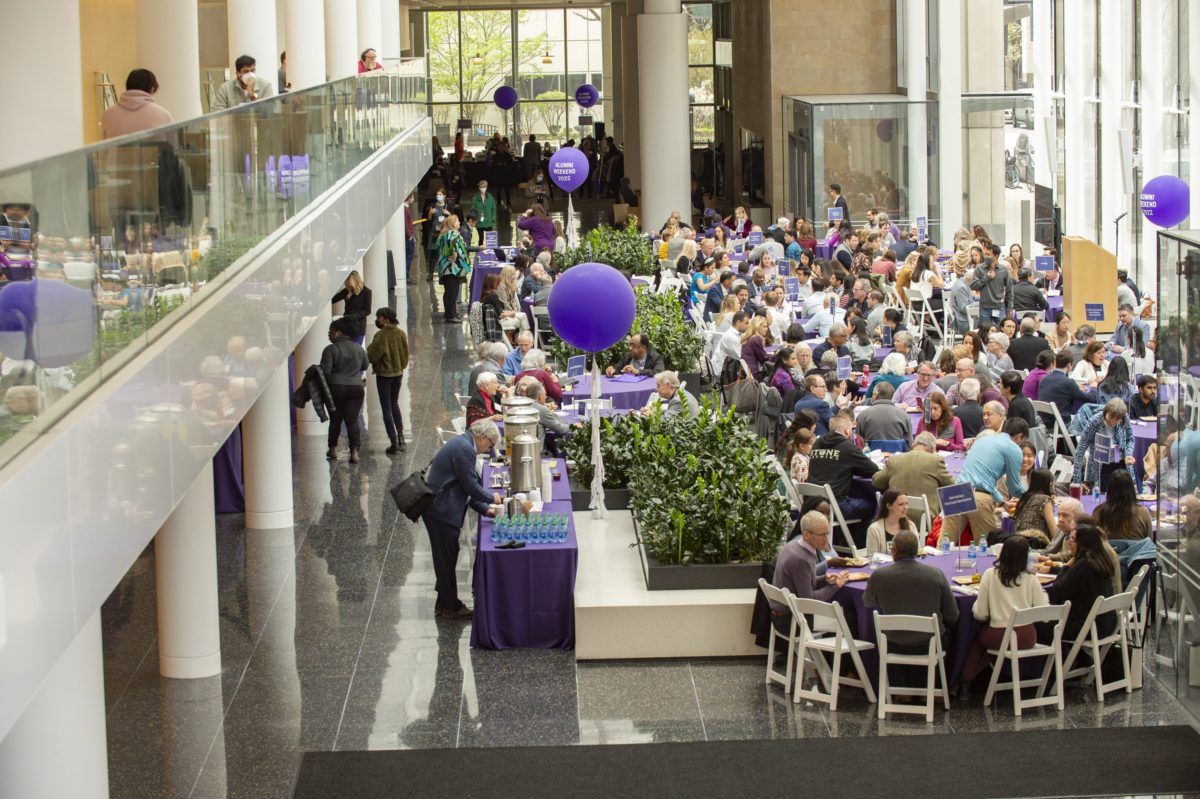 In the fall of 1983, Jennifer Ho, '88 MD, visited Feinberg for the first time for her medical school interview. Ho recalled that she was impressed by the medical school's research and clinical training opportunities and having grown up in Southern California, she said that seeing snow for the first time in Chicago was a memory she'll never forget.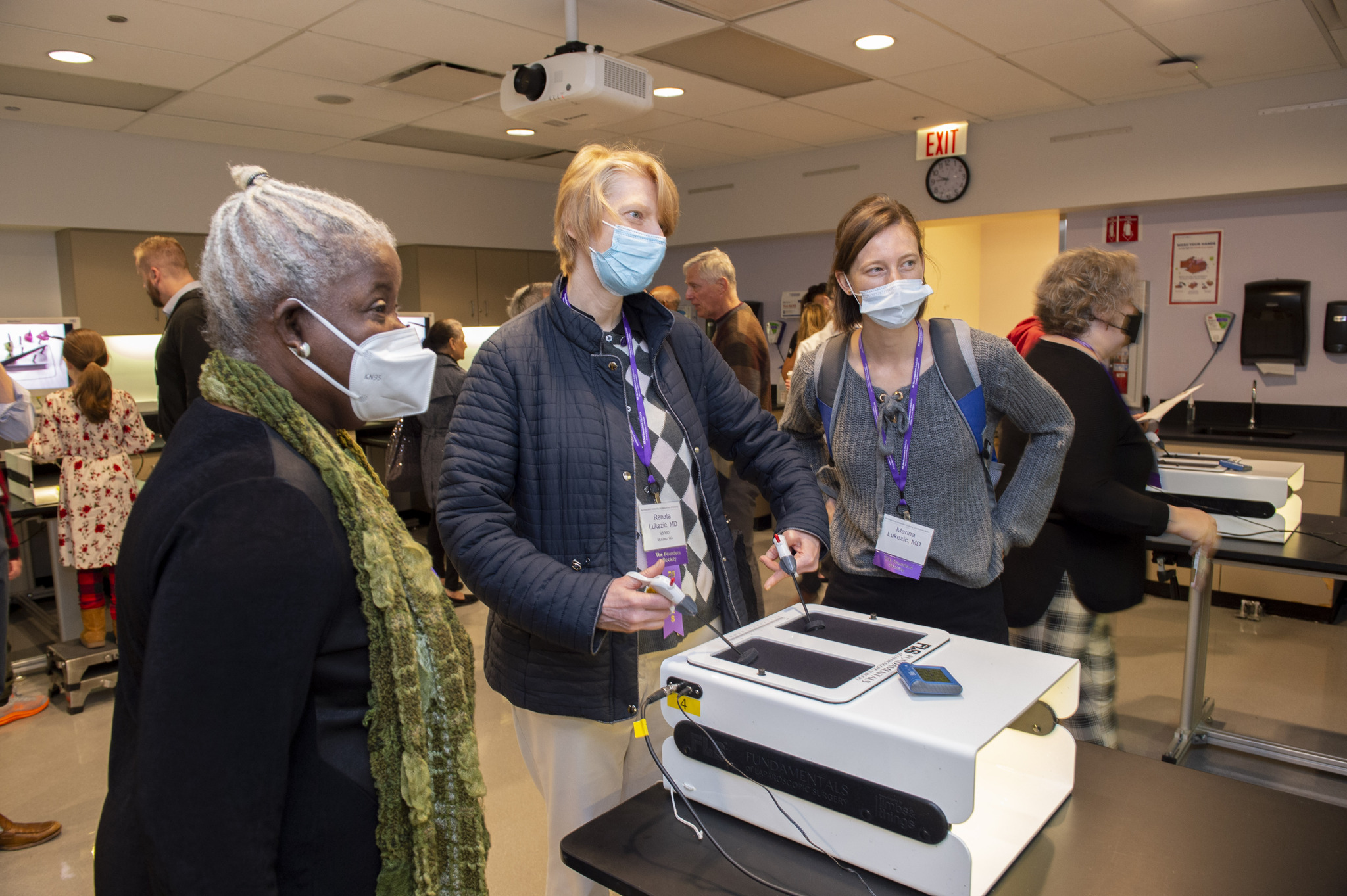 "Feinberg provided me with excellent medical training, allowing me to pursue my career of interest: ophthalmology. My education at Feinberg prepared me well so that I was able to transition onto my next phase of medical training easily and successfully. I credit Feinberg for laying the groundwork for my successful medical career," Ho said.
At Feinberg is also where she met her husband George Ho, '88 MD, who has practiced urology for more than 30 years. Together, they attended this year's Alumni Weekend celebration to revisit where their love story and medical careers began and also reunite with former classmates. They have three children who are and will soon be Feinberg alumni: Alex, class of 2022; Alisha, class of 2024; and Austin, class of 2026.
"Perhaps the most life-changing event in my life was meeting my wonderful wife at Feinberg. Through a 30-plus year journey in medicine, I have come to appreciate the special-ness that is Feinberg. I would characterize Feinberg as a world-class education provided in a family atmosphere of caring," Ho said.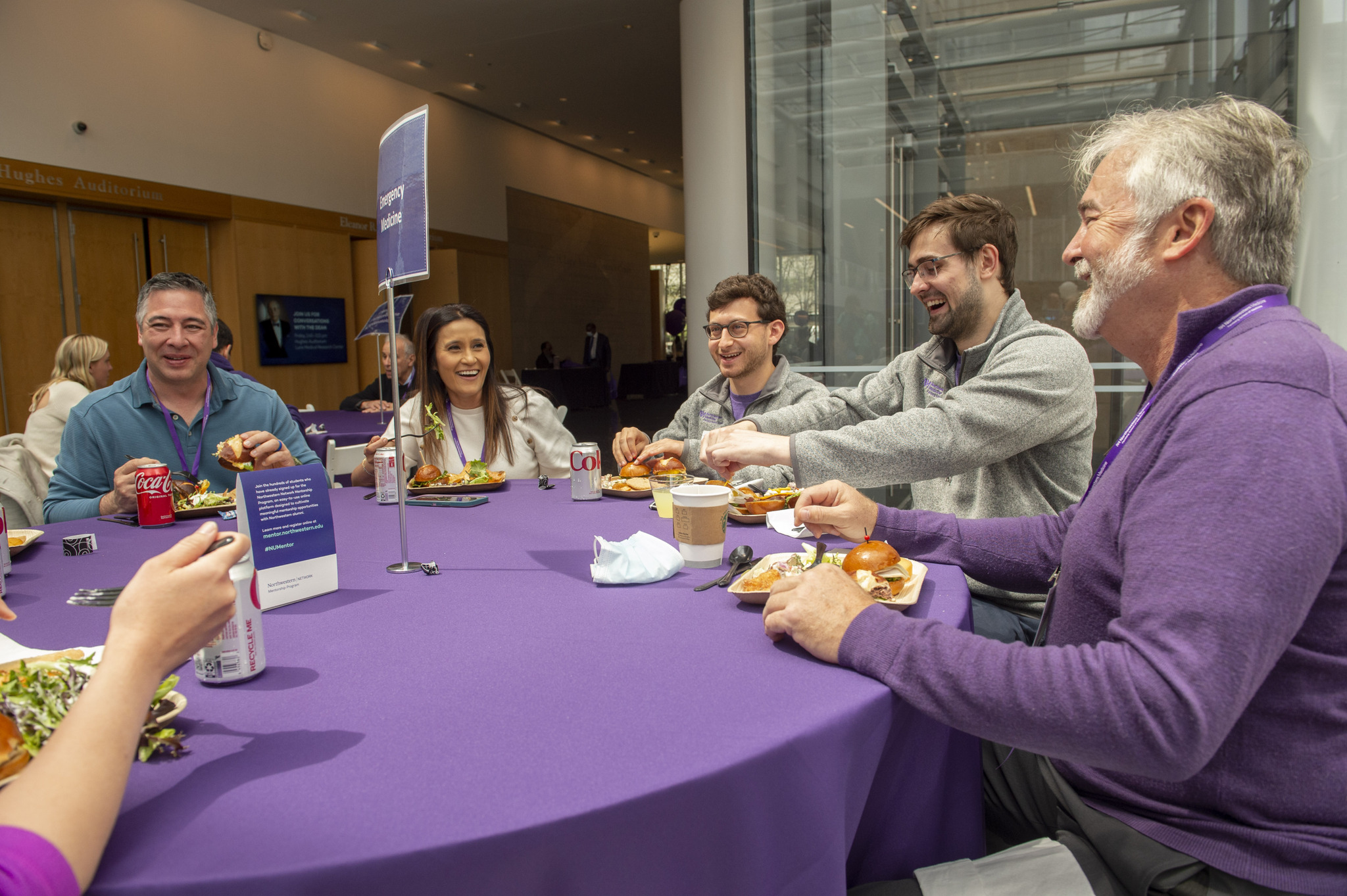 The Hos were among more than 700 alumni and guests who returned to Feinberg on April 29 and 30 to reconnect and reminisce with former classmates about their time at Feinberg and learn about the medical school's latest advancements. This year's Alumni Weekend also welcomed back the reunion classes scheduled to celebrate in 2021 and 2020, which were previously postponed due to the COVID-19 pandemic.
During the weekend, alumni attended different social and educational events, including class dinners, tours of Chicago attractions, and tours of campus facilities, including the Northwestern Simulation Center and the Louis A. Simpson and Kimberly K. Querrey Biomedical Research Center.
On Friday afternoon, alumni and current Feinberg students gathered for a mentoring lunch, which was organized based on medical specialties.
"Coming back to Northwestern is always a great opportunity to see what's going on at the medical school and catch up with old classmates. I think it's going to be important for all of us in the Northwestern family to have the chance to come together and process what we've gone through in the last two years with the treatment of patients with COVID," said Paul Bonucci, '96 MD, who celebrated his 25th reunion at this year's Alumni Weekend and shared details about his career path in emergency medicine with current Feinberg students during the mentoring lunch.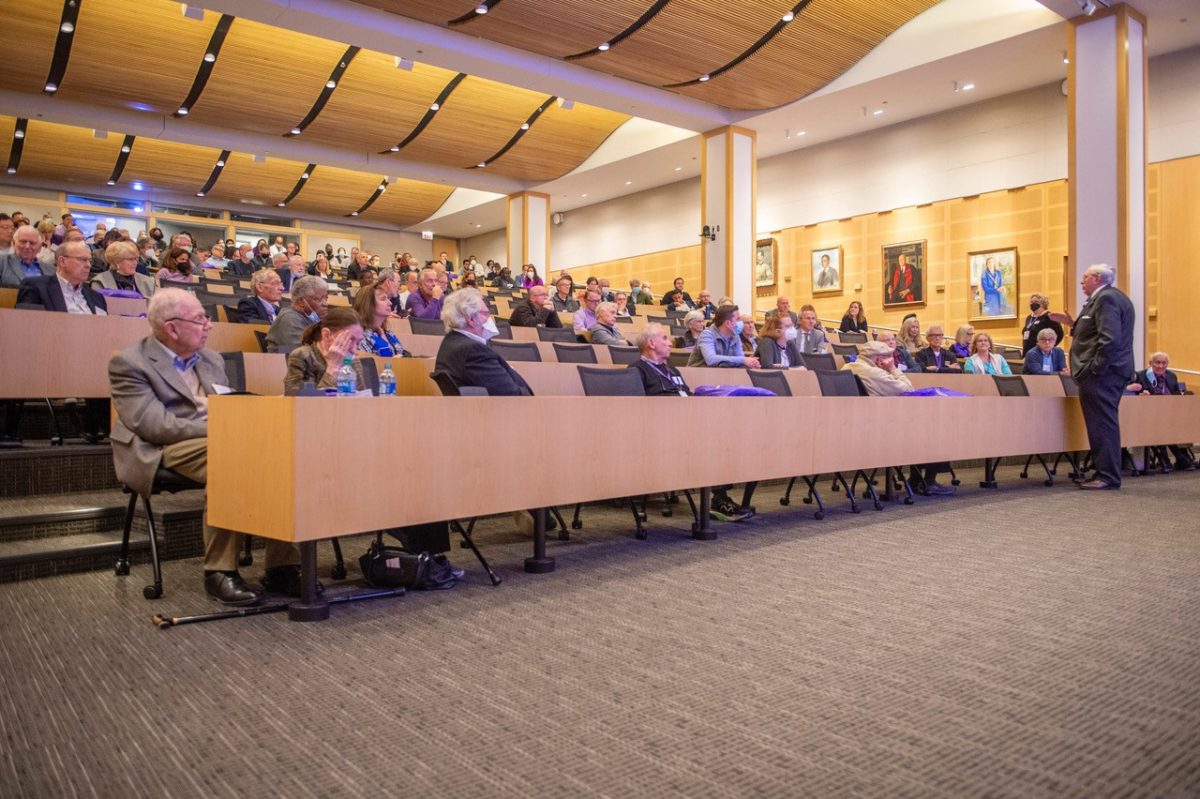 The lunch was followed by "Conversations With the Dean", hosted by Eric G. Neilson, MD, vice president for Medical Affairs and Lewis Landsberg Dean, who gave an overview of the state of the medical school, highlighting Feinberg's research enterprise, diversity and inclusion initiatives and future plans.
"It's been a couple of years since we've been able to be in person, so it's exciting to have so many old familiar friends and family back on campus. A lot has happened in the last three years," Neilson said.
The weekend also offered alumni the opportunity to attend a host of educational forums led by Feinberg faculty who discussed various topics, including permanent lung damage by COVID-19, the future of digital health, and new advances in cardiovascular medicine.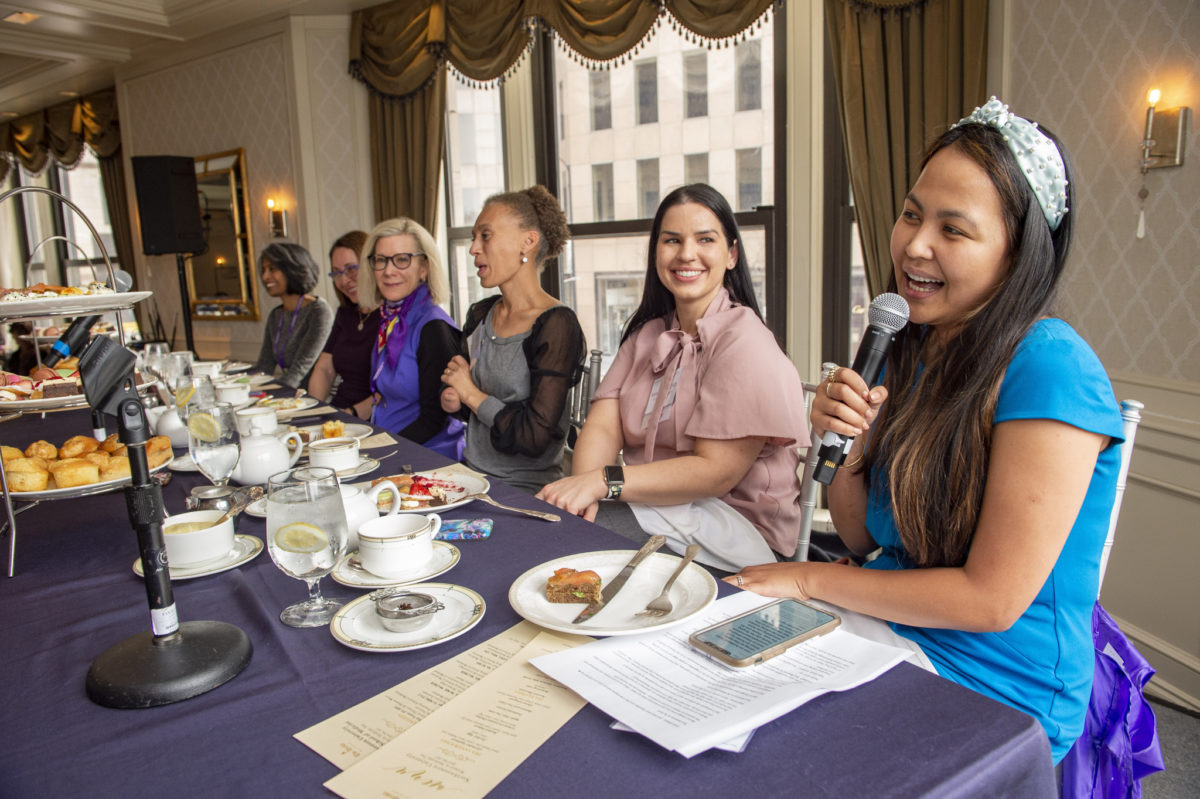 At Chicago's historic Drake Hotel, alumnae gathered for the annual Women in Medicine Tea, which included a panel discussion featuring alumnae from different class years who spoke about their own professional journeys and shared advice about career advancement, mentorship and work-life balance.
The session was moderated by Kavitha Gandhi, '98 MD, clinical instructor of Dermatology, who discussed her experience balancing motherhood and being a dermatologist, and how being connected and supported by other women in medicine helped her overcome different challenges.
"As a mother in medicine, I've felt the seesaw of guilt of feeling not quite good enough as a mother and not quite good enough as a physician; I call it double imposter syndrome. It helps to have a community to support you through those times, and sometimes it just takes just one supportive voice to realize that it's alright not to be perfect and, more importantly, to help you overcome that double imposter syndrome to help you do your best," Gandhi said.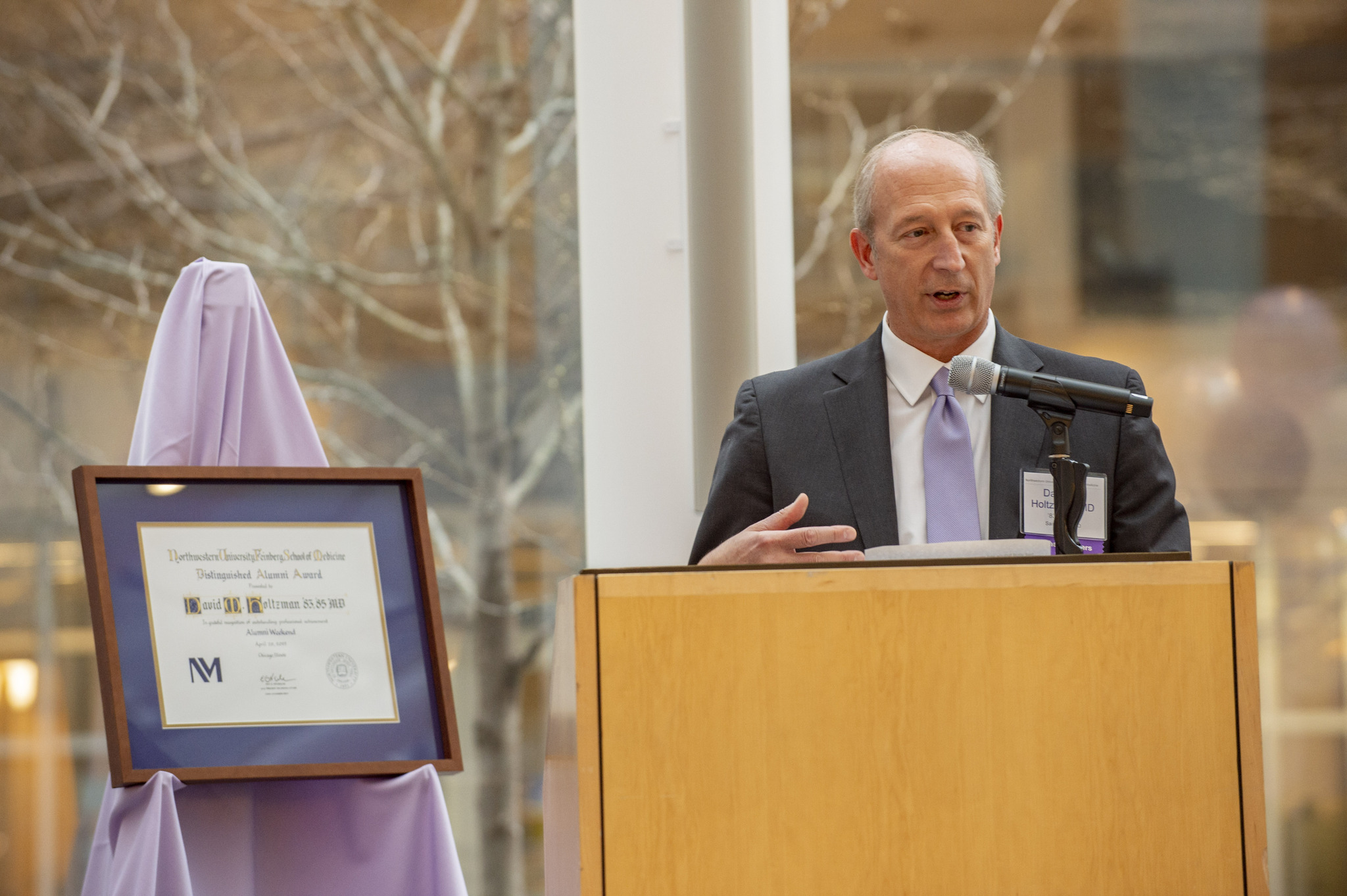 On Friday evening, attendees gathered for an all-alumni reception and dinner, which included a salute to the milestone reunion classes, ranging from the class of 1955 to 2017.
During the dinner, this year's Distinguished Alumni Award was presented to David M. Holtzman, '85 MD, an accomplished neurologist and neuroscientist who has dedicated his career to exploring the biological mechanisms underlying neurodegeneration, specifically Alzheimer's disease.
Holtzman is currently scientific director of the Hope Center for Neurological Disorders and associate director of the Knight Alzheimer's Disease Research Center at the Washington University School of Medicine in St. Louis.
"To not only love going to Northwestern for undergraduate and medical school but also use what I learned to have had such a rewarding career and life is just amazing," Holtzman said.