Surgical Strengths
by Bridget Kuehn | illustration by Jacqui Oatley
Steven Fishman, '86 MD, has leveraged an unusual perspective to provide relief for children and adults with rare vascular anomalies.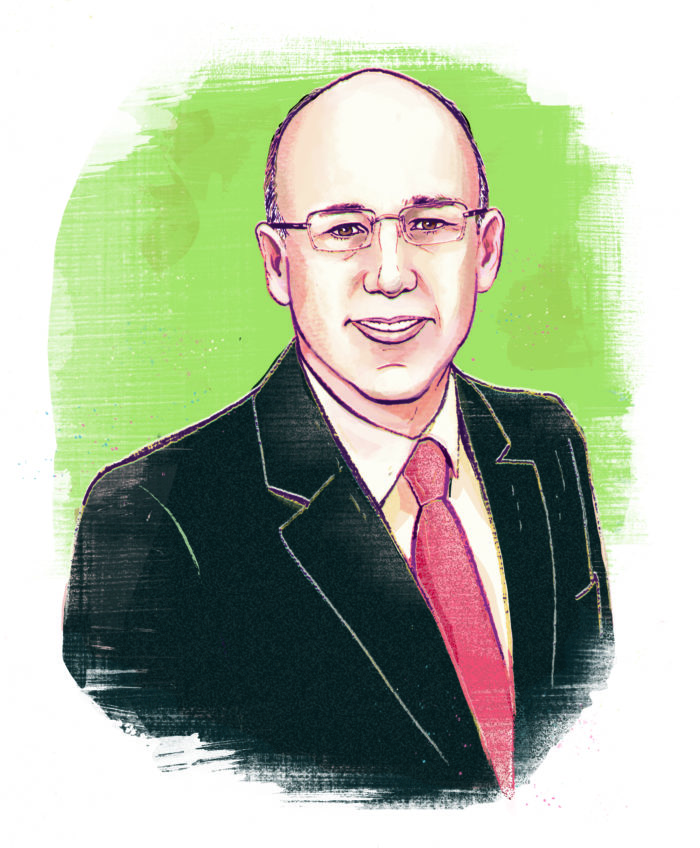 When he started medical school at the Feinberg School of Medicine, Steven Fishman, '86, MD, thought he would be a family practitioner, but his surgical rotations changed his mind.
 "I probably gravitated towards surgery because it played to my strengths," said Fishman, the Jane Weitzman Family Chair and Chief of Surgery at Boston Children's Hospital and professor of surgery at Harvard Medical School. 
 Those strengths may be connected to a learning disorder — dyslexia — that, at the time, Fishman didn't even know he had. The condition makes reading more difficult but enhances people's ability to think in three dimensions. Fishman discovered he had it when his second child was diagnosed. He's since learned that the condition is common among surgeons and radiologists. 
Fishman's unique view of the world has helped him become an internationally recognized leader in surgical repair of vascular anomalies, which occur when abnormal blood vessel growth leads to cosmetic or functional problems in or outside the body. He also co-directs the Vascular Anomalies Center at Boston Children's Hospital, which cares for about 1,700 patients yearly with hemangiomas or rare vascular tumors and malformations, and is past president of the International Society for the Study of Vascular Anomalies. 
Hyperspecialized
Fishman's interest in pursuing an academic career led him to choose pediatric surgery, a specialty that would still allow him to generalize. But an opportunity arose early in his fellowship in pediatric surgery at Boston Children's Hospital that redirected him toward "hyperspecialization."
During his first week, he received a letter from the previous fellow asking if he would partner with John Mulliken, MD, a plastic surgeon at Boston Children's Hospital who helped create the field of vascular anomaly surgery. Fishman had never heard of vascular anomalies. But Mulliken, who co-directs the Vascular Anomalies Center and leads the Craniofacial Surgery Center at Boston Children's, urged him to consider the field.
"He said: 'if you focus on this, I promise that you will have a meaningful career, and you'll make a difference,'" Fishman said.
The team they've built has characterized numerous rare conditions and their genetic basis and developed innovative surgical and medical approaches to treat them. 
  "It's been a very gratifying experience," Fishman said. "We've created one-stop shopping for these patients who come from around the world," he said.  
Fishman has also served in several leadership roles at his institution, including Vice Chair of Surgery for Clinical
Operations, President of the Physician's Organization, and most recently Chief of Surgery and Surgeon-in-Chief.
"I've realized in the later stages of my career that effective leadership can magnify your contributions," he said. "I can only help one patient at a time clinically, but I believe I'm helping many more by helping colleagues be more able to get their dreams fulfilled and advance their field."  
He said that one of the proudest accomplishments of his career has been helping to foster an interdepartmental and interdisciplinary team-based environment throughout Boston Children's Hospital. Often, he explained, one specialist is insufficient to solve the complex problems facing children with rare diseases, so they've created a "hub and spoke" model. At the team's center are nurses, nurse practitioners, coordinators, and social workers who organize patient care and connect each patient with all the specialist services they need. 
Fishman credits his time in the Honors Program for Medical Education at Northwestern and his brilliant classmates there with helping him to value others' skills and perspectives.
"I was taught to keep my mind open and respect expertise wherever you find it," he said.
Outside the Box
Fishman's unique way of thinking and stubbornness led him to develop a surgical technique to stop gastrointestinal bleeding in patients with a rare condition called Blue Rubber Bleb Nevus Syndrome. Patients with the disease may have hundreds of mulberry-shaped vein malformations in their intestines that can cause bleeding or blockages. As a young surgeon, he defied the conventional wisdom that the malformations were tumors and couldn't be successfully removed and developed a procedure to do so. Fishman has removed up to 544 of the malformations in a single surgery. 
"It's not a difficult operation," he said. "It's just a very tedious one."   
 Because so few people specialize in treating such veinous anomalies, Fishman also treats adult patients. One was a 38-year-old woman with Blue Rubber Bleb Nevus Syndrome who required weekly blood transfusions for decades to make up for all the blood she lost. She initially didn't believe Fishman's assurances that surgery could cure the condition. But a former adult patient of Fishman's who had undergone the procedure agreed to talk with her and her family. The man, a postal worker, paid his way to fly to Boston with his wife to meet the woman and her family in person. 
The woman agreed and underwent a 30-hour procedure. When Fishman went to update the family about the procedure's success, he was surprised and touched to see his former patient, the postal worker, waiting with them. The woman is now in her 60s and has never needed another transfusion. 
When he is not working, Fishman said his primary hobby is spending time with his wife and three children. But he also builds replica race cars. It all started when his son with dyslexia decided to make one from a kit the summer before starting college. When his son didn't finish before he had to leave for college in the fall, he convinced Fishman to pick up where he left off with the help of a more experienced car builder named Rich.
The duo finished the car, and instead of selling it as planned to cover the costs, Fishman bought a house with a larger garage so he could keep it. Fishman's son now works as an engineer designing cars for Tesla in California. Fishman and Rich still meet once a week to build cars together. He said he enjoys having a similarly creative but more relaxing pastime than surgery. 
"It's a bit like surgery," he said. "Nobody can appreciate what went into your effort because when the car is done, all they see is the shiny paint job. It is like when you operate on someone, and all they see is the scar. They never see the craftmanship inside."