The Things That Matter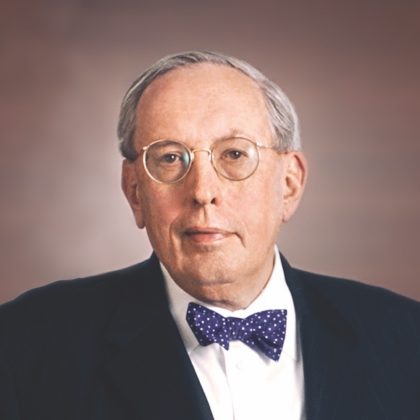 The 80/20 rule says only a few things will matter. Biomedical science is one of them. That is why our commitment to discovery remains earnest. But commitment alone does not ensure results. Our goals require dedicated vision and investment, and we have been immensely fortunate to benefit from superb research faculty and donors who have provided that and more.
A combination of awards and generous contributions from forward-thinking philanthropists have led to Feinberg principal investigators securing $650 million in research funding during the 2021-22 fiscal year — the largest amount in the school's history. The medical school provides 70 percent of Northwestern University's total research funding dollars.
Not long before this issue of Northwestern Medicine magazine went to print, we announced a new $100 million gift to Feinberg from Kimberly K. Querrey ('22, '23 P) and the Louis Simpson Trust that will significantly expand the university's biomedical research enterprise. Over the years, gifts from Querrey and Louis A. Simpson '58 ('96 P) have focused on initiatives that propel academic excellence, spur innovation, enable transformative research, and most importantly, help people.
Another generous gift, from the Patrick G. '59, '09 H ('97, '00 P) and Shirley W. Ryan '61, '19 H ('97, '00 P) Family, has endowed the Ryan Family Center for Global Primary Care within the Robert J. Havey, MD Institute for Global Health, helping to advance the institute's mission to improve human health for a better world as well as launching the Patrick and Shirley Ryan Institute for Neurodevelopment to bring an astonishing new level of understanding to how cognition and memory develop, in alignment with the National Institutes of Health (NIH) Brain Research Through Advancing Innovative Neurotechnologies (BRAIN) Initiative.
We are honored to be the recipients of such wonderful support.
Just as critical to our work is funding from the NIH, and I am delighted to report that this fiscal year, we saw a nearly seven percent increase in NIH grants over the previous period — overall, $448 million was awarded to our investigators to accelerate the pace of scientific progress.
This includes essential ongoing support for established entities, such as Northwestern University Clinical and Translational Science (NUCATS) Institute and the Robert H. Lurie Comprehensive Cancer Center of Northwestern University, as well as new grants that allow us to further explore areas of medicine that need examining.
One such novel project is a seven-year grant to study a "pill-in-pocket" strategy to prevent stroke in patients with atrial fibrillation, the most common heart rhythm disorder in adults, awarded to Rod Passman, MD, director of the Center for Arrhythmia Research and the Jules J. Reingold Professor of Electrophysiology.
Another transformative NIH grant, totaling $16 million over five years and designed to address the dearth of underrepresented minorities in the life sciences, will fund the hiring of 15 new tenure-track faculty at Northwestern. The initiative, called Northwestern University Recruitment to Transform Under-Representation and achieve Equity (NURTURE), will also ensure the success of faculty members from underrepresented populations.
One of the most gratifying aspects of working in the life sciences is witnessing the discoveries that come to fruition in the years after funding has been granted. Several years ago, Northwestern was awarded a $12 million, five-year NIH grant to launch a center dedicated to advancing the genetic understanding of epilepsy. Four years in, center director Alfred George, Jr., MD, chair and Alfred Newton Richards Professor of Pharmacology, and his colleagues have made amazing strides in this area.
Tackling the complex scientific questions of today not only requires increasing amounts of fuel for our investigators, but also demands a remarkable amount of commitment, time, and energy. More than 6,000 clinical trials and research studies were conducted at Feinberg in the last academic year, and 50 patents and nine new start-ups were established. I am tremendously proud of this effort to improve the health of people.
All of these efforts ladder up to the promise of discovery. Discovery is the lifeblood of our identity as a high-performing, research-driven health system. And discovery is only possible with investment. In this regard, we are fortunate to find ourselves at an extraordinary place. Yet, we have much more to do. Together, we will stay laser-focused on the things that matter.
With warm regards,
Eric G. Neilson, MD
Vice President for Medical Affairs
Lewis Landsberg Dean