Summer 2023
we'd love to hear from you!
Share your important milestones with us.
Please share your recent news, accomplishments and important milestones with us. Submit your updates and high-resolution photos via the linked form. We will publish them in an upcoming issue of the magazine.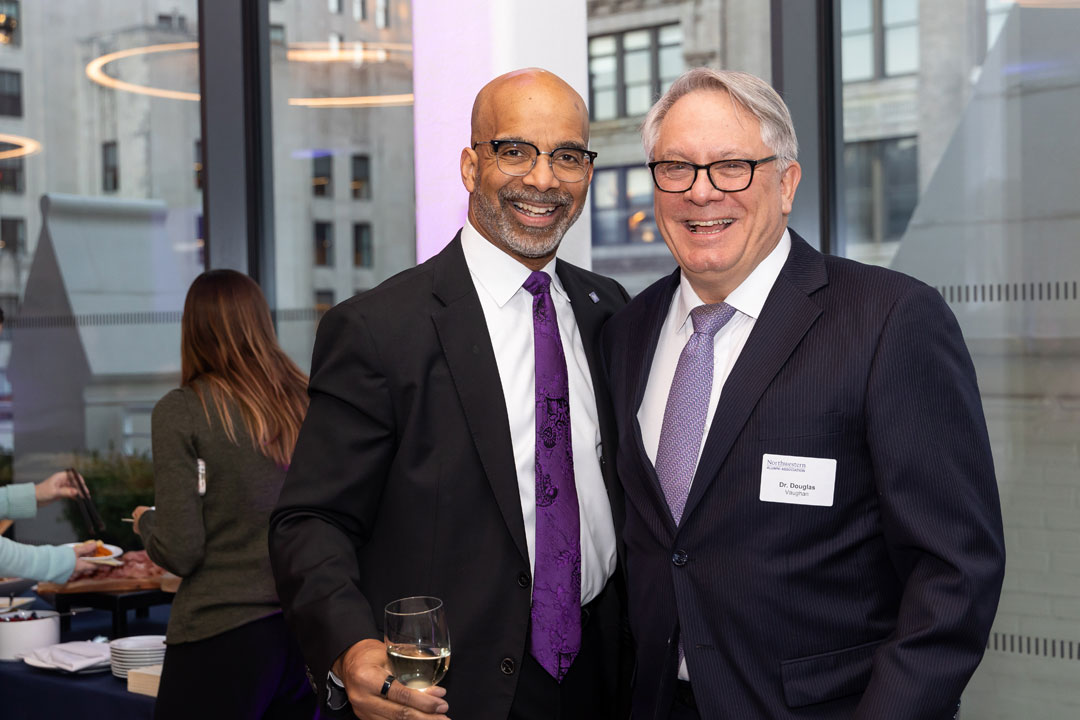 1960s
Robert Kotler, '67 MD, clinical instructor in the Department of Head and Neck Surgery at University of California, Los Angeles, wrote in recently with a memory from his medical school days: "As a senior, I was on assign­ment at the Chicago Maternity Center. At the time, home obstetrics service was staffed by Northwestern University Medical School. For two weeks, we would live in an apartment building; two students or a student and RN would be on call to deliver a baby when called by a community resident who had chosen not to deliver in a hospital. I knew my father was born in that neighborhood and delivered at home. My grandparents were very poor immigrants and, as many did, utilized the Chicago Maternity Center. I asked the handyman if there were records dating back to 1916, the year of my father's birth. 'We certainly do,' he answered. I asked to see the logbook. Down to the basement we went and, sure enough, we quickly found the October 3, 1916, entry. The family last name was misspelled, but who cares? If only I'd had an iPhone!"
Trent William Nichols, Jr., '69 MD, '76 GMER, '78 GMEF, recently published "Medical Hypothesis: Reconceptualizing Alzheimer's Disease as Quantum Decoherence Resulting from Mitochondrial and Microtubular Deterioration," with Jack Tuszynski, PhD, professor of Physics at the University of Alberta, and Marvin H. Berman, PhD, chief executive officer of the Quietmind Foundation, in the Journal of Multiscale Neuroscience (Neural Press). They also have applied for a third U.S. patent: Photobiomodulation using Near Infrared (NIR) Light in Alzheimer's, Parkinson's, other Dementias and Memory Loss Disorders along with Neuronics Limited, after achieving statistical significance in several placebo-controlled clinical trials in early to mid-Alzheimer's and Parkinson's dementia using NIR transcranially after two months of BID-wearing for seven minutes. Nichols has served as chief medical officer for ICARE Foundation for the past three years and now as chief medical officer of Quietmind Foundation.
1970s
Bruce F. Scharschmidt, '68, '70 MD, former Medical Alumni Association (MAA) Board president, recently published another chil­dren's book. Released on April 22, the book is titled Tina the First Tooth Fairy. The book offers a unique reimagining of the tale children know and love, as described in the promotional materials: "A shortage of fairy dust has the fairy community anxiously scratching their heads. How will they carry on when they run out of dust? Empowered by the support of her big sister, Tiny Tina sets off on a mission to find a sustainable source and discovers it in the most unlikely of places–baby teeth!" Scharschmidt previously served as professor of Medicine and chief of Gastroenterology at the University of California, San Francisco (UCSF), where he helped start the UCSF liver transplant program. He has authored over 200 scientific papers and book chapters and served as editor-in-chief of the Journal of Clinical Investigation and president of the American Society for Clinical Investigation. He also served on the National Board of Directors of the American Liver Foundation and participated in the devel­opment of multiple vaccines and therapeu­tics. Tina the First Tooth Fairy is available for purchase on Amazon.
Leo A. Gordon, '73 MD, gave an animated reading at the inaugural meeting of the Cedars-Sinai Medical Center for Humanities in Medicine. His essay, "Out of Touch," is a bittersweet assessment of progress in surgery as human disease has moved further and further from his hands by way of laparoscopy and ro­botics. To read "Out of Touch," visit the General Surgery News publication website.
Jerome Craig Cohen, '79 MD, '82 GME, became president-elect of the Medical Society of the State of New York (MSSNY) on April 23. Cohen previously served as vice president of MSSNY as well as other leadership roles. Cohen is board-certified in both internal medicine and gastroenterology. He is also a Fellow of the American College of Physicians and a Fellow of the American Gastroenterological Association. Cohen treated patients in Binghamton from 1984 to 2015. Since 2015, he has been treating patients in Cooperstown for Bassett Healthcare Network, where he serves as a senior attending gastroenterologist. Cohen is also clinical assistant professor of Medicine at the Cooperstown campus of Columbia University Vagelos College of Physicians and Surgeons. Cohen and his wife Elaine V. Drelich, DDS, live in Loch Sheldrake, New York.
1980s
Charles S. Modlin, '83, '87 MD, was recently interviewed on Fox 8 News Cleveland for his work on the MetroHealth Minority Men's Health Fair. The Health Fair featured over 30 free health screenings for men. As reported by Fox 8 News, Dr. Modlin founded the event over 20 years ago and is passionate about helping men take control of their health by finding concerns early and getting treatment. For more information visit metrohealth.org/mmhf
Steven J. Price, '84, '86 MD, '91 GMER, was recently appointed to the board of trustees of ThedaCare. Price is founder and managing partner of the Neuroscience Group, an indepen­dent practice working closely with ThedaCare. Composed of 17 physicians and surgeons and a total of 48 providers, Neuroscience Group is currently seeking more neurologists. To be connected with the Neuroscience Group, please email the MAA. Price also is an active member of the American Academy of Neurology and the National Headache Foundation.
Steven R. Deitcher, '86, '88 MD, will be featured in Top 100 Innovators & Entrepreneurs magazine. As founder, chief executive officer, and chair of Bespoke Biotherapeutics, a B-cell bioengi­neering company, Deitcher's work in finding solutions for solid-tumor cancers is sup­ported by 14 granted and several pending patents. "Our goal is to dramatically improve patient outcomes and reduce the side effects of anti-cancer therapies," he shared.
Anita K. Lane, '87, MD, '94 GME, has been announced as an alumni recipient of the Joliet Catholic Academy's 2023 Hall of Champions: Business and Industry. The mission of the Hall of Champions: Business and Industry is to honor graduates for their accomplish­ments throughout their professional careers ranging from medicine, law, education, entertainment, business, technology, and more. Lane is the owner and co-founder of Touchstone Internal Medicine in Colorado Springs, Colorado.
1990s
Gaurov Dayal, '96 MD, was appointed to the board of directors of MDVIP, the market leader in personalized healthcare with a network of more than 1,100 primary care physicians nationwide. He is chief executive officer of Axia Women's Health. Dayal previ­ously served as president and chief operating officer at Everside Health, president of new markets and chief growth officer at ChenMed, senior vice president at Lumeris, and the first chief medical officer and president of health­care delivery, finance, and integration at SSM Health Care.
Lucy A. Godley, '97 MD, PhD, has been named the inaugural director of the Jeff and Marianne Silver Family Blood Cancer Institute of the Robert H. Lurie Comprehensive Cancer Center, effective April 1. She also will serve as clinical director of Cancer Genetics. Made possible by a philanthropic investment from the Jeffrey and Marianne Silver Family Foundation, the Silver Family Blood Cancer Institute of the Lurie Cancer Center was established to strengthen and expand emerging research and clinical trials in the Lurie Cancer Center's Hematologic Malignancies Program. A nationally recognized expert in the treat­ment of patients with leukemia and myelo­dysplastic syndromes, Godley is currently professor of Medicine in the Section of Hematology and Oncology at Northwestern and professor of Human Genetics at the University of Chicago.
2000s
Amish M. Shah, '97, '01 MD, has announced he is running for U.S. Congress. Shah is an accomplished educator, consultant, and phy­sician. He previously taught medical students and residents at the Mount Sinai Medical Center in New York as a full-time faculty member and academic researcher and led the New York Jets Airway Management Team. He worked with the National Football League (NFL) to improve their emergency man­agement through research over a concern for potentially catastrophic injuries, later presenting his work at the NFL Physicians' Society. Shah has served as a member of the Arizona House of Representatives since 2019. 7
2010s
Kathryn Hufmeyer, '11 MD, '14 GME, rejoined the medical school and Feinberg faculty as associate dean for Curriculum and asso­ciate professor of Medicine in the Division of General Internal Medicine. Hufmeyer is the prior recipient of Feinberg's Augusta Webster Faculty Fellowship in Educational Research and Innovation, the John X Thomas, Jr. Best Teachers of Feinberg Award, and the Excellence in Teaching Award.
Linda Suleiman, MD, '17 GME, was promoted to associate dean for Diversity, Equity, and Inclusion at Feinberg. Suleiman also is assistant professor of Orthopaedic Surgery and of Medical Education and director of Diversity and Inclusion at McGaw Medical Center of Northwestern University. Prior to the promotion, she served as assistant dean of Medical Education.
2020s
Guangyu (Anthony) Bai, '20 MD, was recently awarded best presentation by a resident/ fellow at the University of Wisconsin—Madison Emergency Medicine Research Forum. Bai's award-winning presentation was titled "Implementation of Mobility Assessment into Electronic Medical Record and Emergency Department Discharge Process Alters Disposition for Traumatically Injured Patients."
PT
Emily Finn, '14 DPT, was recently honored by the American Physical Therapy Association (APTA) Section on Pelvic Health for being a 2022 Emerging Leader. This award recognizes an individual in their respective section of the APTA who has demonstrated extraordinary service in their early physical therapy career.