There is no better time than now to contemplate the extraordinary potential for Northwestern Medicine's future. This year, several focused investments have become a reality and will establish new platforms for accelerating innovation to advance our clinical, research, and teaching missions.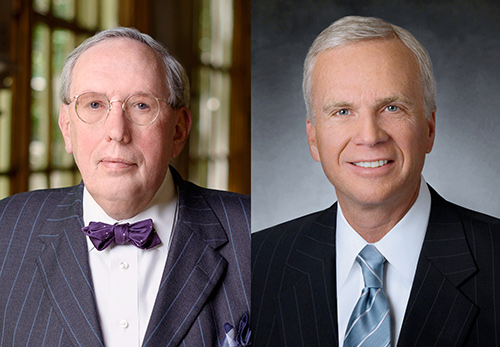 We believe innovation thrives at the intersection of people, processes, and technology. Today, we could not ask for a better symbol of this interplay than the new Louis A. Simpson and Kimberly K. Querrey Biomedical Research Center, which opened in June. The culmination of a seven-year journey to create a larger footprint for discovery on our Chicago medical campus, this marvelous feat of innovation will allow scientists to make discoveries that impact the practice of medicine and improve human health for years to come. This bold vision came to life thanks to the determination of countless people across our enterprise and beyond, from generous donors to strategic leaders to our dedicated staff and scientists.
Innovations in process were baked in from day one. The earliest architectural blueprints revolved around supporting the scientific process, which flourishes with collaboration. From the creation of a floor-by-floor connection to the Robert H. Lurie Medical Research Center and a bridge to the Searle Medical Research Building, to the two-story gathering spaces within the biomedical research center itself, the key word here is connection. Because world-changing discoveries are rarely made in silos.
You will see technology everywhere in this building, starting from the façade — a double-layered glass wall with adjustable metal shades and a mechanical system that can exhaust hot air, and thus reduce energy bills. Inside, technology aids discovery. On the seventh floor, scientists at the Simpson Querrey Center for Epigenetics are using sophisticated molecular, biochemical, and computational methods to understand the effects of environment on the regulation of genes. On the eighth floor, at the George M. O'Brien Kidney Research Core Center, scientists are developing a bioengineered kidney and pancreas, and the Department of Cell and Developmental Biology will begin a new era for studies regarding structure and function. On the fifth floor, in the Center for Genetic Medicine, scientists are developing a "super glue" protein that helps reseal and repair damaged muscles, and the Division of Pulmonary and Critical Care is reimagining new approaches to inflammation and fibrosis of the lung. On the sixth floor, the brain tumor program will be refining cutting-edge science for attenuating brain tumors. And all of this is just the beginning.
The Simpson Querrey Biomedical Research Center may be our newest symbol of innovation, but it's certainly not the only one. A legacy gift continues to support innovation today. The Dixon Translational Research Fund offers two types of awards aimed at catalyzing the cutting-edge translational science happening across the Northwestern Medicine scientific ecosystem. The Dixon Young Investigator and Innovation Awards fund meritorious projects that are poised to make the leap to first-in-human studies or to fund applications of ideas that can be quickly translated to the healthcare setting. A Dixon Award was recently presented to Bruce Bochner, MD, whose lab uncovered how a lymphoma drug could be leveraged to desensitize individuals with allergies.
The Innovation Award has been established to accelerate and foster ideas to transform patient care. Through this award, Northwestern Medicine will spread the culture of innovation across the health system, empowering employees to be part of transforming healthcare, while also collaborating with those entrepreneurs and organizations outside of Northwestern Medicine who share the same passion for the future of healthcare.
After completing the installation of a single instance of an electronic medical record across the health system, we are now poised for accelerating innovation in technology to support our patients and caregivers. Some recent examples include the MyNM app to enable patients, caregivers, and consumers to connect with our health system from anywhere, at any time. We have also expanded telehealth and digital care through TeleStroke, TeleSleep, and TeleOphthalmology offerings. And to help address a major care barrier for some patients, we now offer a digital healthcare logistics and technology platform for Non-Emergent Medical Transportation that streamlines the process of scheduling medical transportation for patients who lack access to reliable transport. The Innovation Fund will allow us to sustain these and other efforts.
Innovation is also present in Feinberg's medical education, which includes the use of artificial intelligence in medical decision-making; new classroom design; the use of augmented, virtual, and extended reality to bring anatomy to life; and the expansion of education to the community to impact the quality of patient care, address social determinants, and improve overall health.
Northwestern Medicine is at an important inflection point to lead transformational activities in discovery and delivery of care. We understand on a deep level that human lives depend on innovation. And that is why we remain steadfastly committed to continuous innovation for improvement.
With warm regards,
Eric G. Neilson, MD
Vice President for Medical Affairs
Lewis Landsberg Dean
Dean M. Harrison
President and CEO
Northwestern Memorial Healthcare