"I'm very happy right now, it feels like I've finally made it," said Hendryck Gellineau, a first-year medical student. "We've been driving through the back roads, and we just turned onto the on-ramp; I'm looking forward to the next four years."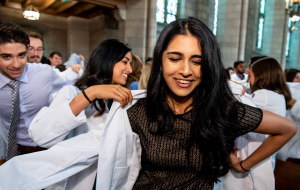 Founders' Day, an annual ceremony held August 9 this year, welcomes first-year medical students to campus, honors Feinberg's founders and marks the official start of the academic year.
Gellineau was part of the class of 2023 who attended the event, celebrating with their family, friends and the second-year students who presented the freshman with their white coats.
"We're particularly delighted our new students have chosen to begin their medical profession by matriculating at Northwestern, one of the nation's premier research intensive universities," said Eric G. Neilson, MD, vice president for Medical Affairs and Lewis Landsberg Dean.
Neilson spoke about Feinberg's long history of distinguished physicians and scientists, and invited the class of 2023 to follow their forebears in breaking new ground.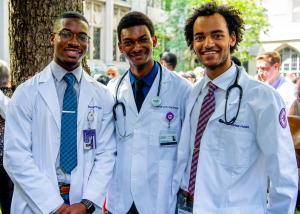 "You may rest assured that within the broad opportunities at Feinberg, you will find a problem to solve conducive to your inclinations," Neilson said. "Feinberg, as it always has, will prepare you well for whatever path you choose."
Jonathan Holloway, PhD, provost of Northwestern University, followed with his own remarks.
"Like other medical schools, Feinberg is complex organism," Holloway said. "As I suspect you are quickly realizing, there is an impressive infrastructure here that is designed to support you as you move through your medical school education."
The Founders' Day address was delivered by Nicholas Volpe, MD, chair and George W. and Edwina S. Tarry Professor of Ophthalmology.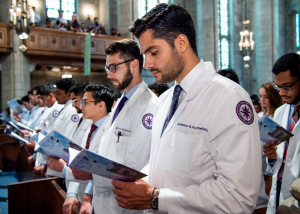 "You will help someone get better, live longer, be healthier and happier, or ameliorate their pain and suffering," Volpe said. "While so many things have changed, there still remains an exam, the doctor, the patient, and nothing else matters. That's the essence of our profession."
Diane B. Wayne, '91 MD, vice dean for Education and the Dr. John Sherman Appleman Professor of Medical Education, led the white coat ceremony, where students don their white coats for the first time. This moment was a lifelong dream come true for many students, including Jonathan Roe.
"It's almost like there's two stages of my life: before the white coat, and after," Roe said. "Actually putting on the coat is a tangible representation of our adopting the ethos of a physician."
Garbed in white, the first-year students recited the Declaration of Geneva, the modern incarnation of the ancient Greek Hippocratic Oath.
"It's a little nerve wracking because you're saying these very grand things, but we haven't really done anything yet," said Nivedita Potapragada, a first year student. "It puts us in a frame of mind: these are the expectations that we have to live up to, the expectations of a physician."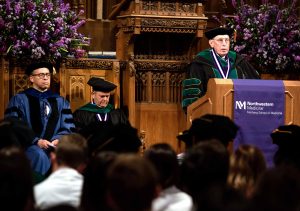 The event also featured an award ceremony for second-year students, who were selected by their peers for their leadership and recognized with M2 Student Senate Service Awards. Those students include:
Noor Hamideh, recognized for her commitment to fellow students and her advocacy for religious spaces on campus.
Emily Qin, recognized for her initiative to help students succeed academically and socially by developing study resources for the class and coordinating class events and celebrations throughout the year.
Carrie Stump, recognized for her efforts in providing and promoting a space for reflection and appreciation among her fellow classmates.
Karen Young, recognized for her admirable sense of selflessness.
The Student Senate Engagement Award, which recognizes the student organization that best represents leadership, student engagement and service, was presented to the Student National Medical Association, an organization committed to supporting current and future underrepresented minority medical students, addressing the needs of underserved communities and increasing the number of clinically excellent, culturally competent and socially conscious physicians. Precious Akanyirige, a second-year medical student, accepted the award on behalf of the organization.
After the ceremony, Feinberg students, faculty and guests gathered at the Nathan Smith Davis Founders' Day reception, sponsored by the Feinberg Medical Alumni Association.