Alumni Profile:
Practicing Innovation
Joseph Iannotti works to bring healthcare into the future.
by BRIDGET M. KUEHN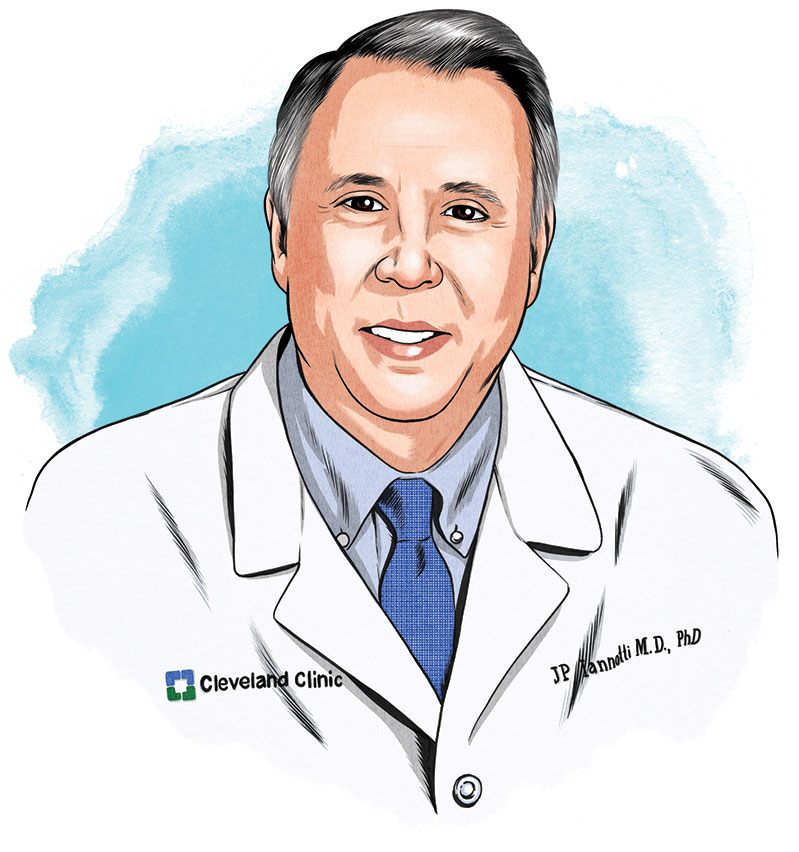 Joseph Iannotti '79 MD, PhD, has big plans for Cleveland Clinic Florida. As chief academic and innovation officer at Cleveland Clinic, he's looking to expand the institution's academic footprint to make it a clinical and research powerhouse like its namesake in Ohio.
It's a tall order, but in the last several months, Iannotti has made considerable headway. This fall, he and his colleagues will open a brand-new research facility — the home of a new immunology-focused basic research program that is a collaboration among Cleveland Clinic Florida, Florida International University, and the Australian biotechnology company Vaxine.
"Our focus is going to be on development of new vaccines," Iannotti says. "There are a lot of worldwide pandemics, and some of the vaccines we have are not that effective."
The center will also conduct immunobiology research on neurodegenerative diseases and cancer. This ambitious effort is the latest in a career that has spanned three major universities and has married clinical care with research.
"I'm most proud of the fact that I've been able to successfully bridge clinical care with research — not just in my own career but at an institutional level," he says. "I've been able to grow and develop programs I'm very proud of in Cleveland and, now, in Florida."
CAREER MILESTONES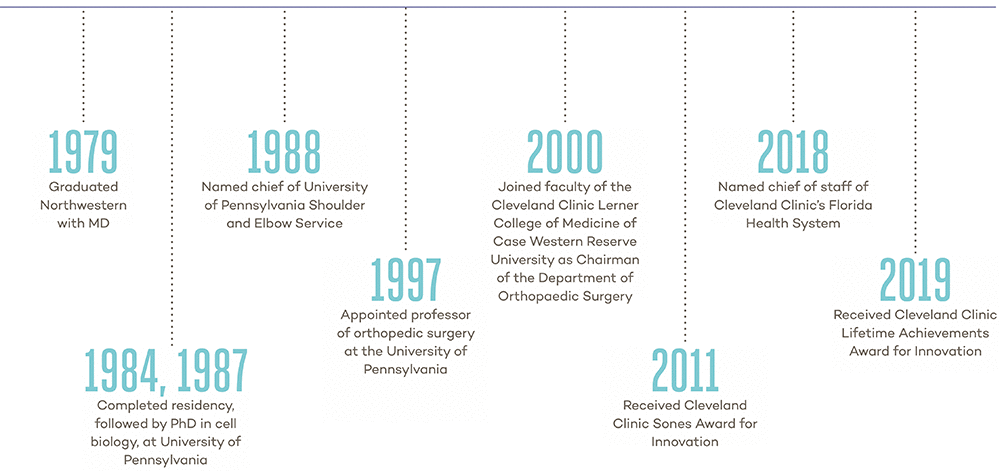 Bench to Bedside and Beyond
Attracted to Northwestern by its excellent Orthopaedics Program ("It was a great experience and foundational to being a good doctor," he says of his time at the medical school), Iannotti was also drawn to basic science.
After Northwestern, he pursued a graduate degree at the University of Pennsylvania, where he finished his residency in 1984 and his graduate degree in cell biology in 1987. He stayed on at the University of Pennsylvania for 20 years, conducting laboratory-based basic science research while treating patients with shoulder injuries. He rose to the rank of tenured professor of orthopedic surgery and head of the Penn Shoulder and Elbow Service before joining the faculty of the Lerner College of Medicine of Case Western Reserve University and Cleveland Clinic in Ohio in 2000.
At the Cleveland Clinic, he became chairman of the Orthopedic and Rheumatologic Institute and co-director of its Orthopedic Research Center with a joint appointment at the Lerner College of Medicine's Department of Biomedical Engineering. Receiving a NIH R01 grant as a co-prinicipal investigator allowed him to focus his research on understanding how rotator cuff tears heal after surgery.
"That work has been important in terms of trying to develop different ways to improve tendon healing after surgery," says Iannotti. He holds 120 United States patents, including many of which are for implants that are currently widely used for shoulder replacements, and in 2016, he was inducted into the National Academy of Inventors.
Being a good doctor is a basic requirement, but if you can advance the field through discovery and innovation, you can contribute more to healthcare and the public.

Joseph Ianotti
"With our team, I've developed pre-operative planning software and patient-specific instrumentation for joint replacement surgery, as well as software and imaging techniques to better analyze the outcomes after shoulder replacement surgery," he adds. He has also authored three textbooks and more than 350 original peer-reviewed articles, and book chapters.
annotti served in those dual research and clinical roles for 18 years before moving to Florida last November to become chief of staff at Cleveland Clinic Florida Health System, which includes five hospitals in Southeast Florida, and he remains a Professor of Surgery at the Cleveland Clinic Lerner College of Medicine of Case Western University. In his role as chief of staff, he helps boost clinical care, recruit physicians, and grow the organization's clinical enterprise. But he's most passionate about his joint role as chief academic and innovation officer.
"I'm in a lucky place to be able to do something I love," he said.
Forecasting the Future
Some of Iannotti's most recent research focuses on the ways that telemedicine and other technology may advance medical care in the future.
"Telemedicine is an emerging area in the delivery of high-quality care at the right price point," he says. He explains that traditional face-to-face medical appointments that may last just five minutes, but require making appointments weeks in advance, don't work for many patients. As a result, many patients resort to consulting Dr. Google. Iannotti sees a middle ground, where technology can help patients get the care they need. CVS and Amazon, he points out, are already trying to find it.
"These large groups are providing healthcare in the seam between the Internet and traditional brick-and-mortar healthcare," he says. He also sees opportunities for innovation in the reams of data becoming available through mobile technology.
Iannotti encourages other physicians to make innovation a central part of their practice.
"Being a good doctor is a basic requirement, but if you can advance the field through discovery and innovation, you can contribute more to healthcare and the public," he says.