photography by LAURA BROWN
Northwestern Medicine builds an immediate response.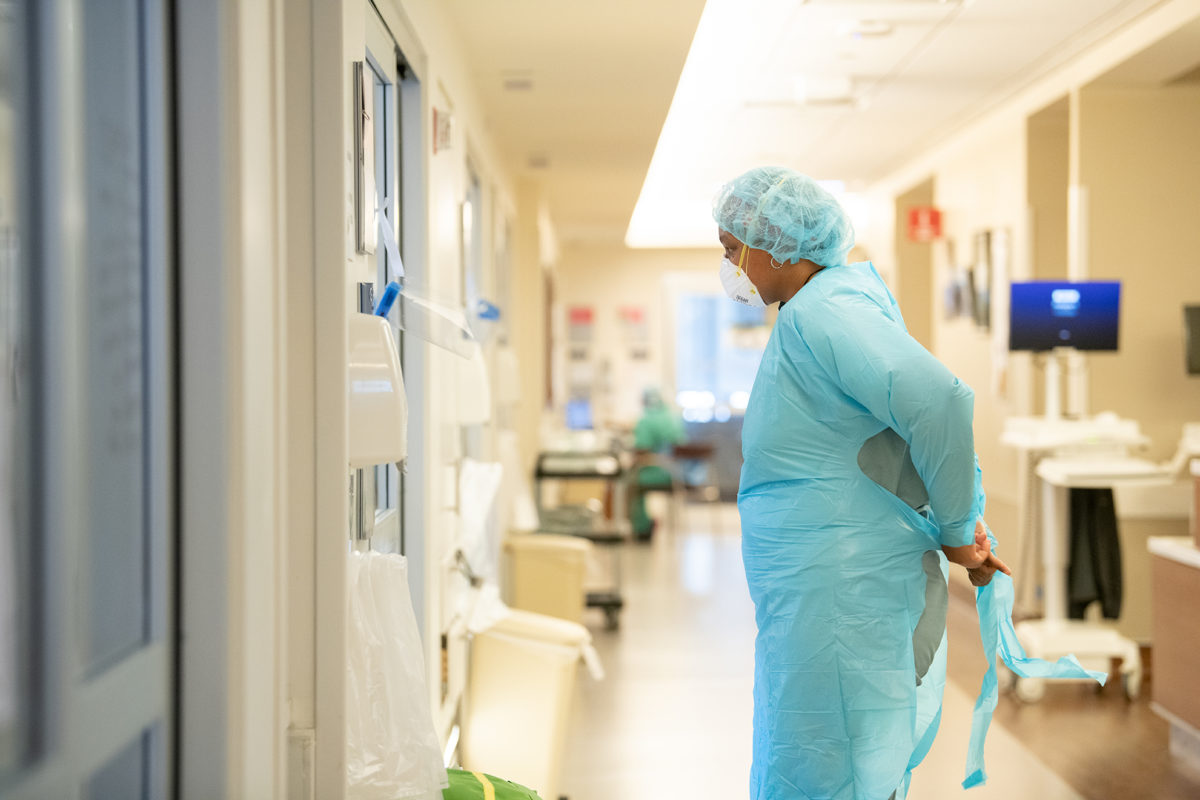 From the beginning of the pandemic, Northwestern Medicine deployed a number of tactics to help ensure the highest level of safety is in place for physicians, staff, patients, and visitors — as well as the community.
Infectious disease specialist Gary Noskin, MD, senior vice president for quality, led Northwestern Medicine's COVID-19 response efforts. Here he answers some questions about this process.
What was Northwestern Medicine's initial response to COVID-19?
We immediately put multiple work streams in place to develop and implement plans to address patient surge, ventilator management, building a labor pool, medication supply, and more. It was critical that we secured and conserved personal protective equipment (PPE) to adequately equip our staff to help ensure their safety.
When you look at what we were able to put in place in such a short period of time, it is a significant accomplishment made possible by some of the best and most talented healthcare professionals in the country. We quickly responded and expanded our work, especially in the area of innovation. We leveraged new digital tools. Our health system conducts about 1,000 Microsoft Teams meetings a day. We have an incredible healthcare system, and it is healthy. I have every bit of confidence that on the back end of this pandemic, we are going to come out even better and stronger.
Early Accomplishments
From the earliest days of the pandemic, Northwestern Medicine's response was robust and rapid.
Inpatient units were quickly converted into intensive care and COVID-19 units.
A COVID-19 Patient Monitoring Program was launched to support patients who do not need to be hospitalized.
Employees and physicians created a robust labor pool to support care of patients with confirmed or suspected COVID-19.
PPE was secured and conserved so that care teams would have the equipment necessary to keep them safe.
Patients were quickly enrolled in clinical trials.
An employee portal was launched on NM Interactive, and a physician portal was built on Physician Forum. The NMI site received tens of thousands of pageviews a day from health system employees.
A COVID-19 hotline was launched, as well as COVID-19 email accounts to address employees' and physicians' concerns.
Technology was widely rolled out to support telehealth efforts.
How did telehealth play a role in the initial response to COVID-19?
Since the start of the pandemic, we have conducted tens of thousands of telehealth visits. Telehealth has allowed us to continue to offer patient care while patients stay safe at home because they can connect with their providers via a secure virtual network.
What research is being conducted?
COVID-19 and to better understand the pathophysiology of the disease. By April, two studies had enrolled patients at Northwestern Memorial Hospital to examine the use of sarilumab and remdesivir as possible treatment options.
What is your outlook for the future?
As we move forward in the coming months, continued collaboration will be vital. We intend to closely monitor and weigh resource availability with the goal of increasing the number of staffed ORs to accommodate all emergency procedures while meeting demand for elective surgeries. As resources allow, we continue to expand access to procedures that are less time-sensitive. Just as it has always been, the safety of our employees, physicians, and patients is our top priority. ✺
Ready for Reactivation
As of May 11, per Gov. J.B. Pritzker's revised stay-at-home order, Northwestern Medicine started to schedule surgeries, visits, and procedures for those who needed advanced treatments unrelated to COVID-19 in a timely manner. Safety remains a top priority, and several measures were put in place for the health and well-being of patients, physicians, staff, and the community:
Visitation. Visiting is restricted in all inpatient and outpatient facilities except in very specific cases. See updated information and visitor exceptions here.
Screening. Everyone entering Northwestern Medicine buildings is screened for fever and asked whether they have experienced COVID-19 symptoms. Those exhibiting symptoms are triaged for care or asked to return home.
Comprehensive cleaning. Environmental Services teams continue to perform rigorous cleaning of facilities and have increased the frequency of cleaning and disinfecting high-touch areas.
Universal masking. Everyone is required to wear a mask in hospitals and ambulatory facilities. Masks are provided for those who do not have one.
Physical distancing. Except for those involved in direct patient care, everyone must maintain at least a six-foot distance from others. Seating arrangements have been modified in waiting rooms, food courts, and other common areas to reinforce this practice. Elevator occupancy has also been limited.
Updates on the system's COVID-19 response and safety measures can be reviewed at nm.org/covid-19.