Northwestern Medicine expresses its condolences to the families and friends of the following alumni (listed in order of their graduation year) and faculty who have passed away. All dates are in 2020.
ALUMNI
Margaret "Mickey" Gerber '39, '44 MD, of Wilmette, Ill., died Sept. 23
Charles M. Sayre, '46 DDS, of River Forest, Ill., died Aug. 4.
William G. Thomas, '50 MD, of Northport, Mich., died May 27.
Hugh H. Ryan, '52 DDS, of Downers Grove, Ill., died July 25.
Sadao Itano, '52 DDS, of Altadena, Calif., died July 31.
William W. Johnson, '53 MD, Medford, Ore., died June 4.
Billy G. Cremeen, '54 DDS, of Maumelle, Ark., died June 28.
William R. Barnhart, '54 DDS, of San Francisco, Calif., died May 27.
Richard Crout, '55 MD, of Rockville, Md., died July 9.
Leo K. Durham, '55 DDS, of Bozeman, Mont., died Aug. 4.
Emile T. Fisher, DDS, '56 MS, of Atlanta, Ga., died June 22.
Isabelle M. Bohman, '56 CERT, of Lacey, Wash., died Aug. 2.
Leonard "Len" Apfelbach, '57 MD, '52 GME, of Fish Creek, Wis., died June 25.
Ronald D. Smith, '57 MD, '62, '64 GME, of Salisbury, N.C., died June 2.
Edward S. Friedrichs, '58 MD, of Brown Deer, Wis., died May 29.
Frederick G. Wenzel, III, '59 MD, of Clyde, N.C., died July 28.
Glenn C. Faith, '59 MD, of Rochester, Minn., died July 15.
Richard J. Lewis, '60 MD, of Ventura, Calif., died June 23.
Robert L. Parker, '61 MD, of Kennett Square, Pa., died June 13
Paul F. Brenner, '62 MD, of Los Angeles, Calif., died July 30.
Charles W. Troup, '63 MD, of Green Bay, Wis., died March 5.
Donald J. O'Brien, '63 MD, of Eugene, Ore., died Aug. 8.
David H. Munger, '63 MD, of Tubac, Ariz., died June 24.
Duncan K. McDonald, '65 MD, of Holladay, Utah, died July 21.
Don Brancato, '67 MD, of Florissant, Mo., died June 11.
Nathan D. Molldrem, '69 MD, of Eau Claire, Wis., died July 30
Theodore "Ted" C. Potter, '75 DDS, of Marshfield, Wis., died July 28.
Mark H. Deierhoi, '76 MD, '81 GME, of Mountain Brook, Ala., died June 4.
Norman A. Smith, Jr., DDS, '83 MS, of Kansas City, Mo., June 1.
Steven B. Inbody, '83 MD, of Houston, Texas, died June 29.
Lauren Elise Hoffman, '16 MPO, of Illi., died June 18.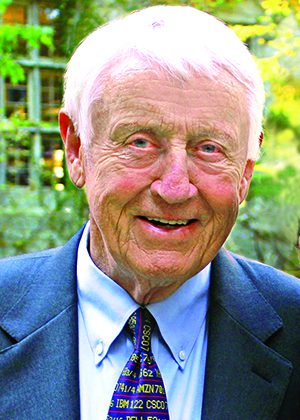 Charles Snorf, MD, passed away peacefully in Carmel, Calif., a month after celebrating his 90th birthday. "Charlie" as he was known to friends and family, was born in Chicago, Ill., and raised in Wilmette, Ill. He finished New Trier High School and went East to Deerfield Academy, then Yale University, graduating in 1953. He spent the following summer traveling through Europe and then enrolled in medical school (following in his father's footsteps) at Feinberg, where he also completed his orthopaedic surgery residency. He then had a 33-year career as an orthopaedic surgeon in private practice and at the Community Hospital of the Monterey Peninsula. "Going to Northwestern for medical school and residency was the most important and defining part of my development as a physician," Dr. Snorf said at the investure ceremony of Michael Terry, MD, whom Snorf and his wife, Leslie, endowed with the Dr. Charles and Leslie Snorf Professorship in Orthopaedic Surgery in 2016. Generous benefactors of Feinberg, the Snorfs also established the Charles and Leslie Snorf Research and Education Fund and the Snorf Medical Student Scholarship Fund, which has supported more than a dozen medical students since its inception in 1997. Dr. Snorf is survived by his loving family: wife Leslie; daughters Susan, Cynthia, and Carolyn; and stepsons Kevin and David Hicks, along with 13 grandchildren, beloved nieces and nephews spread across the United States, and his first wife Roberta B. Elliott. "Charlie lived his active and adventure-filled life as a loyal, ethical, and honest man, and friend to all," his family shared.
Faculty
David M. Berkson, '53 MD, former clinical professor of Preventive Medicine, of Chicago, Ill., died June 25.
Michael Heuer, '56 DDS, former dean of Northwestern University Dental School, of Naperville, Ill., died June 4
James C. Houk, PhD, former chair of Physiology, of Evanston, Ill., died June 11.
Thomas K. Poulakidas, DDS, '79 MS, associate professor emeritus of Otolaryngology in the Division of Dental Surgery Ill., died May 29.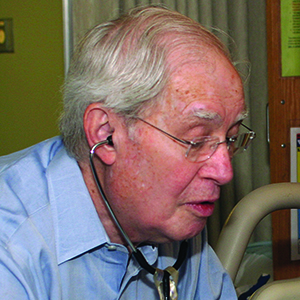 Marvin E. Cooper, MD, aged 98, passed away in Chicago, Ill. Dr. Cooper lived his entire life in Chicago with the exception of his college years in, downstate Ill. and a brief stint in the army during the Korean War. After medical school at the University of Illinois, he joined a pediatric practice in West Rogers Park and continued actively practicing until he was 90, caring for multiple generations of families. A clinical instructor of Pediatrics in the Division of Community-Based Primary Care, he taught first- and second-year medical students at Feinberg for 56 years. Later, his son Adam endowed the Marvin E. Cooper, MD, Clinical Colloquium in the Lurie Pediatric Residency Program in honor of his father's many years of practice in the community. "The students loved him and he loved seeing the energy and passion they had for their new careers," his family shared. They also shared a letter from pediatric chief resident Dan Balcarcel, MD, who is planning the 2020–2021 colloquium, and wrote, on behalf of the residency program, of Dr. Cooper's "kind and gentle nature as well as his unmatched
experience and expertise in general pediatric medicine." Dr. Cooper is survived by his wife, Marcia, his children: Sara, Michael, Joel, Karen, and Adam; 12 grandchildren: Jill, Marc, Matthew, Charlie, William, Abby, Lauren, Benjamin, Leann, Emma, Chloe, Jade; and 15 great grandchildren: Margo, Elyse, Penny, Jack, Mimi, Simon, Albert, Ethan, Gavin, Savannah, Joey, Amelia, Sadie, Mae, and Avery.