by CHERYL SOOHOO | photography by LAURA BROWN
Northwestern Medicine's new Gender Pathways Program provides comprehensive transgender care.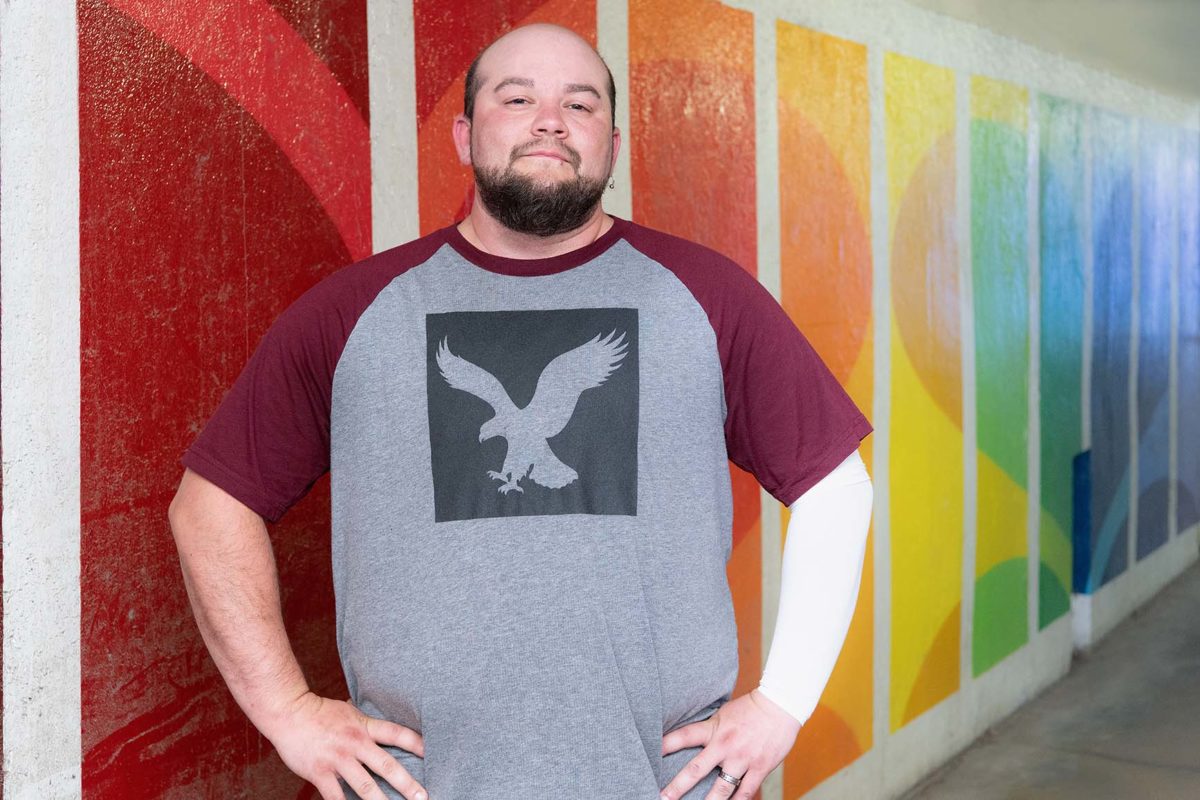 Jake Dicus has been living publicly in his affirmed gender since 2010, but the path to living fully as his true self is ongoing.

After starting hormone therapy in 2014 and having a chest reconstruction surgery in 2016, the freelance photographer spent years seeking gender-affirming surgery, taking him from his southern Illinois home to the nearby states of Missouri and Kansas with disheartening results.
"The doctors I saw not only didn't want to treat me, but they also didn't want to hear my story," recalls Dicus, 37. "All they wanted to do was get me out the door as quickly as possible."
Northwestern's Gender Pathways Program is making transitioning possible for Jake Dicus shown above (and below, with his wife, Jennifer).
Undeterred, Dicus and his wife, Jennifer, who have five kids between them, continued looking for a caring, compassionate surgeon. Dicus credits Jennifer for helping him move forward, despite the obstacles he has endured. "We had only been dating a year when I came out, but I could not stand hiding who I was anymore," he says. "She is my rock and keeps me going. Without her, I would have given up."
In 2018, a Google search led them to Northwestern Medicine's Sumanas Wanant Jordan, MD, '17 GME, PhD, assistant professor of Surgery in the Division of Plastic Surgery.
"We fell in love with her as soon as we talked to her," says Dicus. "She listened to me and treated me like a human being and not like some sort of disease you could catch."
Increasing Access to Care
A plastic surgeon specializing in gender-affirming surgery and transgender care, Jordan helped establish Northwestern Medicine's new Gender Pathways Program. Launched in January, 2020, the clinical program offers integrated multidisciplinary health services tailored to the needs of transgender and gender non-binary individuals. While sponsored by Northwestern Medicine's Plastic and Reconstructive Surgery Division, the program takes a holistic approach that goes beyond providing femininizing and masculinizing surgeries to include primary and transition medical care, such as hormone replacement therapy (HRT) and laser hair removal.
Based at Northwestern Memorial Hospital, the program features a collaborative team of physicians in a wide range of specialties, including obstetrics and gynecology, urology, reproductive endocrinology and infertility, internal medicine, social work, and family medicine. Together, they work with patients to address the medical, emotional, social, and legal aspects of transition.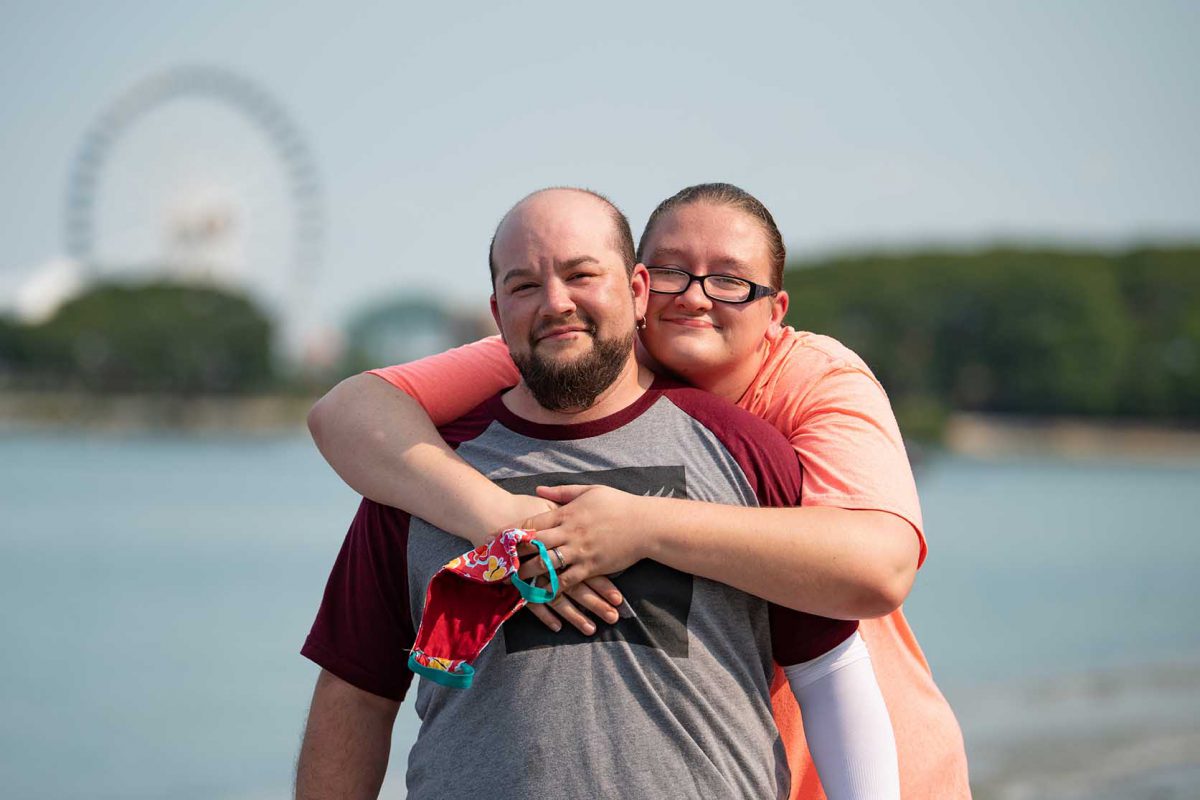 Transgender individuals face many barriers to accessing affordable high-quality medical services, from routine health and wellness visits to transition specific care. In a 2015 U.S. Transgender Survey conducted by the National Center for Transgender Equality, 33 percent of respondents reported negative experiences with healthcare providers due to their gender identity. The study, the largest of its kind, also revealed that 23 percent of survey participants don't see a doctor for fear of being mistreated.
"In the middle of a major heart attack, often transgender patients would rather go to a community health center than a tertiary medical center because they didn't want to deal with discrimination. That's not right," says Jordan. "We want Northwestern Medicine to be welcoming for everyone, no matter their gender identity."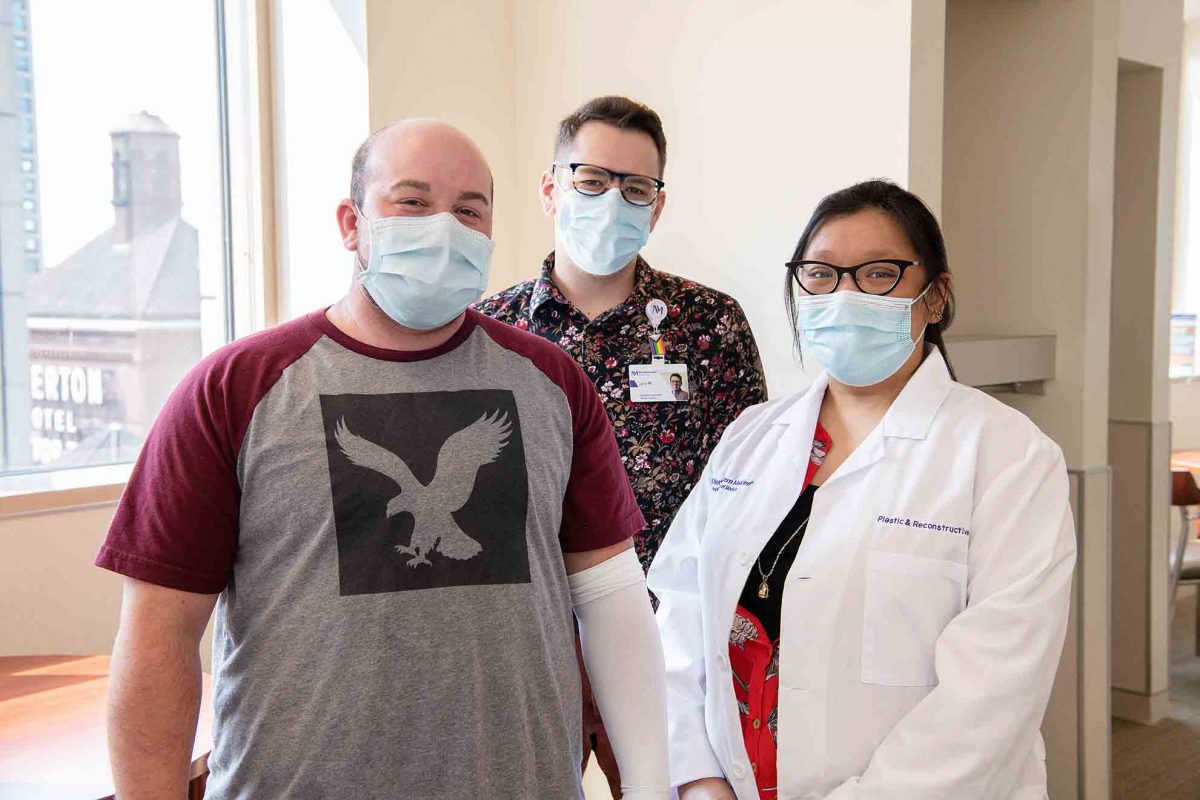 Optimizing Lifelong Outcomes
The functional and aesthetic goals of gender-affirming surgery require the expertise of a multispecialty surgical team. Plastic surgeons, urologists, and/or obstetrics and gynecologists often scrub in together. Angela Chaudhari, MD, associate professor of Obstetrics and Gynecology; Diana Bowen, MD, assistant professor of Urology, and Jordan are all part of Dicus's surgical team. He had a hysterectomy in June and, in November, will have his phalloplasty.
Fellowship-trained in reconstructive microsurgery, Jordan possesses the skills essential to performing feminizing and masculinizing top surgeries as well as bottom surgeries, such as vaginoplasty and phalloplasty (her partner Marco Ellis, MD, assistant professor of Surgery, performs all of the facial procedures).
"For many reconstructive surgeries, you need to know how to move tissue from one part of the body to another," she explains In Dicus's case, Jordan will move skin, nerves, and blood vessels from his forearm to use for his phalloplasty.
Because transforming male and female genitalia is not only technically but also perioperatively demanding, the Gender Pathways Program is essential for optimizing outcomes.
"We strive for a whole-person approach," says Jordan. "Sure, patients can come in for one procedure and be done, but achieving the best health outcomes relies on lifelong supportive and thoughtful care."
Myriad considerations go into play well before the surgery itself. After an individual has come to the decision that gender-affirming surgery is right for their transition journey, their first interaction at Northwestern Medicine is with program coordinator Jazz McGinnis, LCSW, who assists with health insurance, provides information about the surgery, and helps patients acquire necessary documentation (including securing letters of surgical readiness from mental health professionals, which McGinnis also writes).
McGinnis, who identifies as a trans masculine person, also assesses a number of key factors, from how the Gender Pathways team can best help people reach their individual transition goals to how prepared they are to undergo major surgery.
"You can't have a complicated surgery and be sleeping on a train afterwards," explains McGinnis. "I help ensure that we are supporting our patients in their journey to affirm their gender by setting them up for success in positive post-operative results. This can include going beyond a person's gender identity to consider the whole person by looking at other socioeconomic factors like housing, food security, and safety at home."
A Welcoming Environment
Creating a safe, non-judgmental space for transgender patients is a core component of the Gender Pathways Program. That mission builds on Northwestern Medicine's ongoing efforts as an institution to respect the gender identities of patients. Already, the health system's electronic medical records system allows for the chosen or preferred name of patients to be indicated on their charts. And biological sex designations or gender markers such as female and male have been removed from patients' hospital wristbands.
In addition to clinical services, the Gender Pathways Program offers advocacy, education, and research to better serve and advance the care of transgender and gender-fluid individuals. Jordan, for example, is currently conducting a study on whether chest masculinization surgery (a mastectomy with the goal of achieving the appearance of a male chest) improves mental health and quality of life for young transgender men and non-binary individuals. Other research focuses on the overall benefit of coordinated multidisciplinary care in improving the quality of care for this often-marginalized patient population.
"It became evident very quickly that launching this program would fill a void in our community," says Jordan. "Northwestern has tremendous expertise and all these amazing people who want to ensure that transgender patients have access to high level compassionate care. We work hard to help patients overcome obstacles to achieve their transition goals whatever they might be."