Donors Support Their Passions,
Make Marks in Medicine
by Nora Dunne and Roger Anderson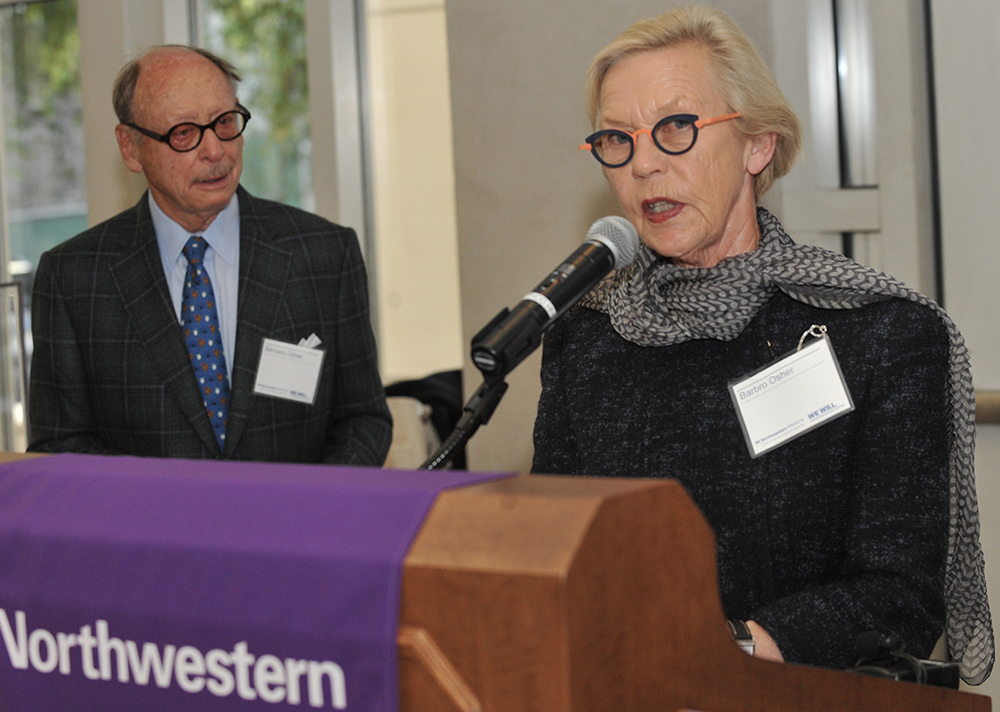 Generous donors contribute to the medical school in a wide variety of areas that are important to them personally. These gifts often provide crucial seed funding that allows Feinberg physicians, scientists, and educators to build new programs, explore novel ideas, and build applications for larger grants from federal institutions like the National Institutes of Health and other organizations.
OSHER FOUNDATION INVESTS IN FUTURE INTEGRATIVE MEDICINE LEADERSHIP
Adding to its storied history of philanthropy promoting health and well-being at Northwestern and across the world, The Bernard Osher Foundation has made a new $2 million commitment to the Osher Center for Integrative Medicine at Northwestern University.
The gift builds on a multimillion dollar endowment established by the foundation in 2014 that named the Osher Center and enabled it to flourish over the last six years. The additional funding will support training for the next generation of leaders in integrative medicine, which recognizes that health is a state of well-being in body, mind, and spirit, reflecting aspects of the individual, community, and population.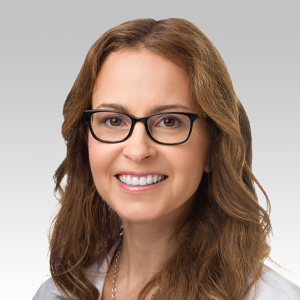 "The Oshers have been visionary in the field of integrative medicine and certainly for us here at Northwestern," said Melinda Ring, MD, executive director of the Osher Center and clinical associate professor of Medicine and Medical Social Sciences. "Their support has made it possible for us to bring integrative medicine to health professionals, patients, and our community, and has furthered our mission to transform healthcare more broadly."
The Osher Foundation was founded in 1977 by Bernard Osher, a respected businessman and community leader. The foundation seeks to improve quality of life by supporting higher education and the arts.
"We are pleased to augment our endowment support for Northwestern's Osher Center and wish our colleagues continued success with their important work in advancing the field of integrative medicine," said Osher Foundation president Mary G. F. Bitterman.
The new gift will allow Northwestern's Osher Center to nurture promising early career clinicians, educators, and investigators. It will provide these junior team members with stipends and grants to learn new skills or to pursue teaching, research, and community engagement opportunities with protected time and mentorship.
"Thanks to the wonderful generosity of the Osher Foundation, our philanthropic advisory council, and many generous friends of the center, we continue to grow our team, our programs, and our impact," said Ring. "We've made immense progress and have many exciting ideas we hope to see come to fruition with ongoing support."
ROGOVIN AWARD SUPPORTS PILOT RESEARCH ON FRONTOTEMPORAL DEMENTIA
To honor her late husband and spur much-needed new research exploring memory and dementia, Feinberg donor and staff member Michelle Melin-Rogovin established the Mark Rogovin Pilot Research Award in Neuroscience. Margaret Flanagan, MD, assistant professor of Pathology, was selected as the inaugural recipient earlier this year.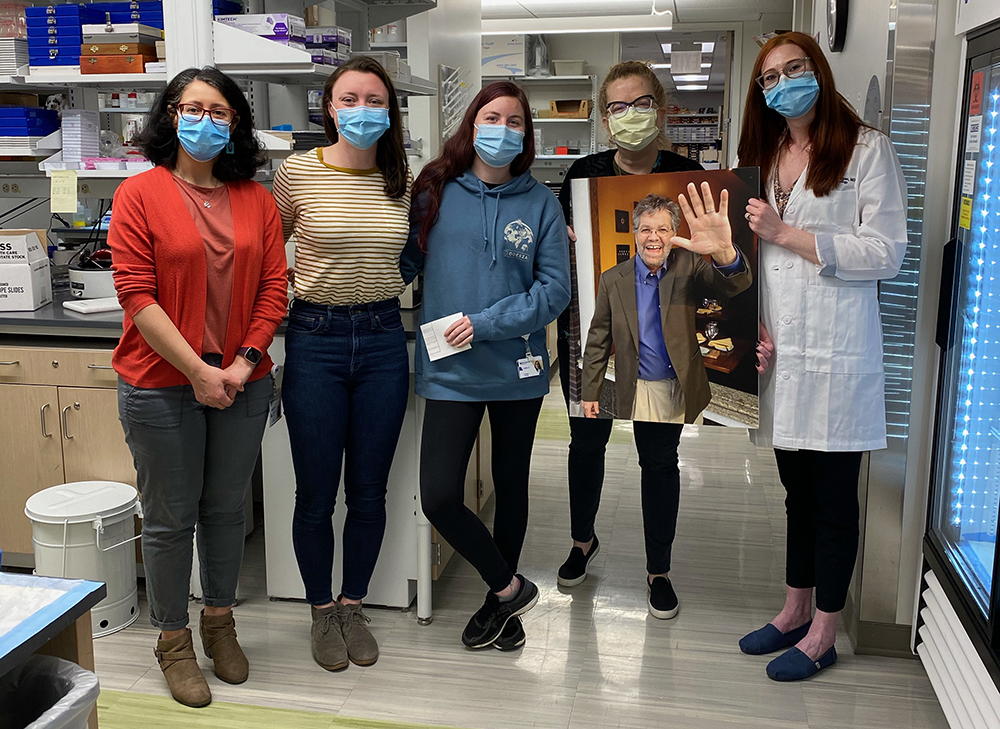 "It's truly an honor to be able to conduct frontotemporal degeneration (FTD) focused research in memory of Mark Rogovin," said Flanagan. "It's going to be very exciting to take our research progress, which has primarily focused on Alzheimer's disease, and apply it to FTD."
Administered by the Northwestern University Clinical and Translational Sciences (NUCATS) Institute, the award requires recipients to demonstrate how their pilot research activities will contribute directly to a planned future submission for research funding from the National Institutes of Health.
"Pilot grants play a crucial role in scientific discovery, often providing rapid, targeted funding to address small but critical gaps in clinical and translational science," explained Richard D'Aquila, MD, NUCATS director, associate vice president of Research, senior associate dean for Clinical and Translational Research, and the Howard Taylor Ricketts, MD, Professor of Medicine.
Mark Rogovin brought his artistic vision to the West Side of Chicago, when in 1972 he founded the Public Art Workshop, a community art and mural center that allowed for children in the Austin neighborhood to receive free art education after school. He also co-founded the Peace Museum in 1981. Rogovin died of frontotemporal dementia in September 2019.
"Combining the essence of who my husband was — his creativity as an artist, and the curiosity scientists possess to ask new questions to advance human health — I knew I wanted to fund a pilot grant in Mark's memory and that NUCATS could help," said Melin-Rogovin, senior associate director of foundation relations in Feinberg's Development and Alumni Relations Office. "Today when someone is diagnosed with frontotemporal dementia, they are offered comfort, care, and support. We need to generate new ideas, a lot of them. Funding small grants like this holds the potential to lead to that next a-ha moment."
Flanagan's lab explores the role of TDP43, a disease-causing protein in the brain, and its effect on neuroinflammation that ultimately results in dementia.
"This is a particularly meaningful award to me because of the backstory that accompanies it," said Flanagan. "I lost my father to Alzheimer's disease in 2012 and learning about others who have shared experiences inspires me both personally and professionally."