Feinberg honored the MD Class of 2021 during the medical school's 162nd commencement ceremony, held virtually on May 24.
Feinberg's 162nd commencement ceremony was held virtually on May 24 to accommodate public health measures in place due to the COVID-19 pandemic. Eric G. Neilson, MD, vice president for Medical Affairs and the Lewis Landsberg Dean, introduced the ceremony and welcomed graduating medical students, faculty, family, and friends of students to the virtual ceremony.
"You're entering a brave new world of managing priorities, a world where keeping people as healthy as we can becomes a collective responsibility of science and the medical profession," Neilson said. "There is a superb medical talent among our graduating class, but it's waiting to be tested by a team; tested to see if it can meet the special needs of human health in a time of crisis. I think you will."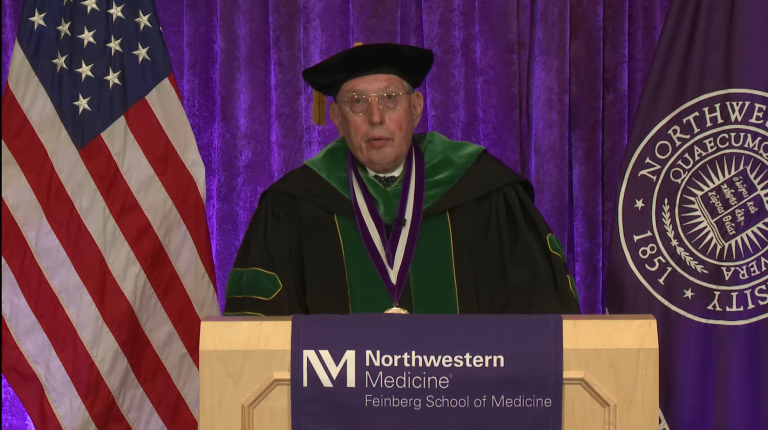 Neilson introduced Morton Schapiro, PhD, president of Northwestern University, who reminded graduates to reach out to those who have inspired and motivated them during their journeys to becoming physicians. Neilson then delivered the commencement address to this year's graduates.
"In receiving medical advice, patients need to sense empathy and noble character from their physicians. After all, a social contract creates public trust. While I recognize you as a professional in a more personal way, society will not recognize you as a professional until your life actions reflect your willingness to put patient needs ahead of your own and until you are seen conducting your life for public good. Preserving this social contract has never been more important than today," Neilson said.
Sandra Sanguino, '93 MD, MPH, '96, '97 GME, senior associate dean for Medical Education, presented the members of the MD class of 2021. Names and pictures of the newly named physicians were featured as names were called. To conclude this year's commencement ceremony, Neilson virtually led the graduates in reciting the Declaration of Geneva, the modern version of the Hippocratic oath.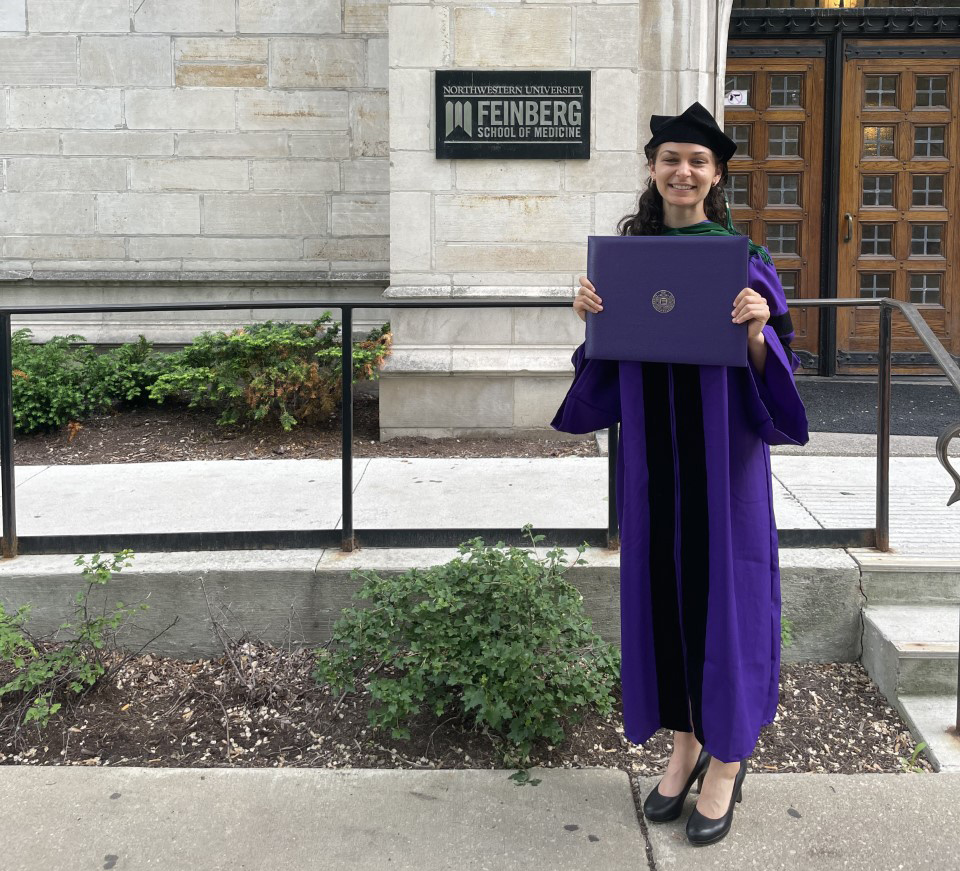 Anna Briker, '21 MD, said that Feinberg's supportive environment including her peers, faculty, and attending physicians, is what she will remember the most about her medical school career.
"It feels so incredible to be finally graduating. When I look back, I can't believe it's been four years because it flew by really fast, but then I think of how much I've learned and how much I've grown. I've had so many incredible mentors, from my Area of Scholarly Concentration mentor to my attendings at the VA and at Northwestern, and I think of all the formative experiences that I've had. I just can't wait to learn even more," Briker said. She will be starting her residency in internal medicine at McGaw Medical Center of Northwestern University this fall.
Christopher Gordon, '21 MD, '21 MBA, who will be starting his residency in internal medicine at the University of California, San Francisco in the fall, said he is looking forward to getting involved with work addressing racial disparities and health equity and hopes to apply for a cardiology fellowship after his residency.
"Feinberg has prepared me for the future in multiple ways. I'd say clinically, going through the preclinical modules and then being in the hospital for my various clerkships, I definitely feel like I'm ready to take on ownership of patients," he said. "But more than that, the community here has pushed me to excel and I feel ready to tackle whatever problems come in front of me."