The Right Care at the Right Time
Whether it's an acute cardiac episode or chronic unexplained shortness of breath, Northwestern Medicine's cardiac teams have designed protocols for swift intervention.
by Kim Waterman
Jeff Beck was walking on a treadmill when he suddenly felt a tightness in his chest and experienced altered vision. His girlfriend insisted he go to the Emergency Department at Northwestern Medicine McHenry Hospital. Within hours, Beck was in an operating room 50 miles away at Northwestern Memorial Hospital in Chicago for emergency surgery.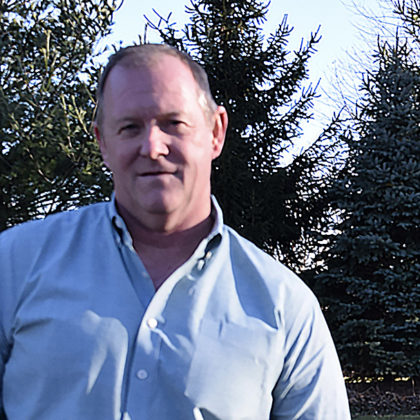 Beck had an acute aortic dissection, a potentially catastrophic tear in the largest artery of the body. Upon diagnosis, McHenry Hospital Emergency Medicine Physician Olga K. Sarnov, MD, activated the Northwestern Medicine Code Aorta Program. This rapid-transfer program provides a streamlined pathway for patients diagnosed with aortic emergencies at hospitals across Chicagoland to go directly into the operating room at Northwestern Memorial Hospital.
"By bringing patients directly to the operating room, we are able to provide life-saving surgery almost two hours faster than the traditional approach of bringing patients to the ICU first. The mortality rate of a type A aortic dissection increases 1 percent to 2 percent every hour, so every second counts," says Christopher K. Mehta, MD, director of the Code Aorta Program and a cardiac surgeon at Northwestern Medicine Bluhm Cardiovascular Institute.
The Code Aorta Program offers a multidisciplinary team approach. Local emergency departments can contact a referral hotline where physicians connect with Northwestern Medicine cardiac and vascular surgeons within minutes. The physicians review imaging and test results in real time to determine if the patient needs to go directly to the operating room. If emergency surgical care is required, the operating room team is activated, and the patient is transferred.
In Beck's case, the tear was in the lining of the ascending aorta and aortic arch. Blood was pooling between the layers of the wall creating an aneurysm, or bulge, that could rupture. Mehta surgically removed the damaged aorta and replaced it with a synthetic graft, a strong and flexible tube that promotes regular blood flow.
Beck was up and walking the next day and discharged from the hospital five days later. Within a month of his surgery, he was feeling well enough to travel to Baltimore for his daughter's college graduation.
"I am so fortunate to be surrounded by an incredible medical community," Beck says. "I'm keeping an eye on my blood pressure, watching my salt intake and continuing to exercise. My life is pretty much back to normal."
Northwestern Medicine Bluhm Cardiovascular Institute launched the Code Aorta Program in January 2020, and Northwestern Memorial Hospital now repairs more aortic dissections than any other hospital in Illinois. Aortic emergency volume has increased 53 percent since the launch of the program.
"Our Code Aorta Program delivers swift and comprehensive care to patients in the region who suffer from these catastrophes," says S. Chris Malaisrie, MD, director of thoracic aortic surgery at Northwestern Memorial Hospital. "The program is a key facet in our specialized aortic center, which offers expert medical care, novel imaging modalities, and complex surgical and endovascular procedures for patients living with aortic disease."
Acute aortic dissections involve the ascending aorta in approximately two-thirds of patients. Chest pain is the most common symptom, but patients may also feel other symptoms, including back pain, abdominal pain or neurological stroke-like symptoms. Beck encourages others to pay attention when something feels off about your health.
"I realized how short life can be," Beck says. "Typically, I'm the guy who doesn't go to the hospital. Had I not gone to the hospital or not listened to the doctor who wanted to run one last test, I could have died in my sleep. Take care of yourself and listen to your body."
Addressing a Lifetime of Suffering With a Single Test
Dona Smith's experience with chest pain was not so sudden — she'd experienced chest pain and shortness of breath for 20 years. At times it was so severe, it would stop her in her tracks. She had two heart surgeries, was prescribed inhalers for asthma, and took numerous medications. However, nothing seemed to address the breathing discomfort until she underwent a multidisciplinary examination at the dyspnea clinic at Northwestern Medicine Central DuPage Hospital.
"We know patients who have unexplained shortness of breath after a preliminary workup often struggle for a long time without getting a diagnosis to explain their symptoms," said Nauman Mushtaq, MD, medical director of Cardiology for Northwestern Medicine Bluhm Cardiovascular Institute at Central DuPage Hospital, Delnor Hospital and Kishwaukee Hospital. "These patients may be really sick and have been bouncing among specialists to try to figure out what is wrong. Our clinic brings many experts together to get to the heart of the problem," he said.
Physicians who specialize in general cardiology, heart failure, interventional cardiology, heart rhythm disorders, pulmonology, and imaging, along with staff in the cardiac catheterization and respiratory labs, come together to discuss clinical cases and develop a plan to evaluate patients with unexplained shortness of breath.
Innovative Diagnostic Testing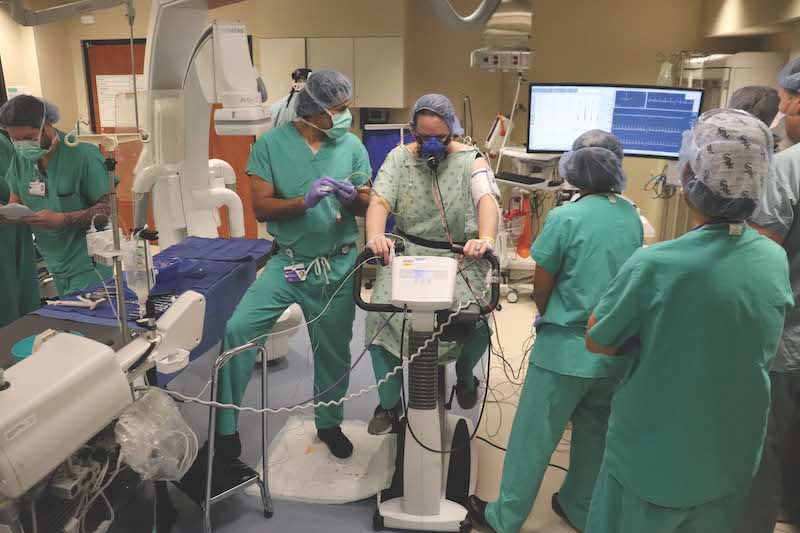 A key component of the clinic evaluation is the invasive cardiopulmonary exercise testing (iCPET) program. The test happens inside an interventional lab so that cardiovascular, respiratory, and metabolic function can be assessed simultaneously during the exercise.
The patient completes a stress test on a bicycle with an electrocardiogram monitor. But it is no ordinary stress test. A catheter is placed in the pulmonary artery through the neck, and a mask is placed over the nose and mouth to measure gas analysis and respiratory mechanics. A team of experts that include an interventional cardiologist, exercise physiologist, respiratory therapist, and others monitors the patient.
"People may have multiple reasons that partially explain the shortness of breath. They could have underlying lung and heart disease, but you don't know which component is the problem," says Mushtaq. "Respiration, gas transport to the tissues and pushing out CO2 require a great deal of coordination within the body. Testing these functions together helps us discover the limiting factor that is causing the symptoms."
Smith says she jumped at the chance to get the test done. It revealed she had exercise-induced heart failure due to hypertrophic cardiomyopathy, even though everything looked good at rest. Mushtaq adjusted her medications, and Smith is now back to taking long walks with her family.
"For so many years I was frustrated, sitting in doctors' offices in tears because I knew I wasn't fine," Smith says. "It was very clarifying to find out exactly what was going on with my heart. Now I can walk without the fear of going into cardiac arrest."
Landmark Gift
Chicago philanthropist Neil G. Bluhm and the Bluhm Family Charitable Foundation announced a $45 million gift to establish the Northwestern Medicine Bluhm Heart Hospital at Northwestern Memorial Hospital. The gift expands cardiac care capacity and addresses health equity by providing greater access to Northwestern Medicine's world-class cardiovascular care. Northwestern Memorial Hospital is consistently ranked as the top heart program in Illinois and among the top in the country for cardiology and heart surgery. The Bluhm Heart Hospital will expand to 140 beds and modernize cardiovascular services on Northwestern Medicine's Chicago campus. The gift will also support collaboration with community partners in under-resourced Chicago communities to develop outreach and education efforts to support heart health and address the social determinants of health.