Building for Tomorrow
Harold "Hal" Paz leads with an eye toward personalized health.
by Bridget Kuehn | illustration by Jacqui Oakley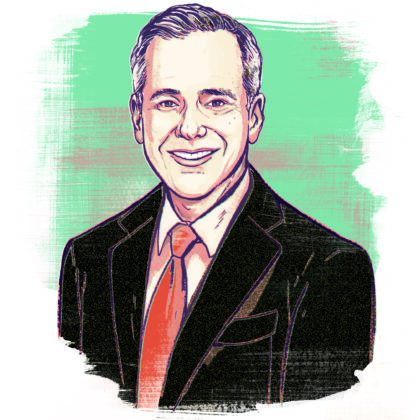 At just 40 years old, Harold "Hal" Paz, MD, MS, '86 GME, became the dean of the Robert Wood Johnson Medical School in 1995, making him one of the youngest medical school deans in the United States.
"There was no grand plan, but I'm a big believer in doing what you love and what you think can make an important contribution," Paz said.
Since that early start at what is now called Rutgers Robert Wood Johnson Medical School, Paz has held leadership positions at four major academic centers as well as one of the largest health care companies in the United States, CVS Health. In each role, he has helped guide both regional and national health providers toward a model of community-based, personalized care.
LEANING INTO LEADERSHIP
Paz's path toward leadership may have been set during his residency at Northwestern when he was asked to stay another year as chief medical resident at Lakeside VA Hospital, which was located on Northwestern's campus in Chicago. He enjoyed both the leadership role and administrative work. This caught the attention of the hospital's then chief-of-medicine James Webster, '56 MD, '60, '63 GME, who said he thought Paz would one day be a hospital chief executive officer (CEO).
"That was the last thing I was thinking about," said Paz, who planned to focus on research, teaching, and patient care. Paz said his experiences working with the diverse communities served by Northwestern's hospitals also impressed on him the importance of social determinants of health. He noted while some patients in the system had easy access to healthcare, others faced obstacles, including socioeconomic status, education, housing, food insecurity, or lack of transportation.
Webster's comment proved to be prophetic. After completing his fellowships in pulmonary and critical care medicine and environmental health science at Johns Hopkins University in Baltimore in 1988, Paz became the director of medical intensive care units at Hahnemann University Hospital in Philadelphia. There, he started a critical care medicine fellowship for what is now part of Drexel University and quickly rose through the administrative ranks to associate dean for graduate medical education and associate hospital medical director.
In 1994, Robert Wood Johnson Medical School recruited him to be associate dean for clinical affairs. Soon after, he became the CEO of the RWJ University Medical Group and was asked to fill in as interim dean of the medical school during a vacancy.
"I thought, given the circumstances, hopefully I can make an important contribution during the transition," Paz said.
That temporary stint led to Paz being appointed the dean after a national search, a role he served in for 11 years. His goal he said was to leave "a lasting legacy." During that time, he helped create what is now called the Rutgers Cancer Institute of New Jersey, a National Cancer Institute comprehensive cancer center, the Child Health Institute of New Jersey, a stem cell institute, and a cardiovascular institute.
"I'm enormously proud of the people we recruited and the opportunities we had to advance their careers, not to mention graduating more than 5,000 medical and graduate students," Paz said.
He left that role to become senior vice president of health affairs at Pennsylvania State University and dean of the Penn State College of Medicine in Hershey, Pennsylvania. That role included being CEO of the Penn State Milton S. Hershey Medical Center, which he helped build into a large regional health system, now Penn State Health. He helped oversee the construction of eight new facilities, including raising $300 million to build a children's hospital.
"A children's hospital was desperately needed," Paz explained. He noted that the only children's hospitals serving the area were hours away, in Philadelphia and Pittsburgh. He also expanded the medical school, added physician assistant and advanced nursing programs, and built a new medical campus in State College, Pennsylvania. Paz said the changes greatly expanded the surrounding communities' access to cutting edge care.
COMMUNITY-BASED CARE
After 20 years in leadership roles at academic medical centers, Paz pivoted in 2014 and was recruited to health insurance giant Aetna to develop a clinical strategy as it evolved into a healthcare company. His goal was to find ways to improve members' health and wellbeing and reduce unnecessary premature deaths. He launched a program called AetnaCare that provided home-based telehealth and nursing care for patients for chronic diseases.
His role took on an even greater reach when Aetna merged with CVS in 2018 to become the 300,000-employee healthcare company, CVS Health. The merger allowed the new company to focus on making it easier for patients to access a full range of healthcare services close to home.
"It was gratifying to be part of that transformation," said Paz.
Paz retired from CVS Health in 2019 and returned to academic leadership as the first executive vice president and chancellor of health affairs at The Ohio State University (OSU) and CEO of OSU's Wexner Medical Center in Columbus, Ohio. He launched a $3 billion project to build four suburban ambulatory care campuses as part of the organization's efforts to offer more multi-specialty care outside of its hospitals, a $2 billion project to replace one of the medical center's existing hospitals, and moved forward with several other large education and research construction projects. He and the team he recruited at OSU also worked to make care more accessible to vulnerable populations through mobile, virtual and digital care, screening events, and partnering with local agencies to increase access to healthy foods.
"We were thinking of ways to drive care in the home and local community," he said. "If we are going to address health and wellbeing, and reduce premature death, we have to begin at home, addressing social, behavioral, and environmental determinants of health."
When the pandemic hit, it posed challenges as well as opportunities to accelerate Paz's focus on home and community-based care.
"We went from 50 telehealth visits a month to 3,000 a day," he said.
"We have a lot of family in the area, and the pandemic reminded me and my wife how important those things are," Paz said.
Throughout his leadership career, Paz said he has drawn on the example set for him by mentors at Northwestern, including Webster, Roy Patterson, MD; John Clark, MD; and Murray Levin, MD.
"They set a framework in my mind of what leadership is all about in the field of academic medicine, and I carried that with me for the rest of my career," he said.