Standing on the Shoulders of Giants
by Edward S. Kim, '92 BS, '96 MD (HPME), Medical Alumni Association (MAAB) president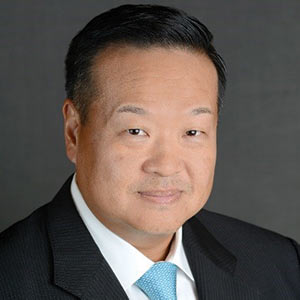 A leader takes people where they want to go. A great leader takes people where they don't necessarily want to go, but ought to be. —Rosalynn Carter
If one is lucky, a solitary fantasy can totally transform one million realities. —Maya Angelou
Leaders aren't born, they are made. And they are made just like anything else, through hard work. And that's the price we'll have to pay to achieve that goal, or any goal. —Vince Lombardi
These are three of my favorite leadership quotes. They are all similar, but different in their own way. Throughout my career, I have had the privilege of working with some extraordinary leaders: each one different, but similar. In this issue of Northwestern Medicine, I want to recognize some great leaders who have served on the Feinberg School of Medicine Medical Alumni Association Board (MAAB). These are folks who influenced me to join the board, to serve, and continue the work "to take a solitary fantasy and transform one million realities."
I am particularly grateful to Jim Kelly, who was MAAB president from 2017 to 2019. Jim recruited me to the board. He was also very active in recreating the board and adding dimensions that include the Business of Medicine. Jim and his wife Chris are proud Wildcats who really helped transform the mission of the board.
Another key leader is Bruce Scharschmidt, board president from 2015 to 2017. Bruce was instrumental in promoting scholarships for medical students. He and his wife Peggy are big football fans and made sure medical students were able to attend a game. I remember having several meetings with Bruce to hear about his experiences and his distinguished career in medicine and biotech.
Building on the solid foundation and legacy of the MAAB members and leaders who came before me, we currently have a 52-member board actively working together on multiple committees: Engagement, Mentoring, and Strategic Initiatives, which include the Half Century Club, Women in Medicine, Business of Medicine, and Inclusion and Allyship.
Our alumni association is stronger than ever, based on the work of our board founders, past board members, and an exceptional group of current members. Tremendous leaders, including Ginny Darakjian, ML Farrell, and now Babette Henderson, have been essential Feinberg staff partners, guiding our work.
Thank you for all that you have done to help us to get to where we "ought to be."
For more information on sharing your experiences while at Northwestern, getting involved as a MAA board or subcommittee member, or willingness to host an event in your area, please email us at medalum@northwestern.edu.
We thank every board member for their service and their advocacy.
Walter Doren (1991-1993)
David Sanderson (1993-1995)
Kenneth Viste, Jr. (1995-1997)
Richard Heller (1997-1999)
Howard Traisman (1999-2001)
Andrew Bunta (2001-2003)
Suzan Rayner (2003-2005)
Walter Huurman (2005-2007)
Bonnie Typlin (2007-2009)
Douglas Carr (2009-2011)
Jimmy Hill (2011-2013)
David Winchester (2013-2015)
Bruce Scharschmidt (2015-2017)
James Kelly (2017-2019)
Rishindra Reddy (2019-2021)
Nupur Ghoshal (2023-2025) President-Designate