Steady Hand
Christopher Kang, '96 MD, '00 GME, takes the helm at the American College of Emergency Physicians
By Bridget Kuehn
Illustration by Helen Green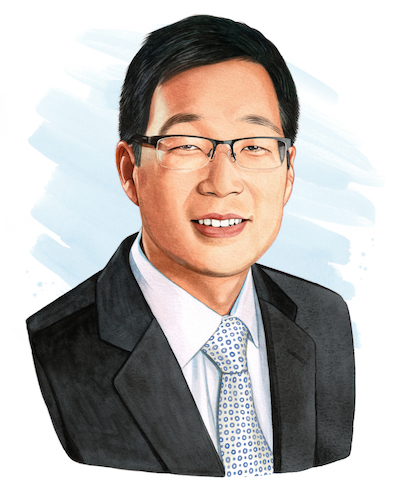 Christopher Kang, '96 MD, '00 GME, still vividly remembers being rushed in an ambulance to the emergency department for surgery after breaking his arm in elementary school. It could have been a traumatic experience, but the dedicated and caring people who helped him that day instead made a lasting impression.

"It had a profound effect on me," he said. "I wanted to be a physician for those who are vulnerable and in need and have nowhere to turn."
As the 2022-2023 president of the American College of Emergency Physicians (ACEP) and a 20-year veteran of emergency medicine, Kang wants to give back to his colleagues in their time of need. In recent years, he noted, the pandemic, more frequent natural disasters, mass shootings, and poor healthcare access in the United States have stretched his colleagues to the limit.
"The organization needs to evolve to serve their needs better as times have grown more challenging," Kang said. "I want members to feel they can speak up and advocate for their patients and our profession."
On a mission
Kang grew up in a military family. His grandfather served in the Army during World War II in the Pacific, and his father served in the Air Force during the later decades of the Cold War. His father's service took Kang and his family to multiple continents.
"It was a wonderful experience as I learned about, experienced, and grew to appreciate different cultures," he said.
Kang later received an Army scholarship for medical school. He said he enjoyed each rotation as he worked his way through his medical training at Feinberg School of Medicine. But he felt the greatest connection with the people in the emergency department.
"I love the people who work in the emergency department," Kang said. "They have a common goal of caring for others, regardless of where they are from, who they are, or their ability to pay. There is a real sense of camaraderie and teamwork."
After his residency at Northwestern, Kang carried on his family's military tradition when he was called to active duty to train at the U.S. Army School of Army Aviation Medicine, Ft. Rucker, Alabama. He then deployed to Seoul in the Republic of Korea from 2000-2001 to treat patients in the emergency department and the field. He later served as a flight surgeon and emergency physician at Soto Cano Air Base in Honduras in 2002 and from 2003 to 2004 in the U.S. Army's First Stryker Brigade in Samarra and Tal'Afar, Iraq, as part of Operation Iraqi Freedom.
"Although there were challenging times, it was a rewarding experience to serve my country with amazingly dedicated young men and women," he said.
Kang has worked as an attending physician at Madigan Army Medical Center in Tacoma, Washington, since 2001. He said he loves the center's mission to serve members, veterans, and their families as well as working with clinicians-in-training as a resident advisor. He also appreciates the diverse patient population and being able to provide reassurance to service members that their loved ones will be well-cared-for while they are away.
"Working with the military family enhances the experience," Kang said. He also works as an emergency physician at Providence St. Peter Hospital in Olympia, Washington.
Kang said his Northwestern education, particularly the opportunity to work in diverse clinical settings, has prepared him to practice in a wide range of settings.
"I have great pride in Northwestern and continue to maintain ties there," he said.
Leading through crisis
In October, Kang became the first Asian-American president of ACEP after serving in several professional organization leadership roles at the state, regional, and national levels. His previous roles included being chair of ACEP's Disaster Preparedness and Response Committee from 2013 to 2015. In that role, he worked with cities and emergency departments across the country to help better prepare for disasters and to help emergency departments recover after them. That experience may prove crucial in helping address the numerous challenges currently facing the field.
The COVID-19 pandemic created enormous stress for emergency departments already struggling to meet the needs of patients who lacked access to timely, high-quality care. More frequent natural disasters and mass shootings have added to the strain. Shortages of supplies and staff during the pandemic and growing violence against emergency department clinicians have also increased stress and burnout.
"When we no longer feel safe and no longer feel respected, it erodes the belief that each of our members has in themselves and their mission to serve each patient and their communities," Kang said.
One of Kang's priorities as president will be improving mental health care for patients and emergency department clinicians. He applauded President Biden's and the media's recent efforts to highlight the importance of mental health and reduce the stigma. Now, he wants to help build out the systems necessary to provide services for those seeking help.
"How can we triage these patients, evaluate them, and get them the resources they need, whether it is inpatient or outpatient, and help them recover," he said.
Kang also wants to reduce the stigma and barriers preventing physicians from seeking mental health care. He said enactment of the Dr. Lorna Breen Health Care Provider Protection Act was an essential first step. The law's namesake Lorna Breen died by suicide in April 2020 after weeks of working in Manhattan emergency departments overwhelmed with gravely ill patients with COVID-19 and becoming infected herself. Breen, like many clinicians, was afraid that seeking help would harm her career. Kang said he would like ACEP to continue working with hospitals, healthcare systems, and state and federal licensing bodies to change policies discouraging physicians from seeking help.
"We need to acknowledge that we as healthcare providers have been shouldering a huge burden over the last several years in addition to the usual occupational stresses," he said. "We need to be able to say we need help."
Disclaimer: The views expressed are those of the author/speaker and do not reflect the official policy of Madigan Army Medical Center, Defense Health Agency, Department of the Army, the Department of Defense or the U.S. Government.