Trauma Trailblazer
Hasan B. Alam, MD, takes the reins as chair of surgery.
by Bridget Kuehn | photography by Teresa Crawford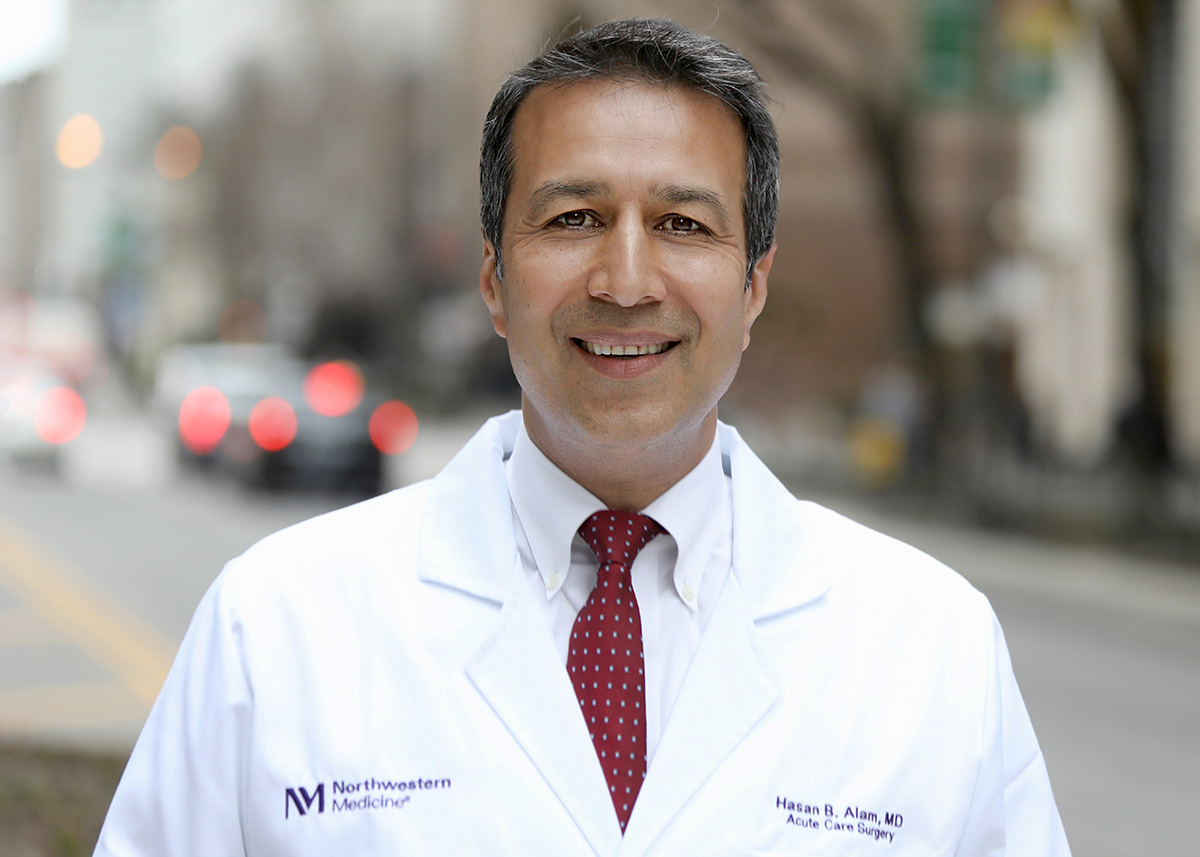 A confluence of events in Washington, D.C., early in the career of Hasan B. Alam, MD, set him on his path to becoming a trauma surgeon whose research has led to major innovations in both military and civilian care.
During Alam's residency in the 1990s, he recalls, the city was gripped by gang violence. The MedStar Washington Hospital Center, where he trained, was the largest trauma center in the city, and its team of trauma surgeons, he says, often had to make split-second decisions to save lives. This environment, albeit chaotic at times, turned out to be fertile ground for shaping his professional interests.
At that time, MedStar Trauma Center was also a training site for military teams, and Alam enjoyed working alongside Army and Navy residents and active-duty faculty, which inspired him to complete a year-long postdoctoral fellowship at the Uniformed Services University. He was on faculty there (and also a staff active trauma surgeon at the Washington Hospital Center) when a plane flew into the Pentagon on September 11, 2001. Alam was part of the team who cared for the victims.
During the decade that followed, the U.S. Department of Defense invested heavily in trauma research.
"It was being in the right place for my residency training, having the right mentors, having the connection with the Department of Defense, and then being in a position to make a contribution on September 11th that put me on my path," said Alam, who was appointed chair of the Department of Surgery and the Loyal and Edith Davis Professor of Surgery, as well as a professor of Cell and Developmental Biology, last September.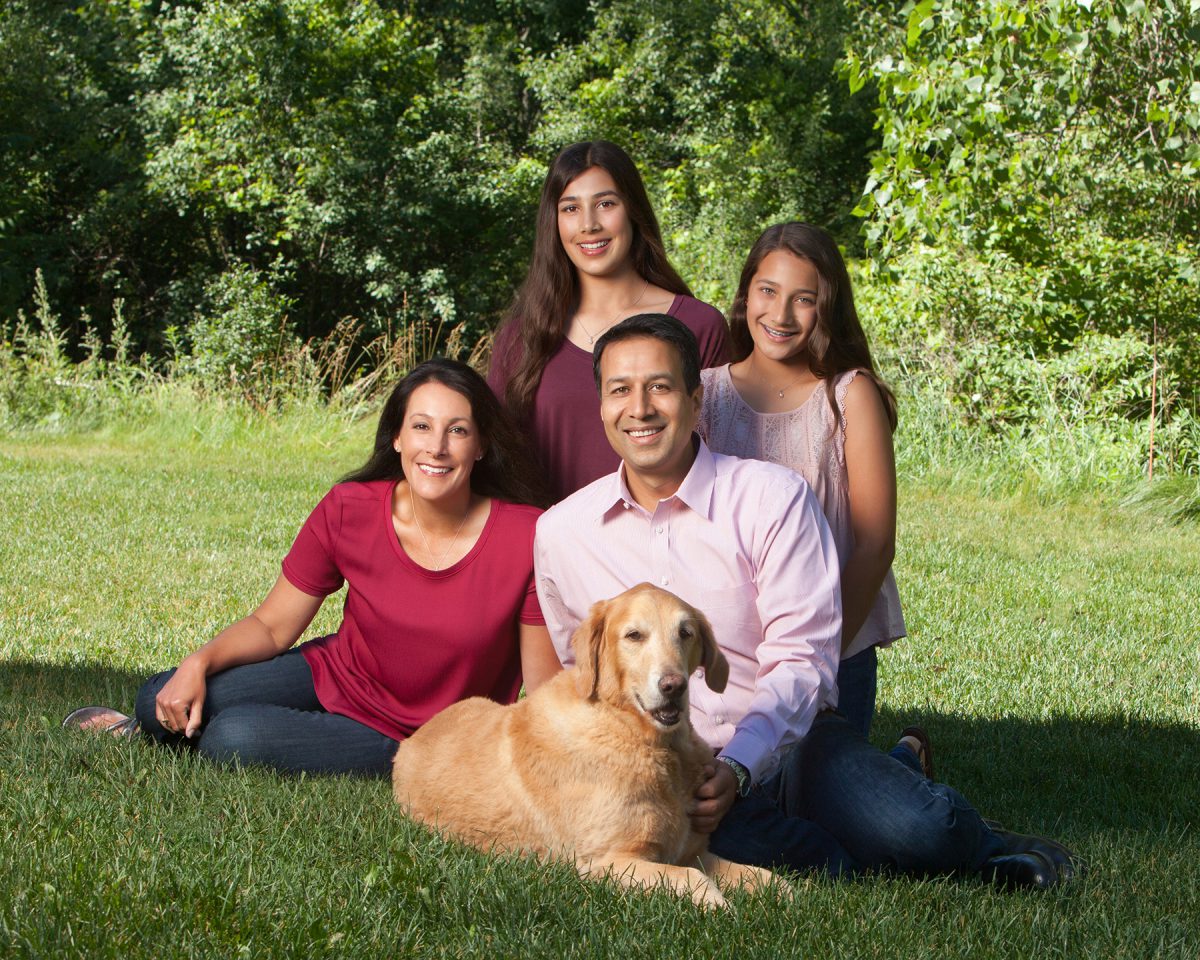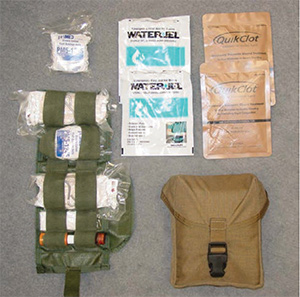 Battlefield to Bedside
Alam's early career experiences informed his decision to pursue what he refers to as "high-yield research" that improves outcomes for trauma patients. His research focuses on interventions to control bleeding, sepsis, and methods of sustaining life so that patients can receive the care they need — a "bridge to definitive care," he says.
"We have gotten very good at delivering critical care to those who survive their initial injury," he explains. "But the people who continue to die are those who die before they are able to receive life-saving care. They bleed to death or die as a result of severe head injuries."
His first big contribution in this area came in the aftermath of September 11. As the Pentagon prepared to deploy troops to Afghanistan, his program manager in the Office of Naval Research asked him to develop wound dressings that troops could apply on the battlefield to stop bleeding in their wounded colleagues. He and his colleagues quickly identified and tested a clot-promoting agent, which was developed into a battlefield dressing called QuikClot®.
"Every Marine who was deployed to Afghanistan and Iraq had those new hemostatic dressings in their first aid kit," Alam says. "It was very gratifying to see something go from lab to field deployment within a period of a few months."
Since then, QuikClot® has been widely used in civilian settings by emergency medical technicians, in wilderness settings, and at most hospitals. Newer formulations have improved upon the original to make it easier to use. Alam notes that this battlefield-to-bedside pathway for trauma care innovations is a well-trodden one.
"These new innovations are used in the battlefield because that's where the initial need is," he says. "That's what pushes the field forward. But as the conflict settles down, then all of those advancements are adopted and used in the civilian settings."
Alam and his colleagues are currently developing two life-prolonging interventions for trauma patients.
"In patients who die from injuries, if you look at the autopsy data, about half of them have underlying injuries that are potentially fixable, such as injuries to large blood vessels or solid organs," he says. "The reason we can't fix them is it's too late by the time they get to the hospital and the limiting factor is how long the brain and heart can tolerate the lack of blood supply and oxygen."
One strategy is to induce hypothermia to preserve the organs in "a state of suspended animation," he says. According to Alam, this strategy is already used for organ transplants, cardiac surgery, and neurosurgery. But, he says, there are logistical challenges to using hypothermia on injured patients in the field.
To overcome this challenge, Alam received funding from the Defense Advanced Research Projects Agency, a Department of Defense agency responsible for the development of emerging technologies for use by the military, to develop a pill or injection that boosts survival in injured patients. In animal studies, Alam and his colleagues found that activating certain combinations of genes and proteins increases survival after injury. So, they looked for a drug that would turn on those genes and discovered that valproic acid, a medication that has been used to treat seizures since 1978, fits the bill.
"Given in the right dose, it can create a pro-survival phenotype," he says.
Results from a preliminary safety study in humans, published in Clinical Pharmacokinetics, has already been completed and, with funding from the Department of Defense, Alam has begun working on a Phase II-III trial for bleeding patients. He is also testing the use of valproic acid in the treatment of traumatic brain injuries in animals and hopes to secure funding for a clinical trial soon.
"It very rapidly — within hours — decreases the size of the brain injury, swelling due to the injury, and protects the brain," he says. "There is less neurocognitive damage, and the animals recover much faster and more fully."
Alam has already secured a patent for the use of valproic acid to protect the heart from harm during periods of reduced blood flow, such as during a heart attack or during cardiac procedures to restore blood flow.
"We haven't really tapped into applications on the civilian side because our focus was mostly battlefield trauma, causing hemorrhage and traumatic brain injury," he says.
The Next Challenge
Since those early years, Alam's career has taken him from faculty positions at Georgetown University Medical School to Harvard Medical School and to the University of Michigan Medical Center. Now, he's looking forward to his next challenge, working in Chicago and leading a larger department that spans many disciplines.
"It's a bigger stage, a more complex healthcare system, located in an iconic city," he said. "It puts you on a growth trajectory where you are learning new things and growing constantly. These new challenges keep you engaged and energized."
He hopes to further improve the department's reputation for providing excellent clinical care and for doing innovative research. His focus will be on faculty recruitment and culture-building.
"I'm going to focus on creating the right culture — a culture of excellence where people hold themselves to high standards and accountability, but also a culture of fairness and diversity where people are supportive of each other."
Building a patient-centric healthcare delivery model that provides the right care, close to home without compromising quality, is another priority for Alam. He says this will include optimizing systems for triaging patients and transferring patients to the right facility within Northwestern Medicine for their needs.
"If a patient enters a facility that has the Northwestern Medicine logo on it, they should rest assured that they will get the right care — no matter which door they enter," he says.