Transplant Transformer
Satish Nadig, MD, PhD, plans to usher in a new era of technology in transplantation as director of Northwestern's Comprehensive Transplant Center.
Written by Bridget Kuehn
Photography by Jose Torres/Gr8y Productions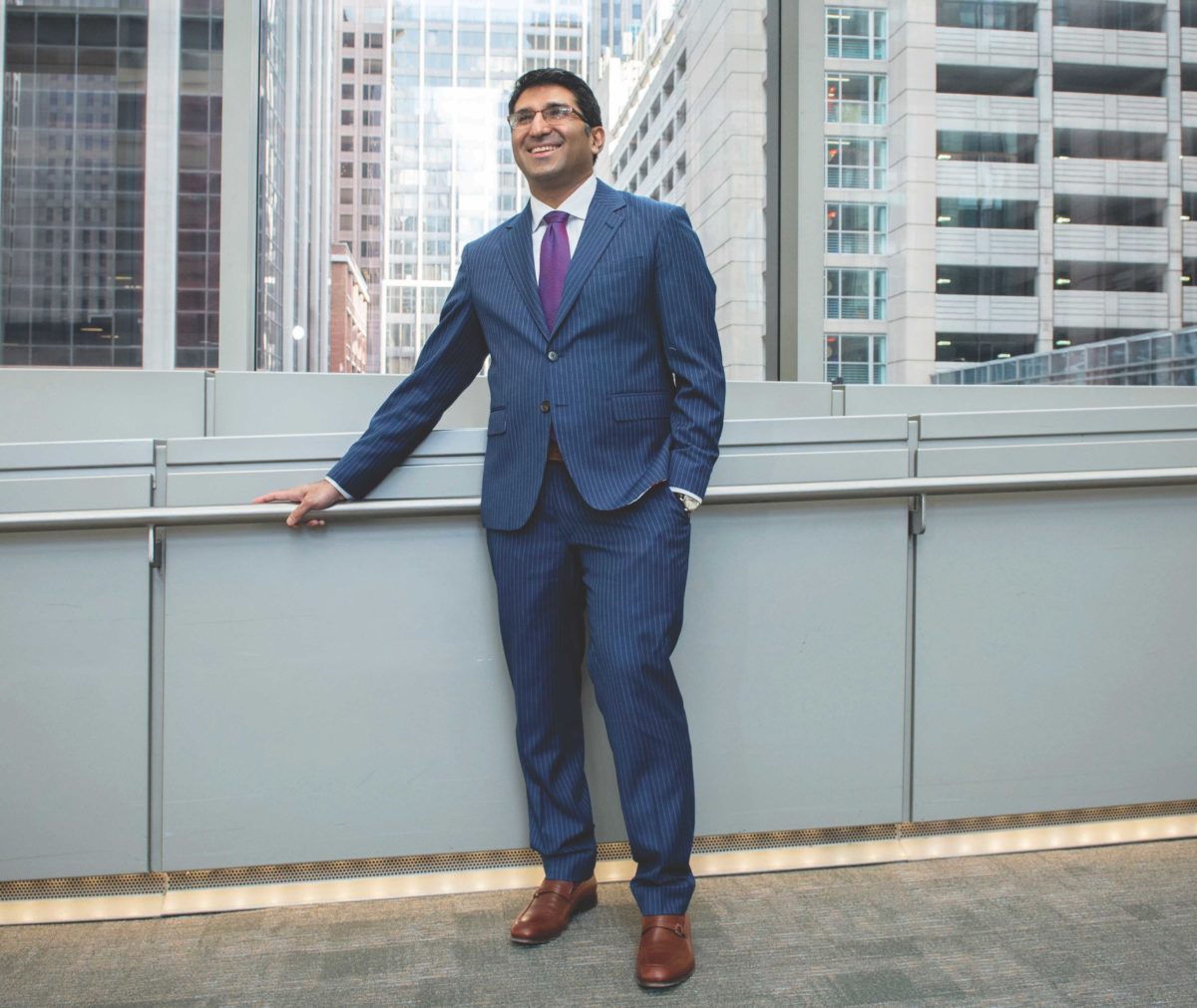 During his first week of medical school at the Medical University of South Carolina (MUSC), Satish Nadig, MD, PhD, knocked on the door of a transplant surgeon looking for research opportunities. By the end of the week, he had participated in his first organ procurement. It was a liver for a child with less than 24 hours to live. The transplant was successful, and the child survived and was able to go home.
"I never looked back," says Nadig, the Edward G. Elcock Professor of Surgical Research and chief of Organ Transplantation in the Department of Surgery. "I saw the impact the field could make immediately."
That procurement was just the first in a series of fateful moments in his early career. He also participated in an organ procurement on the day he graduated from medical school. Then, during the welcome ceremony for new residents at Beth Israel Deaconess Medical Center at Harvard Medical School, he sat next to Khalid Khawaja, MD, a highly respected transplant surgeon at Beth Israel Deaconess Medical Center. Mid-ceremony, Khawaja received a page and asked Nadig to accompany him on an organ procurement trip to Bangor, Maine.
"Transplant found me, rather than me finding transplant," Nadig says. "It was just meant to be."
Now, he hopes to help lead the field into a new era of transplant medicine as director of the Comprehensive Transplant Center at Feinberg and head of the Northwestern Memorial Hospital Solid Organ Abdominal Transplant Program. To achieve these goals, he plans to work with faculty to better leverage technology to improve organ matching, innovate post-transplant care, and advance transplant equity.
Pushing The Envelope
Nadig's parents immigrated to the United States from India in the 1970s for his father to attend graduate school. Growing up in Columbia, South Carolina, he had a strong interest in the sciences, which led him to Washington University in St. Louis, where he earned his bachelor's degree in biology and anthropology and conducted undergraduate research. But as the first person in his family to pursue a career in medicine, he wasn't quite sure what specialty to choose.
"I was very interested in research," he says. That interest led him to return home to South Carolina to attend medical school at MUSC and to that pivotal knock on the door.
At the time, the field of organ transplant was still relatively young. Surgeons completed the first transplant in 1954, and the field and techniques used to prevent organ rejection were still evolving.
"By the end of medical school, we were doing transplants differently than when I started," he says.
During his residency at Beth Israel Deaconess Medical School, Nadig met Anthony Monaco, MD, the emeritus Peter Medawar Professor of Surgery at Beth Israel Deaconess Medical Center and Harvard Medical School, a pioneer in organ transplant. Nadig credits Monaco with encouraging him to attend the University of Oxford to earn a PhD in transplant immunoregulation. After Nadig completed his PhD and residency, he pursued a fellowship at the University of Michigan in Ann Arbor.
Nadig returned to MUSC in 2013 as an assistant professor. There, he founded the Lee Patterson Allen Transplant Immunobiology Laboratory and the Center for Immunobiologic Therapeutics. He also ran the pediatric and living donor programs while performing transplant surgeries on adult patients. In 2019, he was named the P.K. Baliga Endowed Chair in Solid Organ Transplantation.
Over the past decade, Nadig's research has focused on targeted immunosuppression of the donor organ to reduce or eliminate the need for antirejection medications. Though these medications can help patients live for years, they cause an array of serious side effects, including cancer, metabolic diseases, and life-threatening infections.
"Patients are dying because of the side effects of the antirejection medications and because the organs do not last forever," he explains. "I think we can do better with the technology we have."
Nadig developed and patented a way to encapsulate antirejection medications in nanoparticles and deliver them to donor organs prior to transplant. Preclinical studies in animals have shown that this pre-treatment reduces or eliminates the need for antirejection medications and promotes long-term survival.
"I kept trying to push the envelope, both clinically and academically," he says. That's why when the opportunity to come to Northwestern presented itself, he jumped at the chance to lead a program at a university with robust clinical and research resources.
Patient-Centric Impact
Nadig's mission for the Comprehensive Transplant Center is "patient-centric impact through quality, innovation, and education." That mission starts with optimizing organ utilization so that the right patient gets the right organ, he says. Making better use of the organs available could increase the number of transplants Northwestern Medicine completes each year and help reduce the number of patients on waiting lists.
"There are so many organs that are underutilized or unused for transplant that we can tap into as a resource," Nadig says. "We are going to see more technology-based strategies to improve organ utilization."
"I'm very proud of all the different programs we've set up," he says. "With everything we do, it's a long-term commitment, we don't just fly in and fly out. We make sure our programs are sustainable and bilateral."
He wants to continue to improve the already excellent care Northwestern's transplant patients receive after transplant. To do this, he plans to leverage the health system's research infrastructure to drive technological innovation in transplant care. For example, using machine perfusion of donor organs to deliver therapeutics through nanoparticles can help reduce the need for toxic immunosuppressive drugs post-transplant. Nadig also wants to use new technology-aided techniques, such as CRISPR gene-editing to alter cells in donor organs, to make it easier for recipients' bodies to accept them, as well as deploying robotics and other technologies to improve surgical outcomes.
"From molecular biology research to operating room procedures, there are going to be technology-based approaches to change the way we do transplants," he says.
Nadig also wants to bolster Northwestern's reputation for being a leader in improving transplant equity. In 2006, Juan Carlos Caicedo, MD, professor of Surgery, created the Northwestern Medicine Hispanic Transplant Program to provide culturally competent care for Hispanic patients. In 2019, Dinee Simpson, MD, vice chair for Faculty Development and Diversity in the Department of Surgery and assistant professor of Surgery, created the African American Transplant Access Program.
"We were the first — and we are the largest — and we want to continue to be a model and a beacon for the rest of the country on how we can improve access to transplant care," Nadig says.
Finally, he wants to train a pipeline of new transplant surgeons who will eventually exceed even the accomplishments of their mentors at Northwestern.

"True mentorship is making sure that the next generation exceeds your stature," he says.
Nadig predicts that the next decade will be an exciting time in the field of transplant surgery. Moreover, he believes Northwestern can help lead the way with its multidisciplinary team, ranging from basic scientists to infectious disease specialists to surgeons.
"I want history to look back and say Northwestern was a player in changing the paradigm of how we do transplants," he says. 
Listen to a podcast with Nadig: