A Tireless Quest for Better
We have a saying here at Northwestern Medicine that serves as our true north and guides us every day: What makes us better, makes you better.
On its face, it's a message about our relentless commitment to patient care. But there is also a parallel pursuit in our quest for Better, a very intentional mission of improvement that weaves together medical education, research, clinical care, and community engagement.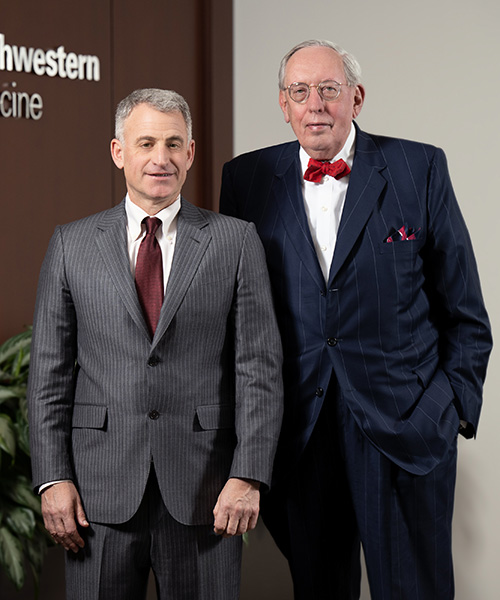 These pillars sustain one another in a virtuous loop: Training better physicians leads to better patient care. Nurturing better investigators leads to better treatments and greater discovery. Fostering collaboration, professional growth, and technological acuity leads to a better institutional culture, where our people are always ahead of the curve.
All of this leads to better health in our communities and beyond.
This is really only possible in an academic health system like ours, where the interplay between student, resident, faculty member, and community is constant and organic; where generations of learners interact with each other and bring their knowledge to patients and families who are often desperate for answers; and where scientific discovery moves seamlessly from bedside to bench and back to bedside in a perpetual motion of betterment for all involved.
There are no happy accidents here (though serendipity certainly has its way of seeping into the lab or clinic sometimes). As a health system, we actively and intentionally pursue innovation that advances this virtuous cycle.
A prime example is the new Simpson Querrey Lung Institute for Translational Science (SQLIFTS), made possible thanks to a generous gift from Northwestern trustee Kimberly Querrey and the Louis Simpson Trust. A key focus of SQLIFTS will be a collaboration between Feinberg investigators and the Northwestern Medicine Canning Thoracic Institute, launched in the fall of 2021, which provides diagnostic and treatment services for all types of respiratory conditions. All patients at the Canning Thoracic Institute will have the opportunity to participate in studies designed to directly impact patient care and promote lung health. (Read more here.)
Similarly, Feinberg's new Center for Dissemination and Implementation Science, an interdisciplinary center within the Institute for Public Health and Medicine (IPHAM), aims to close the gap between public health research and the implementation of findings into clinical settings. We know medical interventions must be timely to be successful and, with the synergistic relationship between our research and clinical enterprises, we can be catalysts for that accelerated change. (Read more here.)
Over the last three years, throughout the COVID-19 pandemic, Northwestern Medicine has reimagined the way that medicine is delivered. We're pioneering work to expand successful organ transplantation, including using "Heart in a Box" technology to make heart transplantation available to more candidates and completing our first lung-liver transplant. In our Mansueto Innovation Institute, launched in 2022, we seek to rapidly find, evaluate, and activate innovative solutions to address the challenges facing our patients and care teams today — and to transform care delivery for the future. We are leveraging technology to identify critical findings in radiology reports and alert physicians to expedite next steps. We deployed Moxi, a robot that helps deliver laboratory specimens and medications, freeing up time for team members to focus on other tasks. And now, we are piloting enhanced digital capabilities, including smart TVs, voice assistants, AI, remote monitoring devices, and more, to improve the care environment for our patients and staff.
We find it fitting that this issue closed just after Match Day, when our brilliant, hard-working medical students learned (along with students nationwide) where they had matched for their residency — a momentous day we ourselves still remember vividly after all these years.
These newly minted physicians will set off to fulfill a magnificent aspiration aligned with that of our academic health system: be better so that the world can be better. With its innumerable rewards and challenges, we can't think of a more rewarding career to embark upon.
With warm regards,
Eric G. Neilson, MD
Vice President for Medical Affairs
Lewis Landsberg Dean
Northwestern University Feinberg School of Medicine
Howard B. Chrisman, MD
President and Chief Executive Officer
Northwestern Memorial HealthCare