Turning Research Into Action
As chair of the Department of Medical Social Sciences, Rinad Beidas, PhD, is building bridges to transform health and healthcare delivery equitably and to ensure that discoveries are translated into impact for our communities.
By Christina Frank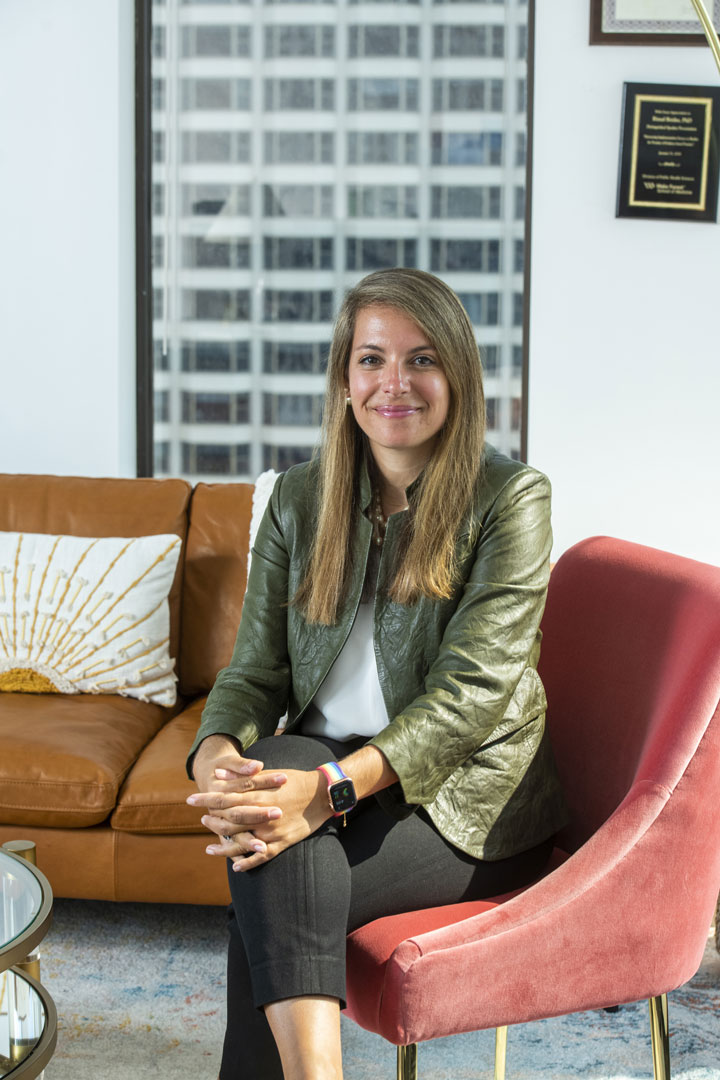 Even as a child, Rinad Beidas, PhD, felt strongly about social justice and healthcare as a human right. Her family had immigrated from the Middle East when she was 2 years old, relocating to Evanston so her mother could complete her master's degree at Northwestern's School of Communication. Then, her family moved to New York so her father, a physician, could complete his infectious disease training in an academic medical center that served a large and diverse urban population deeply affected by structural inequities. He would tell her stories every night about his patients and their difficulty accessing high-quality healthcare in a timely manner.
"I just couldn't wrap my head around the fact that not everybody had equal access to high-quality healthcare," Beidas says.
Now, Beidas brings that passion to her role as chair of the Department of Medical Social Sciences.
"We leverage the tremendous power of the social and behavioral sciences — such as psychology, sociology, anthropology, and economics — to create and apply innovations that improve the health of our community and our society equitably," says Beidas, who is also the Ralph Seal Paffenbarger Professor of Medical Social Sciences. "Given that most seemingly intractable problems in health and healthcare are those of human behavior within social environments, our department is well positioned for impact."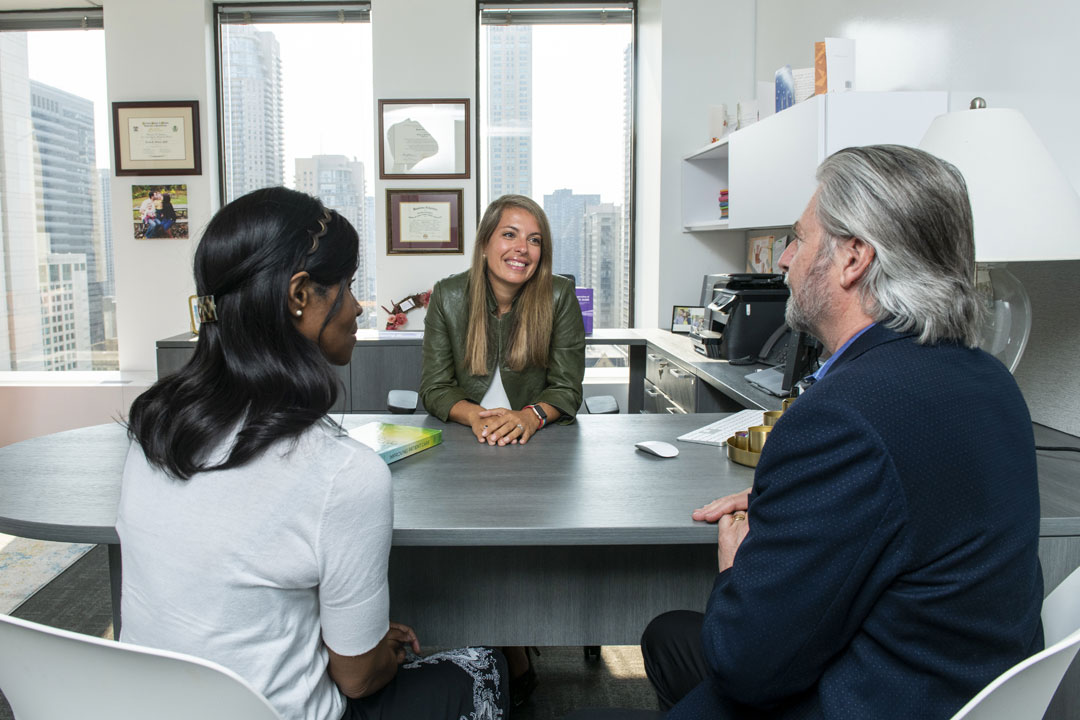 ENSURING DISCOVERIES HAVE AN IMPACT
While working on her PhD in clinical psychology at Temple University, Beidas became interested in implementation science, a field that was just beginning to coalesce at the time.
"I realized that instead of developing new programs, what really lit my fire was making evidence-based practices accessible and available to all," Beidas says. "We tend as a society to focus on developing and funding discovery, but we don't always pay as much attention to what it's going to take to actually realize the impact of those discoveries."
Beidas completed her PhD in 2011 and then joined the faculty at the University of Pennsylvania Perelman School of Medicine. She became the founding director of the Penn Implementation Science Center from 2017 to 2022, growing a top-five program in implementation research and education, and also led the Penn Medicine Nudge Unit, the first behavioral design team embedded within a health system, bringing those insights to clinical care delivery.
While at Penn, Beidas partnered with the Department of Behavioral Health and Intellectual disAbility Services in Philadelphia, an organization that oversees public behavioral health service delivery. There, she focused on understanding which factors made it more likely for clinicians to use evidence-based practices with young people seeking services within the public behavioral health system.
"I learned that organizational factors are incredible drivers of whether or not clinicians use evidence-based practices," she says. That includes both organizational culture and leaders' abilities to support the deployment of innovations within that climate.
While at Penn, in addition to her early work on pediatric behavioral health, Beidas also expanded her focus to study implementation in cancer, HIV, and cardiovascular disease, driven by methodological questions that transcended interventions, diseases, or settings. She is particularly proud of her work related to firearm injury and mortality prevention.
In 2013, a member of Beidas's family died by suicide using a firearm. The tragedy occurred shortly after Beidas's son was born.
"I remember taking my son to the pediatrician and having a lightbulb moment when the doctor asked me about smoke alarms and car seats and safe sleeping, but didn't ask me any questions about secure firearm storage," Beidas says. "This insight and lived experience really galvanized an entire program of research, which I'm excited to continue to grow at Northwestern."
Pediatric visits are an ideal time to talk to parents about secure firearm storage, yet few primary care clinicians do so, even though evidence-based programs exist. Beidas and her team carefully adapted an existing evidence- based program in partnership with parents who own firearms, firearm safety experts, and healthcare clinicians and leaders. The program includes a brief discussion between parents and pediatric clinicians on the importance of secure firearm storage. Free firearm cable locks are also made available to all parents.
Currently, Beidas is completing a study in collaboration with Henry Ford Health and Kaiser Permanente Colorado in 30 pediatric clinics testing the comparative effectiveness of a "nudge" in the electronic health record to remind clinicians to ask about secure storage and offer a cable lock versus a nudge plus providing ongoing support to clinics around how best to implement this program. This work incorporates a behavioral economic perspective, which focuses on making it easy to change behavior by leveraging insights on how humans make decisions.
"Overall, in this study, we're seeing a high percentage of the more than 40,000 well-child visits included a discussion around secure storage and offering cable locks," Beidas says. "This has the potential to engender new research focused on the different settings where we can address secure firearm storage, including health systems, schools, and community organizations. Given that firearms are now the leading cause of death for young people in the United States, identifying effective strategies to reduce unauthorized access to firearms is a key modifiable determinant that can save lives."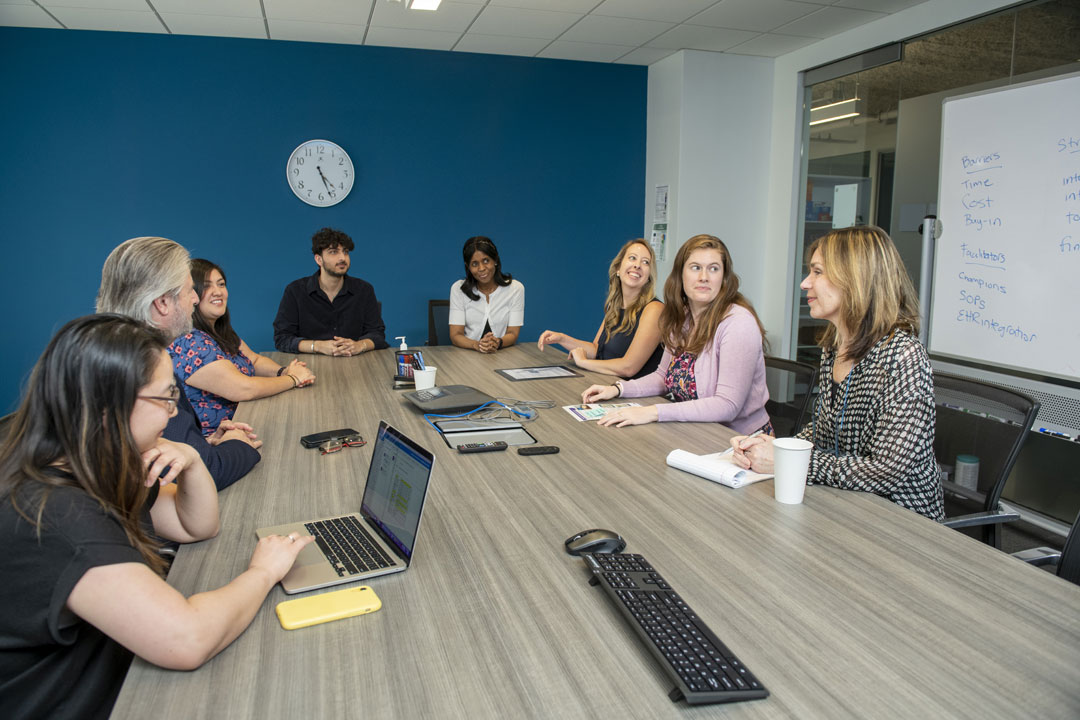 BUILDING BRIDGES
In September 2022, Beidas was named chair of the Department of Medical Social Sciences, making her one of the 18 percent of female chairs within medical schools in the United States.
"It's a tremendous honor to serve as chair of the only Department of Medical Social Sciences in the country," she says. "I am grateful for the incredible department that founding chair Dr. David Cella built, and to have the opportunity to lead MSS into its next chapter. This is a really exciting time to be at Northwestern because of the significant investment in implementation science made by the Feinberg School of Medicine in launching the Institute for Public Health and Medicine's Center for Dissemination and Implementation Science led by Dr. Sara Becker."
She's excited to work with the department's 75 scientists, who all bring their lifespan and disease-agnostic expertise to four interrelated divisions to solve problems related to health and healthcare delivery as well as with scientists across Feinberg in various departments through the rich inter-disciplinary environment cultivated through cross-departmental centers and institutes.
"First, you need to identify the problem and how to measure it, and we have a cadre of scientists to assist with this in our Division of Outcome and Measurement Science," she says. "Second, you need to understand which social, biological, behavioral, and developmental factors are associated with that particular problem, which represents the work led by scientists in our Division of Determinants of Health. Third, you need scientists to help design interventions to address multilevel factors contributing to health, which we do in our Division of Intervention Science. And fourth, once we have interventions that work, the scientists in our Division of Implementation Science systematically study how to scale those interventions and make them available to our communities."
MSS does this all while putting equity at the center of its efforts.
"MSS is an incredibly special department, where collaboration, innovation, and inclusion are foundational to our work," Beidas says. "Our members, including faculty, staff, and trainees, take a team science approach to building equitable health and healthcare, and we actively partner in fostering an inclusive work environment and culture of belonging through our Inclusion, Diversity, Equity and Action (IDEA) Committee."
Beidas sees MSS as a bridge within Northwestern and beyond. One of her main goals is to grow the department's relationship with departments on Northwestern's Evanston campus.
"We serve as a bridge to the Evanston campus, and we hope to grow those relationships even more deeply," she says.
"Building bridges with Evanston allows us access to cutting-edge social science discoveries and bringing them into applied settings."
Two of the department's senior faculty lead university-wide research institutes: the Institute for Innovations in Developmental Sciences (DevSci), led by Laurie Wakschlag, PhD, and the Institute for Sexual and Gender Minority Health and Wellness (ISGMH), led by Brian Mustanski, PhD. These boundary-crossing, scientific, community-building initiatives are highly aligned
with MSS's defining focus on transcending disciplinary boundaries for greater impact
on human health. MSS faculty also hold leadership roles in the Institute for Public Health and Medicine and the Northwestern University Clinical and Translational Science Institute.
Beidas also sees the department as a bridge to Northwestern Medicine and other healthcare delivery systems in the Northwestern ecosystem, like the Shirley Ryan AbilityLab, the Ann & Robert H. Lurie Children's Hospital, and the Jesse Brown VA system.
"We have all the tools that can make it possible for our health systems to achieve their objectives to transform healthcare for all and make sure that the patient voice is amplified and that all patients have an exceptional experience," she says. "I don't think there's ever been a moment where we've needed social and behavioral sciences more to help us understand how to improve health and healthcare. We can leverage the best of our social and behavioral sciences to redesign how we think about delivering patient-centered care. Ensuring that discoveries make their way equitably into healthcare delivery systems and the community is the challenge of our time to solve."